We all have annual events that we look forward to and even cherish.  For some, it is a holiday like Fourth of July, Thanksgiving or Arbor Day.  (I put that in for my tree huggers.)  For others, it may be a sporting event like the Super Bowl, the World Series or the Chicago Marathon.
For me, the event I have looked forward to for the past 3 years is Illinois Restaurant Association and Bon Appetit's Chicago Gourmet. I might even be bold enough to say that this 6th year of the event may have been their best!
What may surprise you is the reason why this event makes me as giddy as a child on Christmas Eve.  It isn't just about the food that I wrote about on Monday.  (It was a plethora of amazing food that I would NEVER get to experience in my small town.)
But the real MVP's of Chicago Gourmet are all of the people who attend.  (And I'm talking some of the coolest people!)
First, you get to not only eat the food of some of Chicago's finest chefs but you can actually talk to them about their restaurants and menus.  I have my favorites that I stalk look for like Chef Cory Morris (Mercat a la planxa), Chef Tony Priolo (Piccolo Sogno/Piccolo Sogno Due) and Chef Trevor Hoyte (IPO).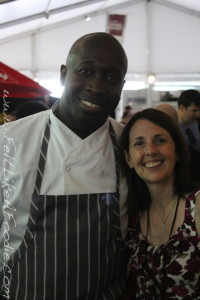 But I also enjoy being face to face with chefs who unknowingly share some of life's special occasions like Chef Jesse DeGuzman (Sunda New Asian).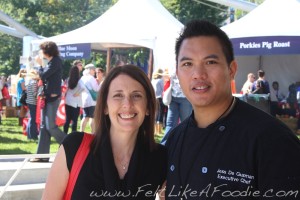 And it was one of my personal highlights this year was to visit the"La Femme Du Chef Tasting Pavilion" where some of Chicago's female chefs were highlighted.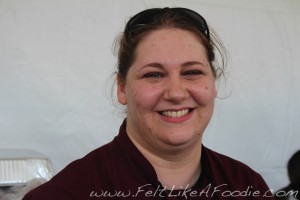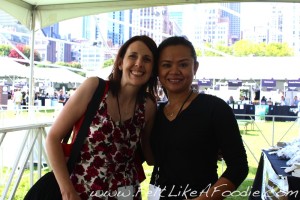 In addition, there was a wonderful seminar titled "Beyond the Menu: A Woman's Perspective" that brought me face to face with 9 women (Kristine Subido (Pecking Order), Nicole Pederson (Found), Amy Morton (Found), Rohini Dey (Vermillion), Susan Weaver (Beatrix), Sara Stegner (Prairie Grass Café), Lorena Garcia (Lorena Garcia Group), Carrie Nahabedian (NAHA/Brindille), Ina Pinkney (Ina's Restaurant) who are destroying the glass ceiling in the culinary world.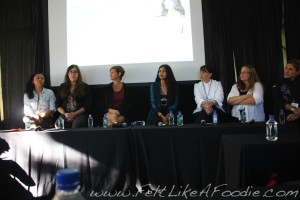 The celebrity chef aspect of Chicago Gourmet is probably the part that makes me the giddiest.  Living in a small town, my connection to the food world is done by reading cooking magazines like Bon Appetit, watching food shows and reading cookbooks.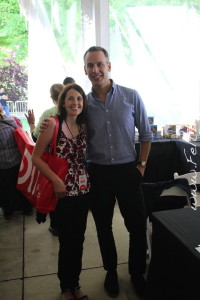 So it should be no surprise that I like to take advantage of Chicago Gourmet's book signings available to everyone who attends.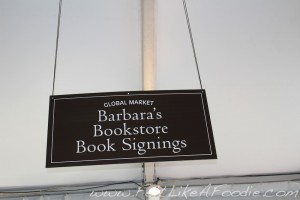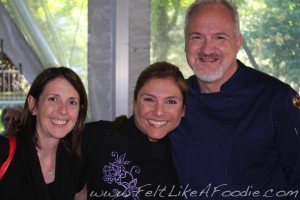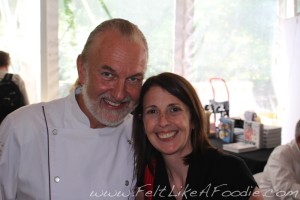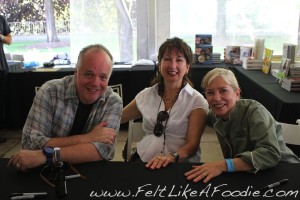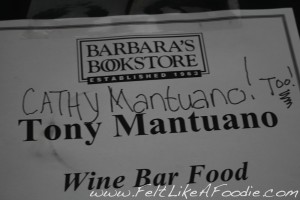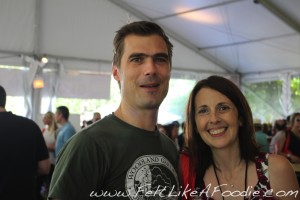 I also have learned that the celebrities are as excited to be part of Chicago Gourmet as the attendees.  I appreciate their graciousness when they stop in their tracks and take time for a photo.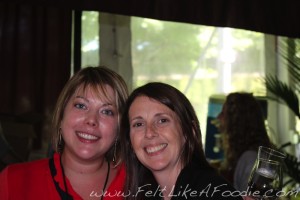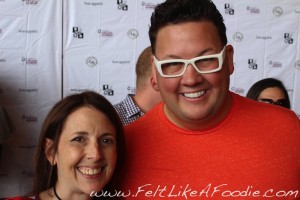 Even the chefs in the separate ticketed Grand Cru were all smiles as they were hosts to the world's finest culinary masters.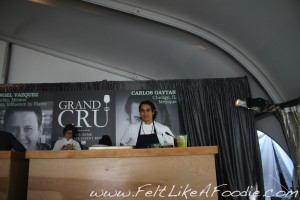 Chef Hideaki Matsuo of Osaka, Japan (Kashiwaya) Hosted by Chef Takashi Yagihashi (Takashi, Slurping Turtle)
Chef Jordi Vilà of Barcelona, Spain (Alkimia) Hosted by Chef Tony Mantuano (Spiaggia)
Chef Lionel Rigolet of Brussels, Belgium (Comme chez Soi) Hosted by Chef Andrew Zimmerman (Sepia)
Chef Stefan Karlsson of Gothenburg, Sweden (Fond) Hosted by Chef Homaro Cantu (MOTO)
Chef Anthony Fusco of Lyon, France (La Table Lachassagne) Hosted by Chef Graham Elliot (Graham Elliot)
Chef Svetlana Riskova of Riga, Latvia Hosted by Chef Carrie Nahabedian (NAHA)
Chef Ángel Vazquez of Puebla, Mexico (Intro: In?uence by Flavor) Hosted by Chef Carlos Gaytan (Mexique)
Chef Martin Juneau of Montreal, Canada (Pastaga) Hosted by Chef Chris Nugent (Goosefoot)
Chef Aktar Islam of Birmingham, United Kingdom (Lasan) Hosted by Jared Wentworth (Longman & Eagle)
Chef Tommy Raanti of Stavanger, Norway Hosted by Chef Thomas Lents (Sixteen)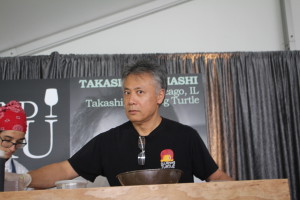 Finally, I have to take a second and acknowledge all of the people I had the honor to meet this weekend.  I shared picnic tables with guys who were daring each other to try new things (yes, that chicken was spicy), I sat on steps chatting with a "Jersey Girl" who was new to the city, had sauce wiped off my cheek by a man from Hawaii and shared some laughs with people in line.
I met culinary students who were helping their idols, an 80-year-old volunteer who just loved food and Pavilion 10's hostess with the mostess, Maggie Quinn.  (Seriously, she should train every pavilion host because she was so welcoming.)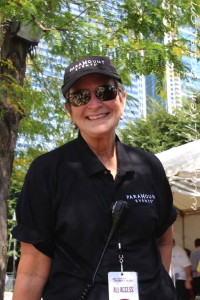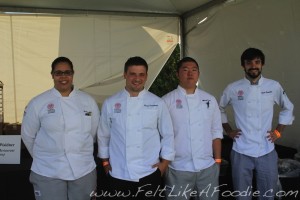 Chicago Gourmet is set for the weekend of September 26, 2014 and my calendar is marked.  Each year is more exciting than the last and I can't wait to do it all over again.