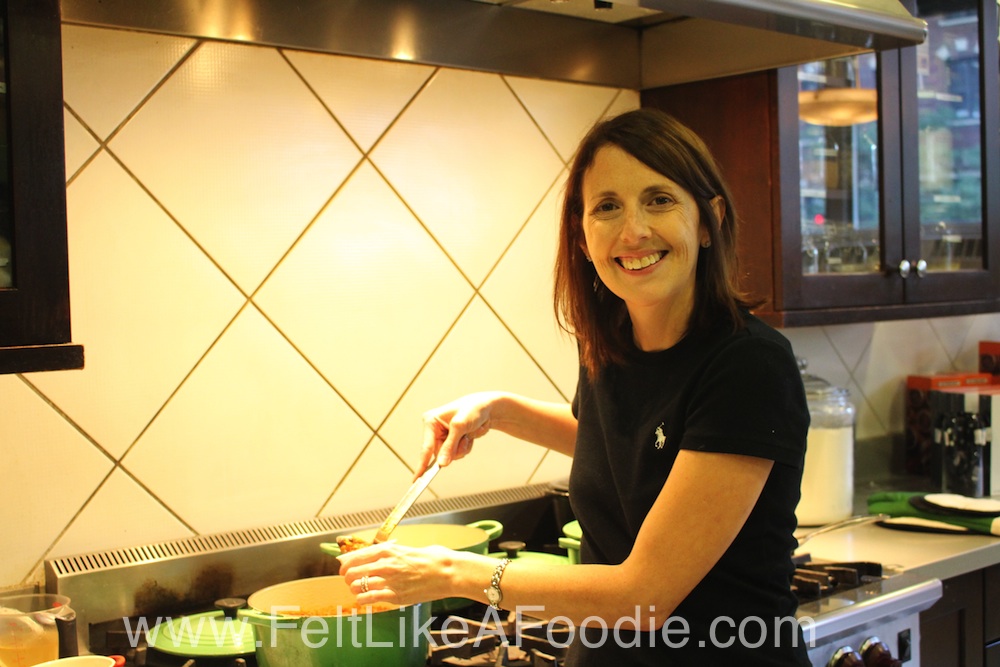 Is there something called "Cooking Contests Annonymous?"  If there is such a meeting group, I think I need to join it.  Not because I enter a lot of contests, it is because of my behavior once I am in those contests.
A perfect example would be my recent experience at The Chopping Block (222 W Merchandise Mart Plaza, Chicago, IL).  They innocently held a contest on their Facebook page for their first annual Chili Cook-Off.  Contestants would submit their recipes and the readers voted on them.  The finalists were chosen either by popular vote or The Chopping Block's Choice.
I was thrilled and honored when I found out that I made it to the final three.  (The other finalists were Lois Haegele and Kerry Walsh.)  We were asked to come serve our chili at The Chopping Block during their annual trunk show on Friday, October 11, 2013 and let the public judge and vote on our creations.
My nerves took over before I even stepped into The Merchandise Mart.  I was happy that I made it to the finals but all of a sudden I wanted to win and I wanted to win so badly!  (Is this what Tonya Harding felt like?)
The Chopping Block paired each contestant up with one of the vendors from the trunk show and I luckily was paired with Trish Ranallo of Le Creuset.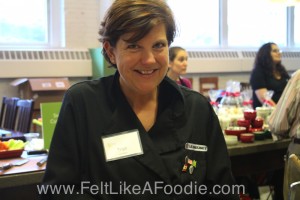 She was a great partner because she was so nice and I LOVE Le Creuset for cooking chili.   It was fun to be surrounded by so many of their products.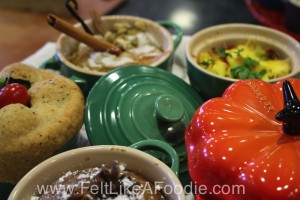 The next step was to meet my competition.  Lois Haegele was unable to make it to the cook-off (no, I had nothing to do with it!) but Kerry Walsh was in attendance and I was scared.  She was adorable in her cute little blue dress and yellow apron.  Plus she was really sweet and her vegetarian chili was amazingly good!  Dang it, people are going to love her!!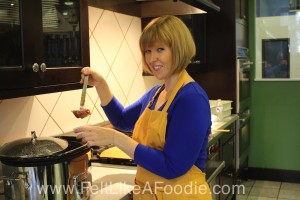 I put on my game face and was ready to serve MY chili.  My head started swelling with compliments from the judges and that only fueled my competitive feeling.  But every now and then there would be a judge who wasn't sure where to drop his/her vote.  I had to get their votes and do it with some composure and ethics.  (Or as ethically as you have to get when you vote in the city of Chicago.)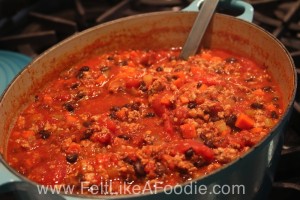 I pulled out the pity card "If you like my chili, vote for me.  If you don't, I will cry and rock in the corner."  (Ping…another vote in my bin.)
Plus, I pulled out the small town girl card "I live in Indiana and married a guy named Earl."  (Ping…another vote!)
Luckily, my chili did most of the talking and people were willing to vote my way because of the "bright" untraditional flavors in my recipe.
The anticipation as the results were being read was almost numbing.  Kerry and I stood there like Miss America contestants waiting to see who wore the crown and who was the runner up.  (There really wasn't a crown but that would have been a nice touch.)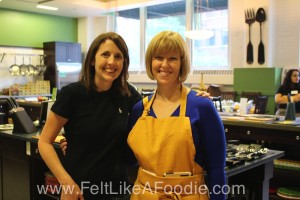 All of a sudden it happened…my name was announced!!!  And I felt this rush go through my body and I took off.  I literally took off and did a victory lap!  I don't know what possessed me to do this but it happened and it felt glorious!!!  I ran, high-fived and hugged people.  It was probably a tad obnoxious but it was pure moment of joy!!!  (Okay. looking back that WAS obnoxious.)
The competition really was a blast win or lose because I had so much fun at The Chopping Block talking to the amazing vendors and customers.  I also must say that Kerry and I kept the competition very friendly and it would have been an honor to lose to her of all people.
I will be proud to come back next year and defend my title.  (But I would like a sash at the very least!)  Hopefully by that time, I can reign in the competitiveness  a little bit.  But meanwhile I can't stop chanting "Winner.  Winner.  Chili Dinner!"
By the way, My name is Barb and I am a sore-winner.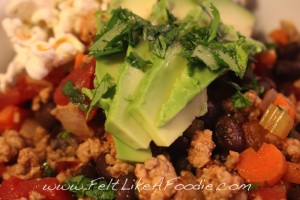 "Tinga"ly Chili

Ingredients

1 Pound ground pork
1/4 pound chorizo
1 cup celery, diced
1 cup carrots
, diced
1 cup onions
, diced
1 Tbsp garlic, chopped
2 Chipotles in adobo, chopped
1-2 Tbsp of the adobo sauce that the chipotles came in
1 14.5 ounce can of black beans, drained and rinsed
1 14.5 ounce can of fire roasted tomatoes
1/4 cup chopped cilantro
Olive Oil
Garnish
lime wedges
avocado slices
And if you are fun, popcorn sprinkled with citrus salt

Directions
1. In large Dutch oven, brown the pork and chorizo together. Remove.
2. Add a little olive oil to the same pan. Sweat the celery, carrots and onion until slightly soft. (Not Mushy!)
3. Add garlic, saute one more minute.
4. Add chipotles, 1 Tbsp of adobo, black beans, and tomatoes.
5. Simmer for at least 20 minutes. Taste for spice. (You may want more adobo.)
6. Add cilantro and serve.
7. I garnished my bowls with a squeeze of lime, some fresh avocado and the citrus seasoned popcorn for some crunch!
My appreciation goes out to The Chopping Block for being such great hosts, Trish and Le Creuset for my fun prize package and Kerry for being such a gracious competition!  And a final thank you to my hubby for be such a good chili tester!