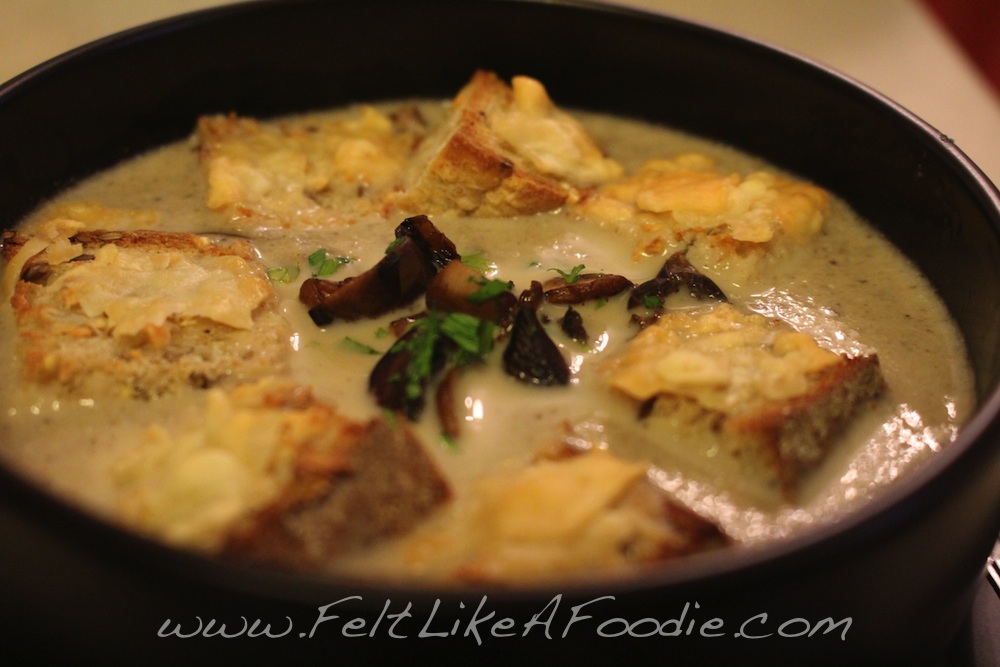 Sometimes I wonder about things…odd things.  And then I wonder do other people wonder about such odd things or is this just the work of a brilliant brain?  (I choose to believe my thoughts are a sign of brilliance and not psychosis.)
So I was sitting in the living room this weekend staring out the window and daydreaming.  The signs of fall such as the leaves changing color, the lack of sunlight and a feeling of cool in the air were just enough to make me want to stay cuddled up under a blanket.  (All completely normal thoughts, right?)
As I was gazing out the window, my eye caught a glimpse of a garden gnome.  I am one of those people who find them charming and whimsical.   I like them so much that I even keep some in the house because they are really good company.  (Once again brilliance, not psychosis.)
One of my gnomes sits under a big red mushroom and keeps to himself for the most part.  (I have never seen any of the gnomes engage in any social function but for some reason I just feel like he is a bit of a wall flower.)
I was staring at him (oddly, he has no name) and I started to wonder if he likes to eat mushrooms or is it taboo in the garden gnome world to eat your house.  I mean, I know that gingerbread men can't eat their gingerbread houses because that would be cannibalism, right?  (Okay, maybe a little psychosis.)
If I was a garden gnome and wanted to downsize my house, it makes more sense to make a big vat of mushroom soup out of my old house rather than try to sell it to another gnome.  (The logic behind this is that everyone knows that garden gnomes don't keep their houses very nice because they are always too busy working in the garden so the resale value is very low.)
After thinking about this way more than I should ever admit, I wanted to make mushroom soup.  No garden gnomes were hurt in the process.
Hangin' with my Gnomie Mushroom Soup
Ingredients
4 Tb plus 1 Tb of butter
1 yellow onion, chopped
1 cup of celery
1/8 tsp cayenne pepper
2 cloves garlic, chopped
1 ¾ pounds of mixed mushrooms, chopped (shitake, Portobello, white button),
2 tsp fresh thyme
1/3 cup and extra 2 Tbsp Brandy
4 cups vegetable broth
1 cup half and half
salt and pepper
Garlic croutons (Optional):
Toasted cubes of toasted French bread, rubbed with garlic and sprinkled with Parmesan cheese.
Directions
In large Dutch oven, melt 4 TB of butter over medium heat.  Add onions, celery and cayenne and cook until soft.
Add garlic and cook another minute.
Add 1 ½ pounds of mushrooms (reserve the last ¼ pound for a topping later) and thyme.   Cook until mushrooms are void of liquid and just start to brown.  (Remember don't fuss with them.)
Add 1/3 cup of brandy and glaze the veggies.  (The brandy will reduce and almost evaporate.)
Add the veggie broth and return to a boil.
Reduce heat to medium/low and simmer lightly for another 15 minutes.
Remove from heat and blend with hand blender.  (You can also do in a blender but be cautious of twirling a hot liquid and be prepared to let out the steam intermittently.)
Add half and half and cook on low another 5 minutes.*
Taste for seasoning.
*While the half and half is simmering, heat the last tablespoon of butter in a small skillet.  Brown the last ¼ pound of mushrooms and deglaze with brandy.  When serving soup, put a hefty spoonful in the middle of the bowl.
Blog disclaimer:  There were no "magic" mushrooms ingested during the writing of this blog….or any of the other blogs!