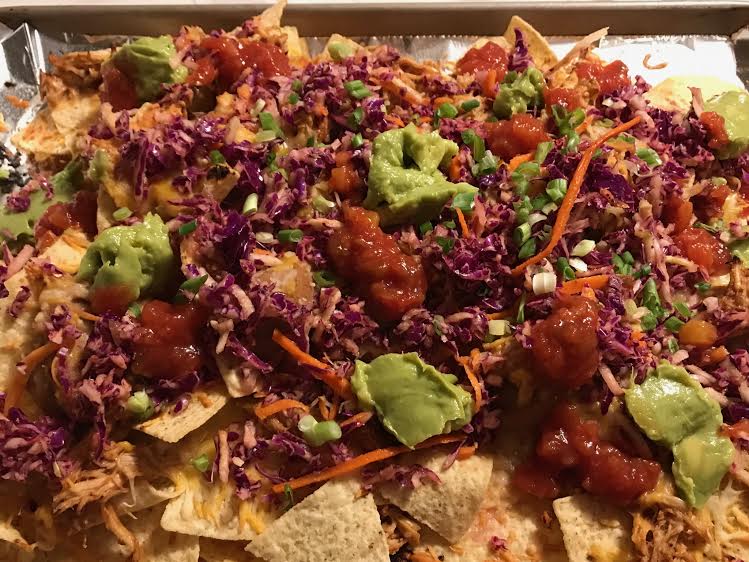 Betty Crocker. It seems like every mom had a cookbook with that iconic name splayed across the cover. The one I remember the most is the red one with all the food pictures on the cover. It was simply Betty Crocker's Cookbook. (I asked Mom to send me a picture and she had her original and a newer version.)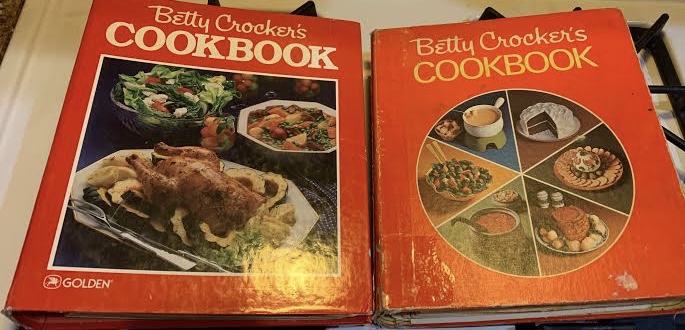 I can remember as a kid skimming through my mom's book and wanting to cook so many dishes. These recipes were what we thought of when someone asked "What's for dinner?" It would be the book we'd pull out before making a grocery list to make sure we had everything. It was a standby but it was so much more than that.
Almost every casserole, roast, cookie and side dish of my childhood was probably influenced by Betty Crocker. We didn't have the luxury of cable stations devoted to food or an abundance of culinary magazines that made food the everyday family would want to approach at home.
Things evolved. REAL humans like Julia Child, Martha Stewart Paula Deen, Rachel Ray and Ree Drummond (and yes, I'm leaving out a lot of women) have helped move us along when we look for "go to" recipes. (I vacillated on whether Julia Child belongs in a different category but then I thought her television presence not only showed every day Americans that anyone could master the most classic recipes. It was probably her imperfections that made her relatable and one of most of our earliest memories of a home chef.)
It is fun to try to recreate what we see online and have it look like something that was lifted off of Instagram but in reality, you can't make that food without learning the basics. And I think that no one has done that better than Betty Crocker over the years. She showed us how to make simple perfect.
Today people think of Betty Crocker as a brand. It is the big red spoon you see at the grocery store when you need a dependable cake mix or that can of frosting. But what about the books?
I do wonder why they haven't rebranded her a bit. I'd love to see her as today's modern homemaker (like me). They don't have to turn her into a corporate giant who balances a family, work and her home. She doesn't even need to become a top nutritionist who can speak on every diet craze. She just needs to be that relatable woman who shows us any meal made with love can be a good meal….or maybe this is a case…she doesn't need a makeover….maybe this is a case of being grateful for something we've taken for granted for years.
The Betty Crocker brand will hit their 100-year mark next year. I'm not sure if the younger generations have had the luxury of learning about how an imaginary woman was able to structure how generations see food.
I spent some time looking at the Betty Crocker web site. It is something I've been overlooking lately and I wanted to step back so I can move forward
Betty Crocker came into my head this last week when I was making a Super Bowl board for my husband. I was making him a little bit of everything (potato skins, pulled chicken sandwiches, onion dip, spinach dip, etc.) realizing the that I would have a lot of leftovers that wouldn't necessarily make a meal. So, I thought what would Betty do? (PS Betty Crocker "WWBD?" would be a fascinating new branding campaign….I'm just saying.)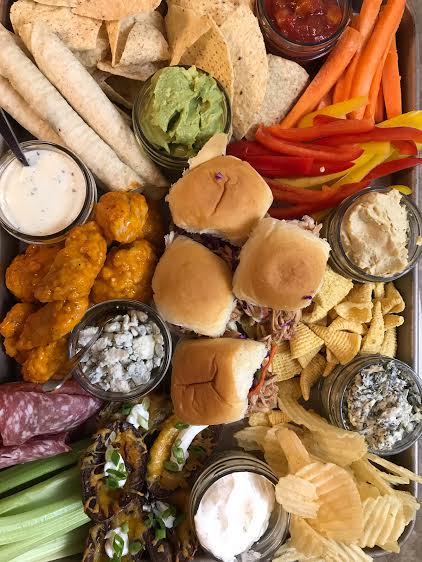 When I looked it up, I found this article about repurposing leftovers on Betty's site.The nachos were the perfect option. I have a ton of leftover pulled chicken from the sandwiches, bacon and cheese from my potato skins, some guacamole and half a jar of salsa. I can even use up some of my red cabbage and pickle it with some citrus juice to add on top.
Today's recipe was inspired by a couple of articles by Betty Crocker. (How to make nachos seems obvious but I never knew what temperature to bake it at.) I encourage everyone to revisit an old favorite whether you need to dust off your mom's old red book or pop on the internet.
There is a reason Betty Crocker has been around for almost 100 years and I'm glad I rediscovered an old family friend.
Pulled from the Pantry Pulled Chicken Nachos
This is a perfect way to use up some leftovers.
Oven 400 (Thanks Betty…I usually don't cook them this high)
Ingredients
2 cups leftover BBQ pulled chicken (pork would be great too)
2 cups cheese (These were not gooey cheesy so add more to your desire)
1 can of refried beans (I'm sure canned black beans would be good too)
Tortilla chips (We had a half of a bag left so I used that up)
Green onions
2 cups of shredded red cabbage mixed with 1 tsp of garlic with the juice of two lemons squeezed on it.
Guacamole
Salsa
Hot sauce.
Directions
Take a large cookie sheet and cover it foil. Give it a spray with nonstick spray.
Lay half of the tortilla chips on the pan.
Distribute half the can of beans.
Add half of the pulled meat.
Sprinkle with one cup of cheese.
Put more chips
Add the rest of the beans
Add the remainder of the meat.
Sprinkle with the rest of the cheese.
Bake for 10-14 minutes (Another Betty hint)
You want your cheese melty and the meat and beans warmed up.
When it comes out of the oven, sprinkle with green onions, the cabbage mix, some guacamole and salsa.
The sweetness of the bbq was great with the piquant cabbage. I needed a little hot sauce to even out the sweetness but my husband didn't need it.