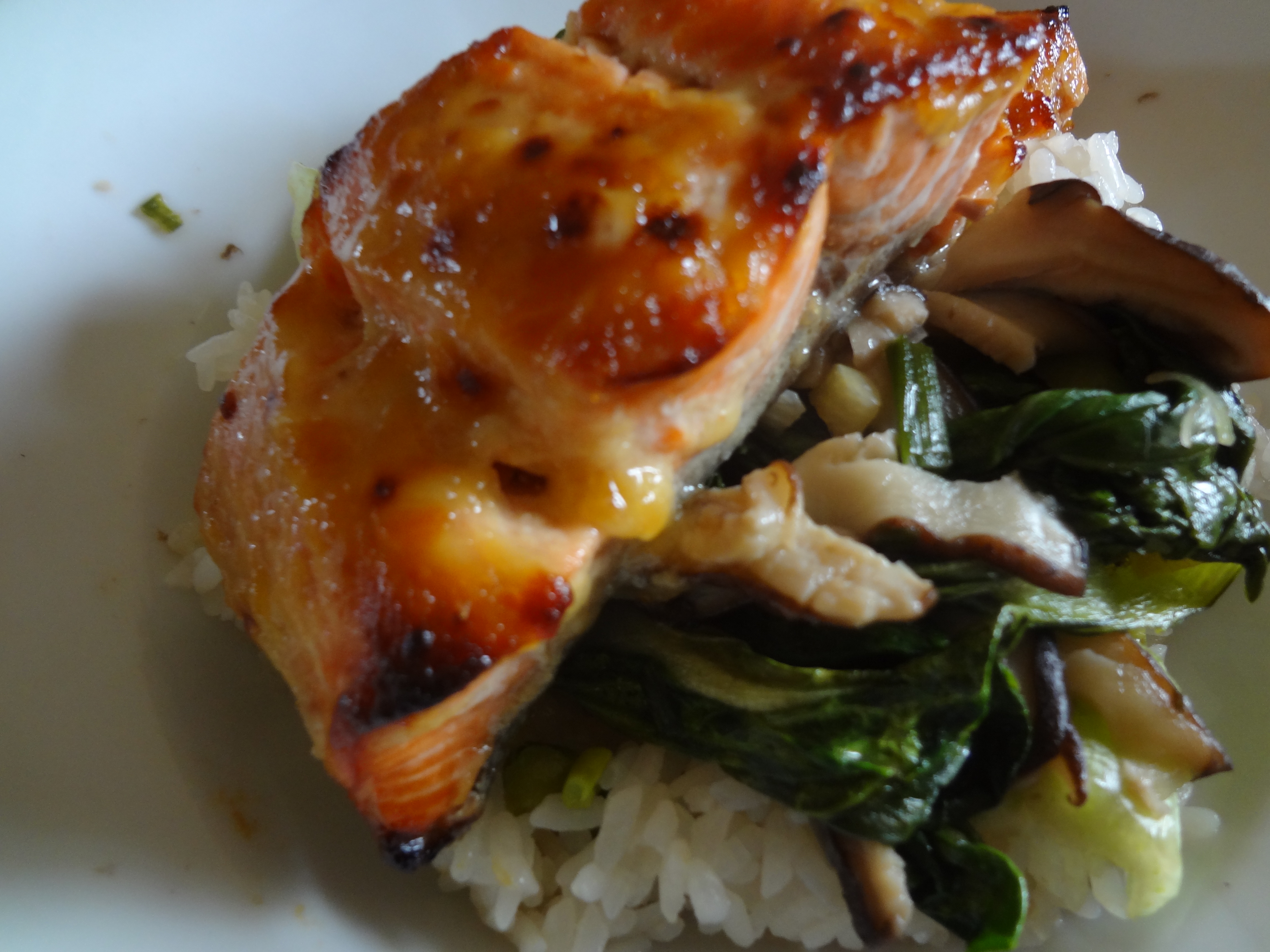 I am going to look back on 2012 and remember it as my year of discovering vegetables.   I guess "discover" is really not the word to use since the veggies have been around.  (Okay, Christopher Columbus got away with it with that whole "Discovering America" thing but let's not quibble on semantics.)
Between going to new restaurants, my vegetable garden and joining Green Acres CSA, I am stumbling on new ideals for side dishes all the time.  (I'm a carnivore so all veggies are a side dish to me.)
Anyhow, when I went to N9NE Steakhouse last month, I tasted a wickedly good Bok choy/shitake mushroom dish served with their salmon.  The vegetables were lightly dressed with an Asian gingery vinaigrette and to say they were memorable would be an understatement.  (Is it wrong to dream about vegetables?)
So the last few weeks, I kept seeing baby bok choy in the grocery store but I was intimidated at the thought of cooking it.  (Yes, it was only a baby but babies can be scary at times.)
I know to be a better cook at home, I need to think outside of the box or in this case I thought inside of the box…the CSA box.  Inside my CSA box last week, there were some adorable "heads" of baby bok choy.  (I'm calling them heads because technically they are in the cabbage family.)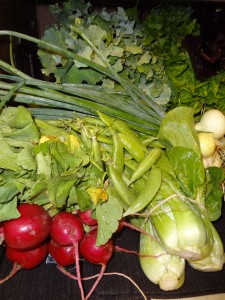 When I held them in my hand, I realized that I shouldn't be scared.  (I'm bigger and I was going to cook them so the power was in my hands.   Muh-wah-ha-ha  Okay, I have to get a grip on myself.)  I needed to prepare them in a way that I already knew tasted good….with an Asian style sauce and some salmon.  (I'll share the salmon recipe in my next post because the salmon has his own story to tell.)
After searching the Internet for help, my first attempt of Bok choying (I may have not "discovered" bok choy but I probably one of the first people to make it a verb) was a success.  (I will admit it wasn't a replica of N9NE but it was a pretty good rendition for this home cook.)
Baby Bok Choy with Shitake Mushrooms
Ingredients
3 heads of baby Bok Choy, leaves separated and washed well.  (Some people cut the stems from the leaves but I thought the textural differences in how they would cook would be more dynamic.)
2 garlic cloves, minced
8 ounces shitake mushrooms, cleaned and sliced
2 spring onions, sliced
2 Tbsp Mirin
1 Cup Chicken Stock (Yes, vegetarians can use vegetable stock.)
2 Tbsp fish sauce
2 tsp sugar
Peanut oil
Directions.
In a small saucepan, heat up chicken stock to a small boil.  (Just little bubbles).  Remove from heat and add the fish sauce and sugar.  Stir until sugar dissolves and set aside.  (This is your cooking sauce.)
In a large pan or wok, heat about 1 Tbsp of peanut oil over medium high heat.
Add garlic and stir-fry it just until it becomes fragrant.
Add mushrooms and spring onions and cook another 2 minutes.
Add Bok Choy and stir-fry another 2 minutes.
Add Mirin and allow it to reduce.
Add the cooking sauce and cover for about 5 minutes.  The Bok Choy leaves should be wilty and the stems should be just fork tender.  (If it isn't tender enough, allow it cook another minute or so.)
I served mine with miso-glazed salmon (is the suspense for that recipe killing you?) and some sticky rice with peas.  The natural sweetness of the Baby Bok Choy and the intense saltiness that the cooking sauce gave this dish was great.  (My husband said it was the best vegetable I've ever made!!!)
This is just another one of those meals that confirms that we need to keep trying new foods every time we are out and when we are cooking at home.  It also confirms that it is easy to try new foods at home if you have already tasted a great rendition elsewhere!