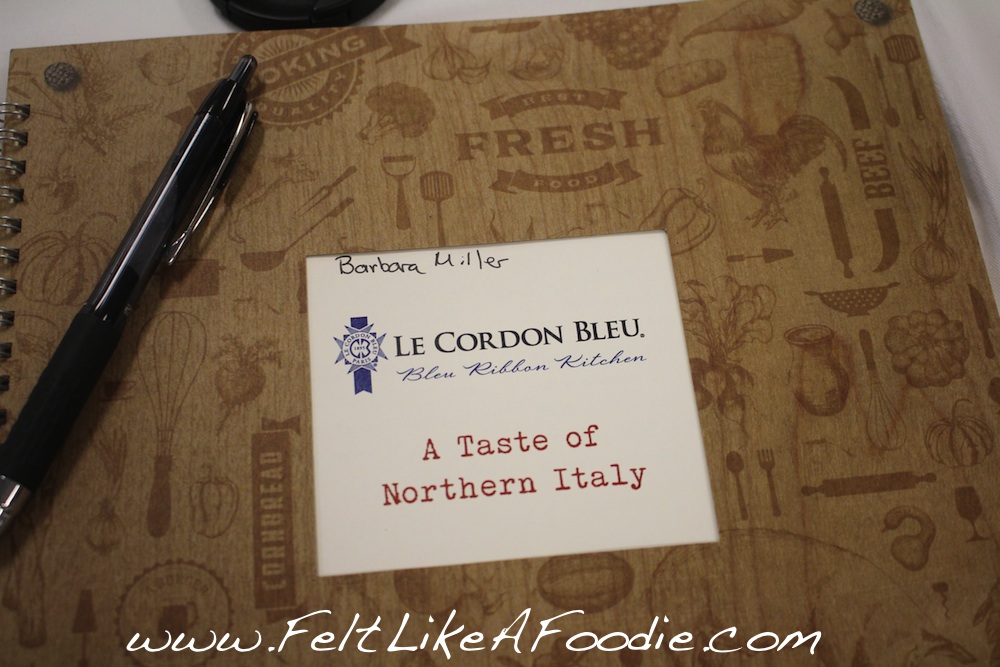 Articles in magazines, countless cookbooks, numerous television shows and recreational classes have all taught me one thing….how to cook.  But even after all this research, I've always had the desire to be better and really have unbridled confidence in the kitchen.
So when the challenge of taking a 3-day workshop called "A Taste of Northern Italy" came up at Le Cordon Bleu, I accepted.
Le Cordon Bleu has just launched a new series of Bleu Ribbon Kitchen Workshops that can be 5, 3, or 2 days.  The students are engulfed in the Le Cordon Bleu lifestyle with professional kitchens, amazing chef instructors, and itineraries set up to advance your skill levels in a way that you can replicate the experience at home.
The variety of the multiday workshops is vast covering everything from "building blocks" to global cuisines.  They even are offering Petit Workshops on Saturdays which will cover fun things like seasonal favorites, baking and culinary classics.
My personal experience this past week was amazing!!  I will whole-heartedly admit that I was scared to death but I knew I could stand the heat so I excitedly entered the Le Cordon Bleu kitchen.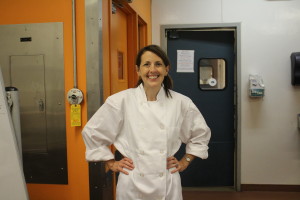 From the moment I walked in, I "Felt Like a Foodie".  Our Chef-structor, John Abels, walked us through our itinerary and we all told our stories.  With different backgrounds and kitchen experience, we all had one thing in common…we were here to cook.
Day 1: Tuscany
Menu:  Tuscan Beans, Bistecca All Fiorentina and seared broccoli rabe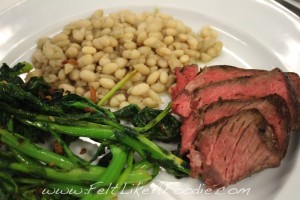 Wasting no time Chef John got us started on the food of Tuscany.  We learned about the simplicity of Tuscan food (beans, breads, cheeses etc.) and some of their most universal dishes (Ribollita and pappardelle).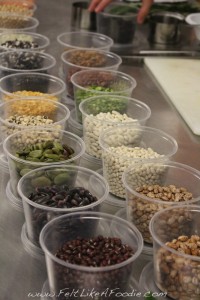 The nervousness in the kitchen reappeared when Chef pulled out our 3-pound porterhouse steak.  (Every person in the room had the theme of the Flintstones running through their head for the rest of the day!)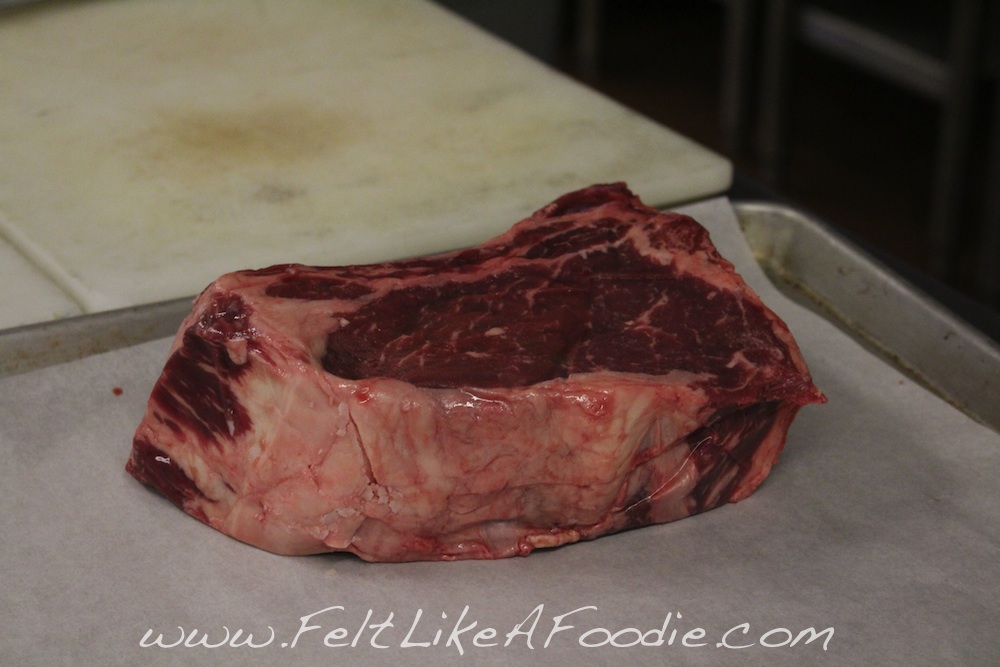 The steak was intimidating but I must say it was thrilling putting it on the grill and learning how to carve it properly.  (And the taste was out of this world.  Half of us grabbed the filet mignon slices with our fingers the other half started gnawing on the T-bone!)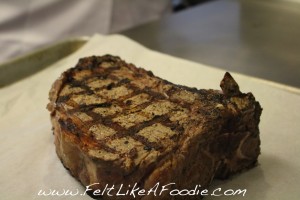 Day 2:  Piedmont
Menu:  Braised short ribs, creamy herbed polenta and almond panna cotta with Amarena cherries.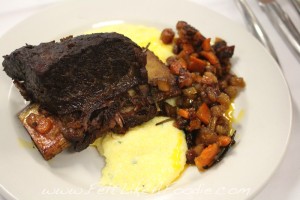 We started the day with dessert or at least preparing our dessert, panna cotta. (For those of you who don't know panna cotta, I think it would be fair to say it is milky-creamy dessert set with gelatin.)
Once it is set, it was garnished with Amarena cherries that are the best cherries on Earth!!  (I thought they were too sweet by themselves but they were the perfect touch on the panna cotta.)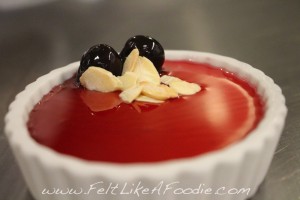 We split up in teams with half of us preparing the short ribs and half of us preparing the polenta.  I've made short ribs numerous times but I've never achieved a creamy, rich, delicious polenta.  (And it was the one dish that allowed me to nibble on the most cheese!)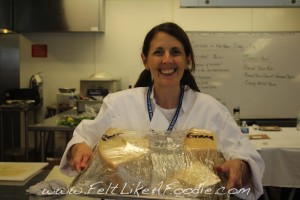 My classmates did an awesome job getting the short ribs cooking and let me help a little bit by chopping pancetta.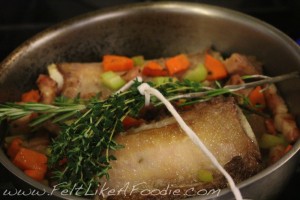 Day 3:  Emilia Romagna.
Menu:  Fresh Pasta, Cheese Tortelloni, Basil Pesto, Meat Ravioli, Italian Hazelnut Cake.
Our third was a sad day for all of us because as a group, we were having a wonderful time and I think I can speak for all of us by saying we didn't want it to end.
It was also our most accelerated day in the kitchen.  Like a whirlwind we started making our dessert first.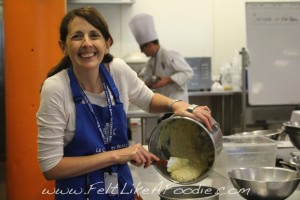 It was evident that I wasn't the baker in the group by my whining and pure awkwardness in the kitchen.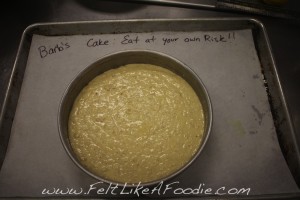 Luckily, my new friends helped me out and I was able to get my cake finished.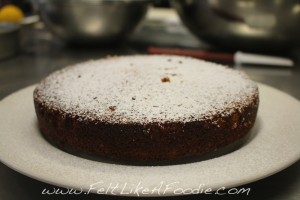 Time seemed to slip away as we rolled pasta dough, made our fillings and learned the different shapes of stuffed pastas.  I was especially excited to make the basil pesto with walnuts instead of pine nuts.  (Living in our small town, pine nuts aren't always available.)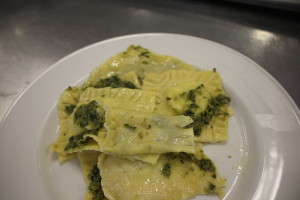 Our final meal together was wonderful partially because our food was so delicious but because the 3 days had made us all friends.
Thank you to my classmates, Nilsa, Captain Tim, Cristina, Gabbie, Ashley (Vegas), Tim and Alison.  And a special thank you to Le Cordon Bleu and Chef John for making this such an incredible few days.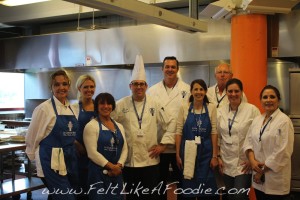 As I look back on this workshop, I am so glad that I took the chance and walked through the door of Le Cordon Bleu.  I will admit that there were some challenging moments and I was exhausted at the end of each day.  But I also will say that I've never done anything like this before in my life and I am glad I faced my fear and came to class.  I guess the saying "you can't make an omelet without breaking a few eggs" is true.  (I wonder if there is going to be an egg workshop?)