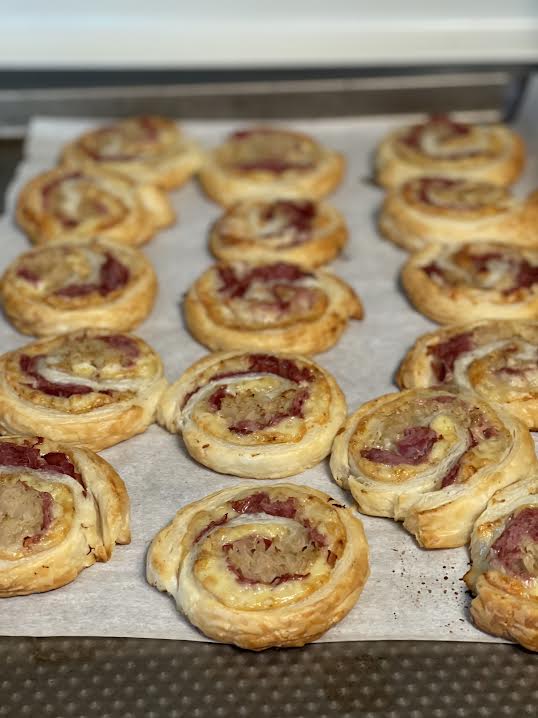 Excuses. Do you find them or do they find you? I sit down to write and it is always something. The dog wants to go out. There is someone at the door. The phone wonít stop ringing. There is a fascinating text chain between my dog friends. I see dust on the window. The timer goes off. My water glass is empty. I started an episode of the Waltons. The dog wants to go out again. There are chickens in our yard. We do not own chickens. There is now a rooster in our yard. We do not own a rooster. There is a dog chasing the rooster. There are feathers to clean up off the driveway. Normal day, right?
I wanted to make sure I wrote today because I made a fun dinner the other day with some leftover deli corned beef. I am assuming many of you might partake in the annual St. Patrickís tradition of making corned beef and have some leftovers. I do love making a Reuben but I cheat and use deli meat. (Random thought: Why is it corned beef? There is no corn involved. Discuss amongst yourself).
So, I bought a gigantic portion of deli corned beef and Swiss cheese. We had Reubenís one night but there was still a little meat, cheese and sauerkraut left. I was trying to what to do by staring longingly at the contents of my refrigerator. You know the look, you open the refrigerator door and keep your hands on the doors. You cock your head like a German Shepherd noticing chickens in the garden. You know you shouldnít keep the door open too long but it is like you are frozen in the moment. It doesnít help that the dog I keep mentioning is now sitting on my foot examining the contents of the refrigerator too.
Finally, it hit me. A roll of puff pastry was mysteriously dislodged from its spot and literally hit me in the foot. This is a great excuse to make corned beef pin wheels.
There really isnít a recipe to share because it is so easy so Iíll try to describe the steps.
Preheat oven to 400 degrees and prepare a baking sheet with parchment paper.
Unroll puff pastry and lay flat.
I first spread horseradish over the center leaving about Ĺ inch around each edge.
I then scattered the corned beef. (I had about 1/3 of a pound thinly sliced)
Drain your sauerkraut well and scatter on top of the corned beef. (About Ĺ cup)
Sprinkle on cheese. (1 cup)
Roll tightly lengthwise
Cut into 16 slices.
Place slices on baking sheet.
Bake for about 16-18 minutes. It should be brown and puffy.
Serve by themselves or with some dressing of your choice.
These were YUUUUUMMMY!!!! Iíve seen some recipes where people egg wash the pastry but I did not do that and I still had beautiful brown pinwheels.
This dinner was a great excuse to write and wish you all a great St. Patrickís Day. Iím lucky to have you all still reading while I continue to find my voice.