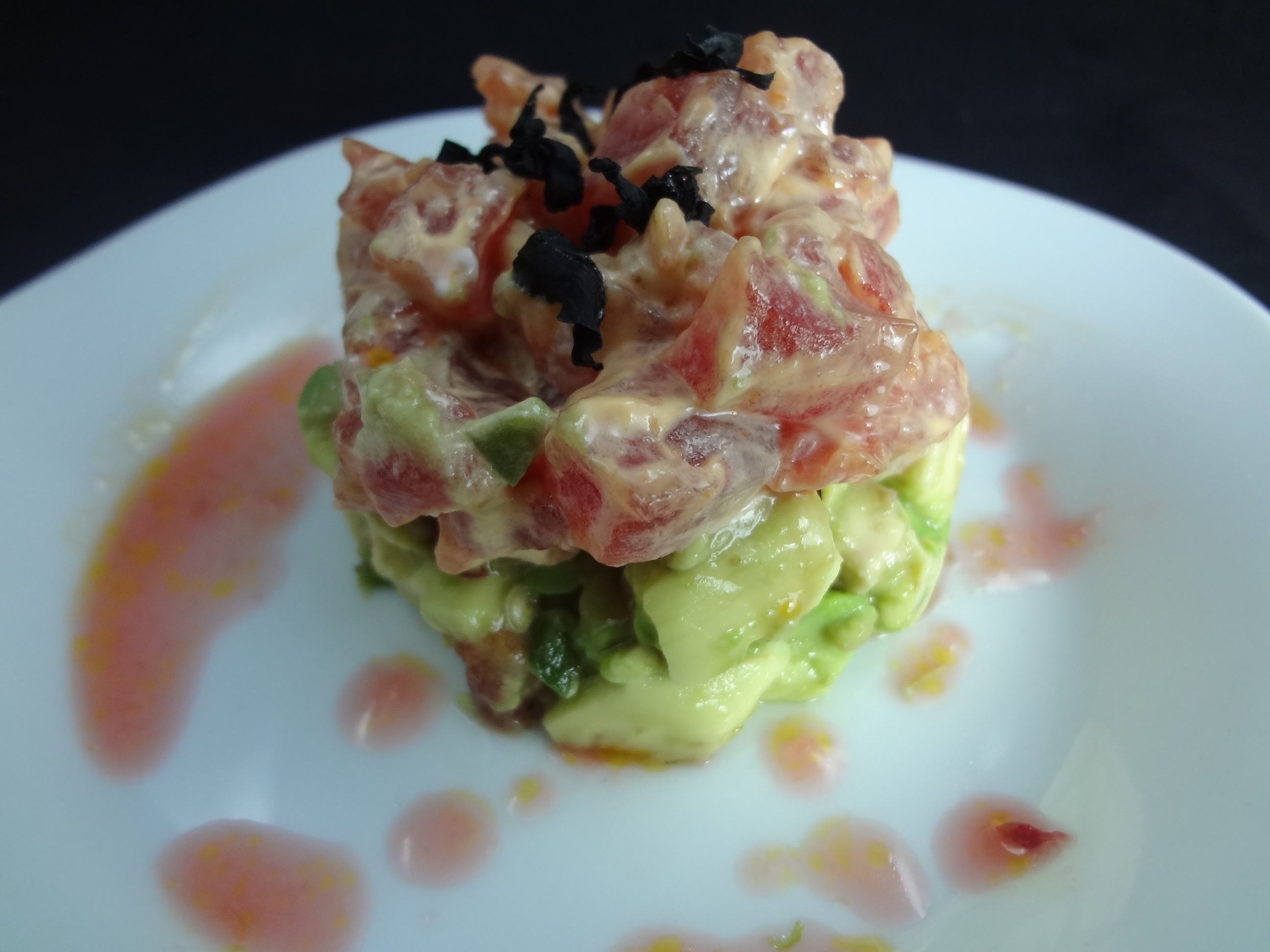 I miss brightness in the winter.  I don't necessarily mean the beaming sun.  (I do miss it a little.)  And I am not referring to intelligence but I do think we get stupider this time of year.  (Wait, stupider is not a word but it does prove a point.  Or is it word?)
I'm talking about the brightness in my food.  I just don't see as much vibrancy on my plates.  The comfort food that was my best friend on the first days of fall are all starting to look like drab sweaters that need to be deballed.  (Deballed: Another word invented by my long winter ignorance.)
The other thing I miss is the brightness in my flavors.  My meals in the spring and summer used to make my taste buds jump.  Currently, my taste buds are happy but only in that cozy, is it time to put on my pajamas, sort of way.
So I was walking around the grocery store aimlessly the other day.  (Grocery stores in the Midwest are often a place to spend countless winter hours.)  When my eyes caught the most beautiful sight….tuna.  (And I'm not talking the canned stuff.)
Bright red, sashimi grade Tuna!!!!  (Do you hear angels singing right now because I do?)  I felt like all of the clouds parted and I saw a piece of heaven.  (Heaven is different for all of us.)
I knew that I could take this little fish would bedazzle my gloomy mouth.  (I think in some areas this would be referred to as my "grill" but I'm not that hip.)
The freshness of the tuna with a welcoming blood orange vinaigrette over some creamy, ripe avocados was definitely a boost to my taste buds low self esteem.  My mouth definitely felt brighter…now what can we do about my brain?
Sunshine Day Tuna Tartare
Ingredients
6 ounce fresh, sashimi grade tuna
1 Tbsp mayo
1 tsp spicy chili sauce
½ tsp sesame oil
1 Blood Orange
1 Tbsp Olive Oil
1 avocado
Chili Oil
Dried seaweed (nori)
Directions
Supreme (cut out slices of the orange without the rind) half of the orange and reserve the juice from the other half.
In a small bowl, mix mayo and hot sauce.  Set aside
Slice the avocado and blood orange slices in to equivalent size pieces.  Drizzle with about 1 tsp of orange juice.  Set aside.
An ANOTHER bowl, whisk remaining juice (about 1 Tbsp) with 1 Tbsp olive oil.  Set aside.
Cut the tuna with a sharp knife into cubes and gently mix with  mayo and hot sauce.  Taste.  Adjust for heat.
Set up two plates for serving (big appetizer) or four (tasting size).  Delicately make a circle with the avocado and top with the tuna.  Drizzle with the vinaigrette and chili oil.
Top with nori pieces.  (You can serve this with crackers or crisp wontons.  I ate it with a fork!!)
If you can find the sashimi tuna, this is a must try!!!  It makes a show-off kind of dish when you have company.
I know the murky days of winter are going to be around a little bit longer but it is nice to know that my mouth can go on spring break every now and then.