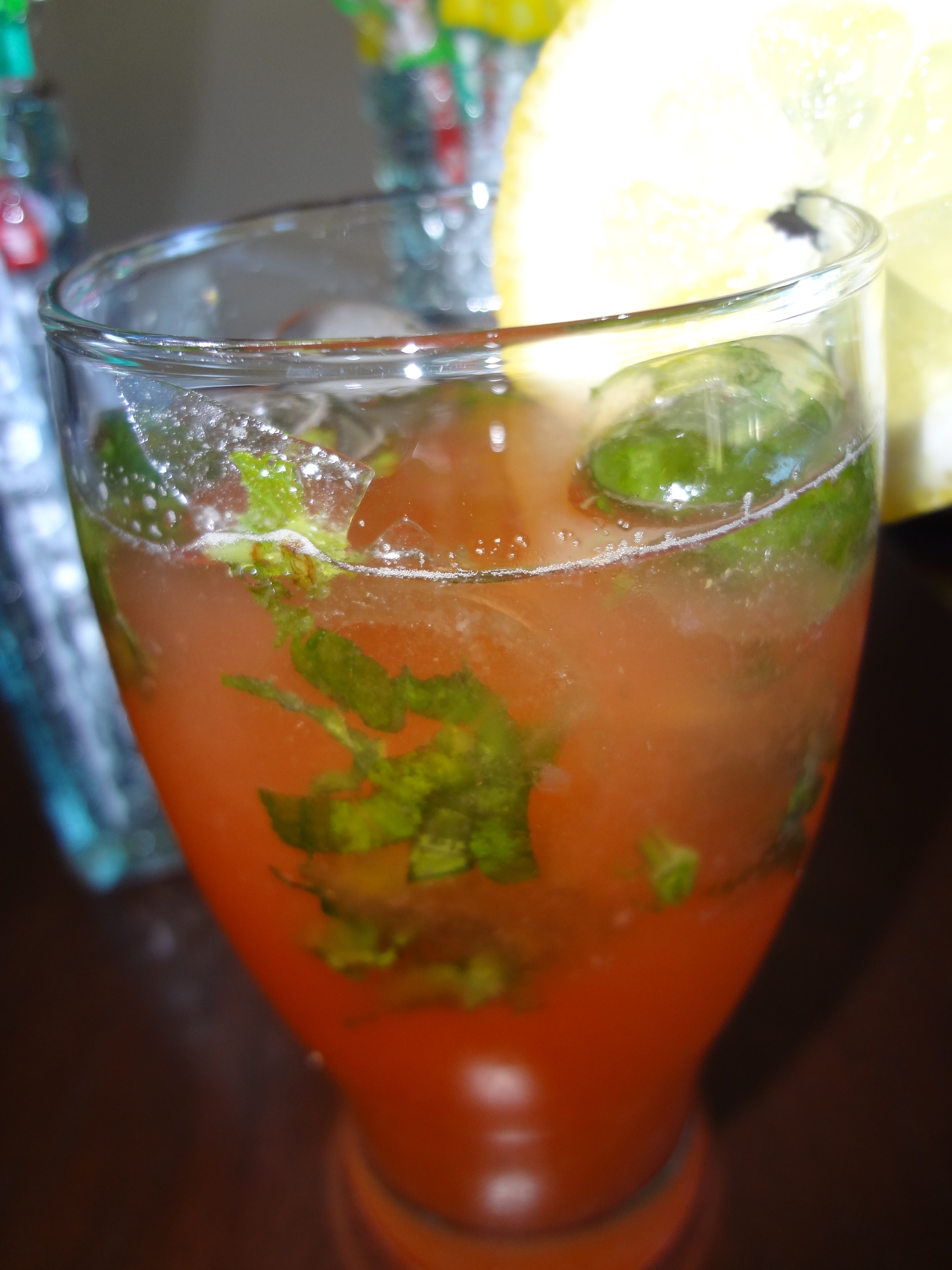 I am in love.  The kind of obsessive love that makes you think of only one thing.  It makes me all goofy inside.  The control this love has over my mind makes it hard for me to even think straight.  (And no I am not reading Fifty Shades of Grey.)
I've tried to quench my desire for my new love in other ways but nothing seems to work.  I'm only rerouted for a moment or two and then I am back to thinking about my true longing.  It is the only way to satisfy my hot thirst as it overtakes my quivering body.  (Okay, I am reading it but I am totally unaffected.)
My summer love is my new favorite drink…strawberry lemonade.
One of my favorite things that restaurants are serving these days is jazzed up lemonades.  I'll have to give kudos to GT Fish & Oyster for first introducing me to the creativity that can be embodied in a glass of juice.  It is wonderful for a nondrinker like me to have a fun drink on the menu when I go out to eat.
So last week, I had an abundance of strawberries in the house. They were just getting to that point that I needed to do something with them or they would be wasted.  (I hate wasting food!)
Still recovering from my hospital trip, I knew I wasn't up to really cooking so I needed to do something simple.  When I thought simple, I thought simple syrup.  Simple syrup made me think of lemonade and that made me smile.  (Or maybe it made me pucker.)
Any which way, I came up with a drink that brightened up my whole week and will now become a mainstay to the scorching, steamy, summer nights.  (I have to put that book down.)
Strawberry Lemonade with Mint Ice Cubes
Ingredients
1 cup sugar
1cup water
lemon zest from two lemons
2 cups freshly squeezed lemon juice
6 cups cold water
1 ½ cups chopped strawberries (plus ½ cup water and 1 Tbsp sugar)
Fresh mint, optional
Directions
Bring one cup of water to a boil and add sugar, reduce heat to low.  Stir until all of the sugar is dissolved and the water looks clear.
Remove from heat and add lemon zest.  Allow to cool to room temperature.  (Strain out zest before using)
Meanwhile, in a blender, add the chopped strawberries, ½ cup of water and 1 Tbsp sugar.  Blend until it is liquefied.
Strain this mixture through a fine sieve.
In a large pitcher, add lemon juice, cooled syrup, strained berries and 5 cups of the remaining water.
Take a taste.  Did it make you pucker?  If so, add more water….don't add sugar!!!
I took an ice cube tray and filled it with chopped mint from my garden and then made regular ice cubes.  They were a nice, colorful addition to the drink.  Plus, the scent of the mint was refreshing but not overpowering.
With my glass of lemonade by my side, I am ready to welcome summer with open arms.  Now where is my book….