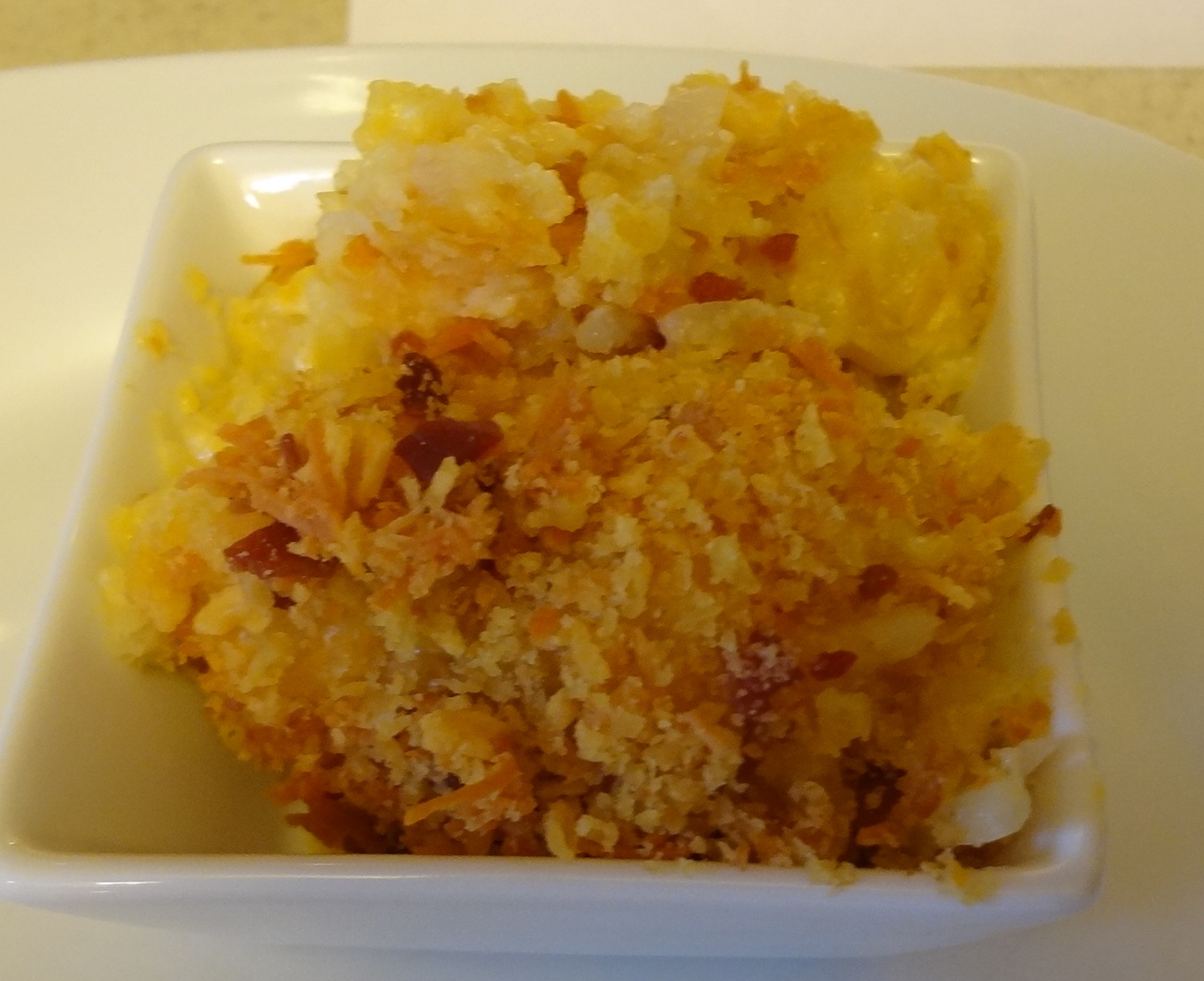 There are two things that make me want comfort food.  The first is when the weather is cold.  The second is when I'm sick.  Since it is June guess why I want comfort food this week??
Yep, I'm sick.  (Ohhh, poor baby.)  Last week I landed in the hospital with some "issues" with my Crohn's disease.  I had a few really rough days and am hoping that I feel better soon.  (You can say poor baby again if you would like.)
Besides the general misery that Crohn's disease provides for me, it depletes my appetite.  (Oh no!!!)  Almost nothing tastes good to me.  I am really finicky and maybe even a tad grumpy.  (My husband is nodding his head in agreement about both statements.)
This feeling brings me back to my picky eater days and I don't like it!
So a week later, I am still not able to eat much but there is one thing that I want…YUMMY POTATOES!  The name alone let's you know they taste good.
This is one of the staple dishes that my mother in law makes at family dinners.  Essentially it is a potato casserole but it has the word 'yummy' in it so that makes it more intriguing.  (This is where I would normally make a snide mother in law joke but I have to be nice to her for two weeks since she helped me break out of the hospital.)
I've been with my husband for 15 years so this dish has become as close to me as his family.  (Another joke opportunity has to go to the wayside due to the "nice contract"!  But trust me it would have been really funny so you can laugh right now.)
YUMMY POTATOES
Ingredients
1 shallot, chopped
Olive oil
2 pounds Ore Ida hash browns (shreds or cubes), thawed
1 can cream of chicken soup
12 ounces fat free sour cream
2 cups shredded cheddar (reserve a couple of tablespoons for topping)
¼ cup white cheddar cheez-its (ground up in a food processor)
2 slices of bacon, cooked and finely chopped
Directions
Heat oven to 375.
In a small pan, sauté the shallots in smidge of olive oil.  Cook until translucent and set aside.
In a large bowl, mix potatoes, soup, sour cream, shallots, and cheddar.
Spread in a large casserole dish.
In a separate bowl, mix up reserved cheese, cheez-its and bacon.  Sprinkle on top of casserole.
Put foil on top of dish and bake covered for 45 minutes.
Remove foil and bake another 10-15 minutes until top is brown and crispy.
I love to add a dash of Tabasco sauce when I eat it but it really doesn't need it.
I have eaten this the last couple of days and it really has hit the spot.  It is warm with a cheesy potato goodness that helps make a bad day better.  I make it a smidge differently than my mother in law (cheez-its and bacon) but it is overall the same dish.  (This holding back on the mother in law jokes is just killing me! Luckily, I only have a week left.)