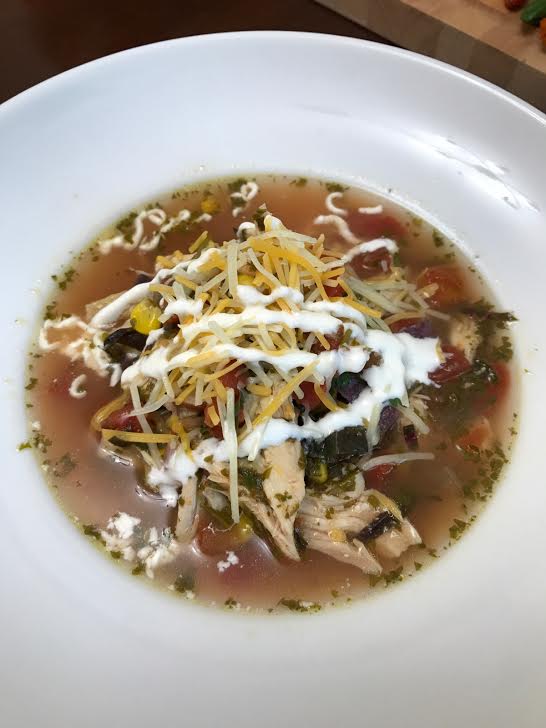 Have you tried any new foods lately?  Not just tried them but learned a way to like them?  Do you do it willingly or is there some hesitation?  Will you taste it multiple times to see if you truly like it or are you a one bite and done?
Even in all my food adventures, I sometimes get my picky girl face on when it comes to something different.  Even before it hits my mouth, I start with a forehead wrinkle and a very straight face.  I take a bite with uncertainty and hope I like it.
The bad thing is that I think we psyche ourselves out before the new food hits our mouth.  I'm a firm believer that if you tell yourself that you don't like something that it will be a challenge to communicate to your brain that your opinion has changed.
When I plant my garden every year, I have the intention of adding a new veggie but sometimes have a tough time embracing it….until now.  I did something crazy this year, I wanted to add something different and FORCE myself to eat it until I liked it.
I thought this plan would work great because usually when I plant something new, it takes a couple of years before I understand the plant's quirks to make it thrive. This allows me to grow enough to try it and learn but not have to eat the "new" veggie EVERY night.
But this season took me by surprise when I planted just two little chard plants and they grew like crazy!!!  I would take a few leaves off and the bigger it would grow.  I'd cut off and eat a few more….and it kept growing!!!!  It was so intimidating but I felt this was Mother Nature's way of getting me to try something new.  (And Mom is always right!!!)
My task was to try to incorporate this chard into something I already loved so that I would get used to its texture and flavor.
Hmmmm, what about soup? I like soup.  You like soup. We all like soup.  Maybe, the chard will like being in a soup?
So last week I was making one of my standbys soups…tortilla soup….and thought….hmmmm…I bet I could showcase some chard in here.  I went a picked some chard and then cut it like thin ribbons.  I squeezed some lime juice over it because I find the acid breaks down some of the bitterness that turns me off in super green veggies like these.
I proceeded to make my simple soup and without a moment of hesitation….I added in the chard.  (Okay, there was one moment but then I threw all caution to the wind.)  The result….perfection!!!  The soup which originally had an awesome spicy familiarness now had a earthy slight bitterness to it.
It wasn't just good, it was interesting.  It made me think of how to incorporate chard in my pasta dishes and stir-fries. I wasn't scared anymore and proud to add another vegetable in my life.
Lesson to be learned…keep trying new things even if it makes you chard in your plants.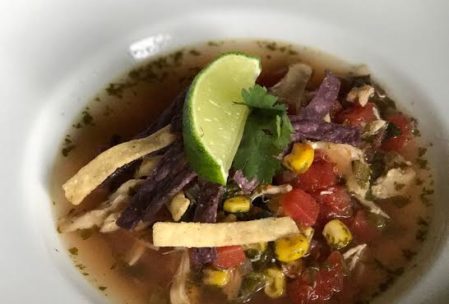 Super Easy Tortilla Soup with Chard
Ingredients
1 cup corn
1 serrano chile
3 cloves garlic, whole, unpeeled
1 yellow onion, chopped
1 can Rotel Cilantro/lime diced tomatoes
1 can Red Gold petite diced tomatoes with green chiles
6 cups chicken broth
2 cups of shredded chicken (perfect recipe to use the meat off a rotisserie chicken)
Olive oil
1 cup finely chopped cilantro (this was about one bunch)
1-2 cups rainbow chard, ribs removed and leaves cut into very thin ribbons
2 limes
Optional:crème fraiche, shredded cheddar, tortilla strips
(roasted at 375 in about 1-2 tsp olive oil.
Preheat oven to 375.  Prepare baking sheet with a piece of parchment.  Toss corn with about 1-2 teaspoons of olive oil and spread in a sinlge layer on baking sheet.  Add the chile (unchopped) and the garlic.  Roast for about 25 minutes.
In a separate bowl, squeeze one lime on top of shredded chard and set aside.
Meanwhile, in a large Dutch Oven saute the onion in about 1 Tablesppon of olive oil until it is translucent.
Add tomatoes and chicken broth and bring to a simmer.
Ding.  Corn is done.
Mash up the garlic.  Remove the seeds of the chile and mix it with the mashed garlic.
Whisk it ino the soup.
Add chicken, cooked corn and chard.
Cook another 10-15 minutes over low heat.
Serve with a little cheddar, tortilla strips and a squiqqle of crème fraiche.  (I also like to serve some lime slices.)