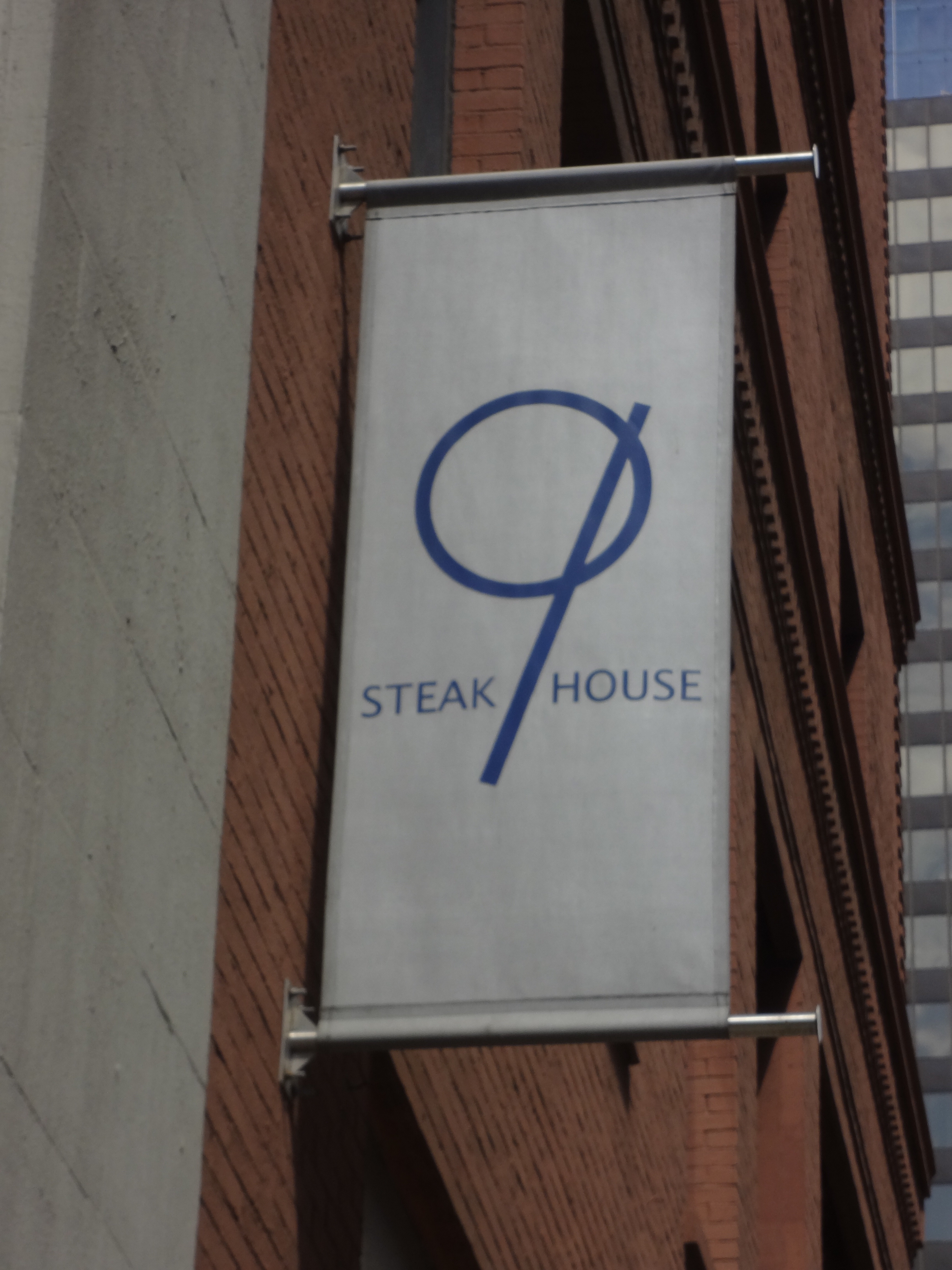 Anyone who knows me knows I love numbers.  Big , small, rational or irrational, I look at numbers and my brain fires up.  (Okay, I am a little OCD and I just love to count things.)
So the first time I saw there was a restaurant called N9NE Steakhouse, I was intrigued.
This past Friday, I had the WONDERFUL pleasure of dining at N9NE Steakhouse in Chicago and thought I'd count down my Top Nine Reasons to Dine at N9NE.  (I could come up with more reasons but I'm trying to be cute!)
NINE REASONS TO DINE AT N9NE STEAKHOUSE
1.  FOOD:  I wouldn't be a food blogger (or a very good one) if I didn't talk about the delicious food.  The menus were an ode to classic steakhouses but creative enough to allow some modern twists.  Specials are changed weekly to accompany seasonal freshness and availability.
Hey Barb, What did you eat?  Thanks for asking….
Although the Lobster Bisque tempted me, I took advantage of the smooth Gazpacho offered as one of the specials and I wasn't disappointed.  It was a bright fresh cool note on a warm day.  I loved the touch of shrimp in the center.  It was just enough to flatter the tomato flavor without controlling the dish.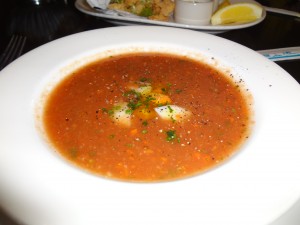 Next, we moved onto the Rock Shrimp appetizer.  Amusingly presented in a Chinese take-out box, the panko covered Carolina shrimp were cooked to perfection and served with two sauces.  The caviar cream was smooth and creamy but it was the sriracha "cocktail" sauce that made me want to "double dip."  (I swear I didn't but I sure wanted to!)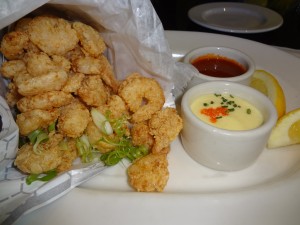 As for choosing an entrée, it was a difficult decision.  If my hubby were with me, he wouldn't have been able to resist the prime aged steaks.  I was tempted into the glorious sea scallops.  Expertly seared, there was a bouquet of truffle oil that caught your sense of smell but didn't overpower your palate when you took your first bite.  It was served with a lobster risotto that escorted the flavors into your mouth without being heavy.  (I don't know what they did to the peas in the risotto but they were perfectly cooked and added a nice textural complexity to the dish.)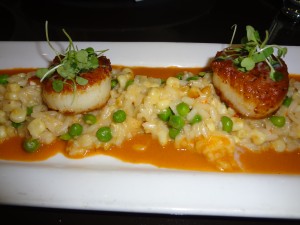 My dining companion enjoyed the organic Irish salmon which she so kindly shared with me.  This flawless fish had a unique Chinese mustard glaze that was matched with a tangy ginger vinaigrette.  The salmon was allowed to shine but the sauces really brought out its natural nuances.  (It was also served with grilled shitake mushrooms and bok choy, which made the dish even better, if that was possible.)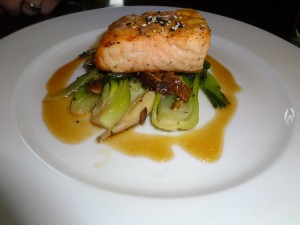 Finally, we dove into dessert.  My Pecan Square was just sweet and warm enough to be a nice finishing touch to my meal.  The warm caramel drizzle and the cool vanilla bean ice cream on top were also a nice touch.  (Chocolate lovers have to go for the Chocolate dessert of velvet mousse cake coated in ground hazelnuts, Godiva chocolate sauce and fudgsicle sorbet.)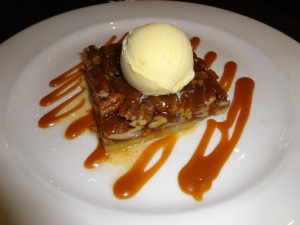 2.  ATMOSPHERE (Back to my list):  I walked into N9NE and just had to take it all in.  The soothing waterfall behind the signature "9" instantly made me feel like I was about to experience something spectacular.  The center of the room was lit in a gorgeous hue that changes all day and night.  I also loved how the silver metal looked modern but not like I was in an episode of the Jetson's.  (And the plump booths were incredibly comfortable.)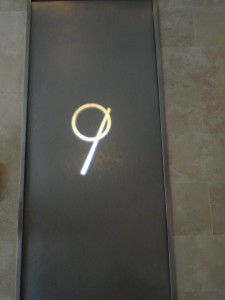 3.  GHOST BAR: N9NE's creative, provocative lighting makes the private dining lounge of the Ghostbar the perfect space for planning your next event.  Sleek and intimate, it can accommodate 150 guests for a unique sit down dinner.  (Room enough for 250 if you are hosting a cocktail/hors d'oeuvre event).   And if you are a fan of spotting a celebrity or two, keep your eyes open!
4.  SERVICE:  I love good service and was not disappointed at N9NE.  My waiter who seemed more like a host did everything in his power to insure that I was going to have a great meal.  His menu knowledge was expansive and his suggestions were spot on.
5.  PRIME AGED STEAKS:  You can't have a steakhouse without having Prime Aged Steaks.  A great selection of New York Sirloins, Filets, and Ribeyes will make your mouth water and your belly cheer.  (And when they say Prime they mean PRIME!)
6.  BAR BITES:  Whether you are meeting up with friends after work or just grabbing a snack while touring the city, the Bar Bites offered in the bar are a great inexpensive ($10 each) option.  For example, Asian Chicken Pops, Mini Sandwiches (pulled pork slider, mini burgers) and assorted taco trios are great selections to the usual fare served in bar atmospheres.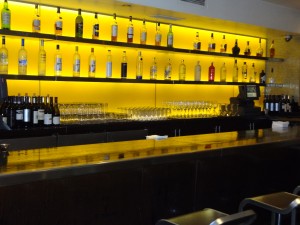 7.  WHITE JACKETS:  The servers wore White Jackets that took this modern restaurant back to an elegant time where dining out was an event not just an everyday occurrence.  (I was very relieved that they did not try to be quirky and have the jackets glow in the different lighting.)
8.  PRIX FIXE THEATRE MENU:   Given the location at 440 W. Randolph, N9NE is close enough to some wonderful Chicago theatres that this is an excellent choice for theatre dining.  The prix fixe menu ($39) with an amuse and three courses, will make your special night out complete.  (The prix fixe menu is offered any time so if you want to dabble in some fabulous food; this is a great alternative.)
9.  COME AS YOU ARE:     As fashionable as N9NE restaurant appears, they welcome their guests in everything from party dresses to business casual to blue jeans.  General Manager, Tim Griffin, said that in the evening guests tend to be "dressed to the nines" but it is not required.  (They want you to enjoy the experience being yourself, just don't show up in your jammies or track suits!)
I had an exquisite time at N9NE Steakhouse.  Thank you for making my lunch out seem like an elegant event.  I can't wait to come back!