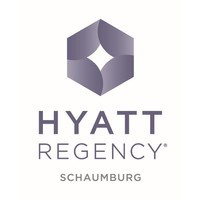 Guess what today is?!?! Today is March 6…and that means only one thing…Chicago Northwest Restaurant Week (March 6-March 15, 2020) has officially started! I've been sharing some bites to entice you from the expansive group of restaurants participating this year. So many places to go…how do you choose? How do you get the most out of this amazing week?
How about making it a "staycation" and getting a room at the Hyatt Regency Schaumburg (1800 E. Golf Road, Schaumburg)? It has felt like a long winter and wouldn't it be nice to have a night or two away? This is the year for mindfulness and self-care and the Hyatt is just the place to stay. You will not only escape from your daily stress but you'll be in a contemporary environment that has fine-tuned what we need to break free. (Or at least feel that way.)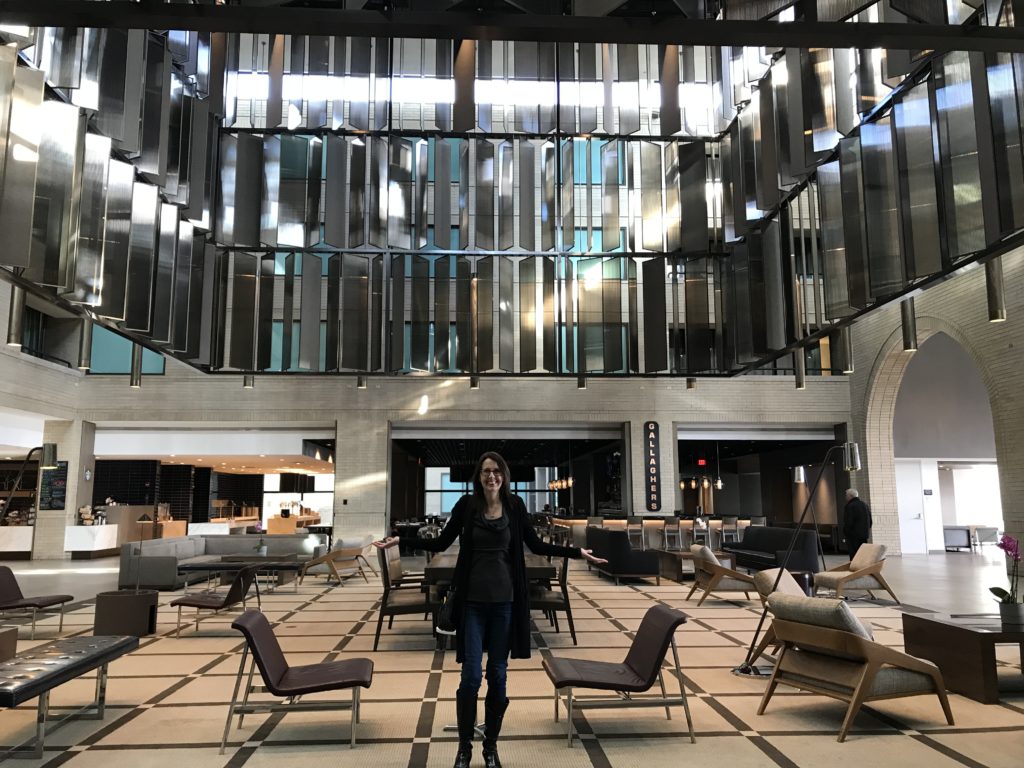 For me, the Hyatt Regency Schaumburg is no stranger in my life. Even without a Restaurant Week to preview, it is one of my go-to hotels when I'm staying in the Northwest Suburbs of Chicago. It has an amazing location, great amenities, helpful staff and supports the complete wellness of guests.
First, location says it all. Whether you are in town for business, a wedding or maybe a fun weekend of hitting Legoland Discovery Center and Medieval Times with the family, the Hyatt Regency will be an ideal homebase.
It is also the ONLY hotel in Schaumburg with a dedicated path to Busse Woods (aka Ned Brown Preserve) so you can enjoy a nice walk or run after a long day of meetings or work. ( The Market inside the Hyatt has some terrific grab & go options so you can take some munchies with you on your hike and make it a picnic.).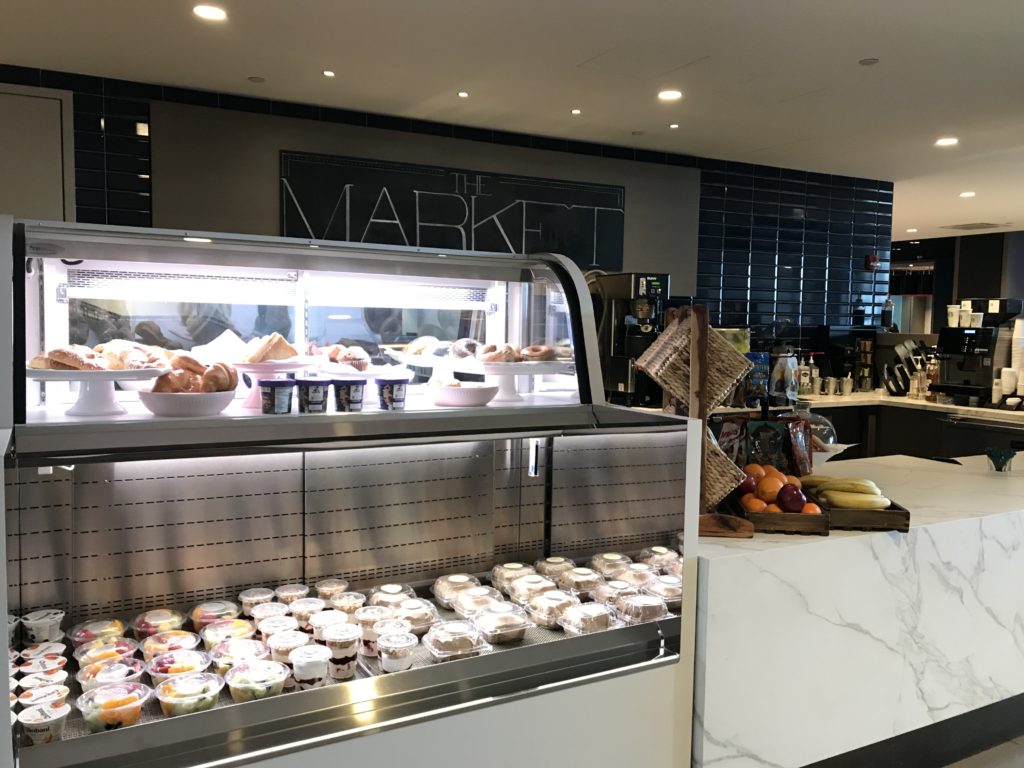 It is also within walking distance of Woodfield Mall if that the kind of hike you like.
Hyatt Regency has an indoor lap pool (seasonal outdoor pool) and 24-hour gym to keep you in touch with your fitness goals. (I went and used the gym and REALLY liked the ice-cold towels that were provided to help cool me down. And for my regular readers….yes…I went to work out…on purpose!)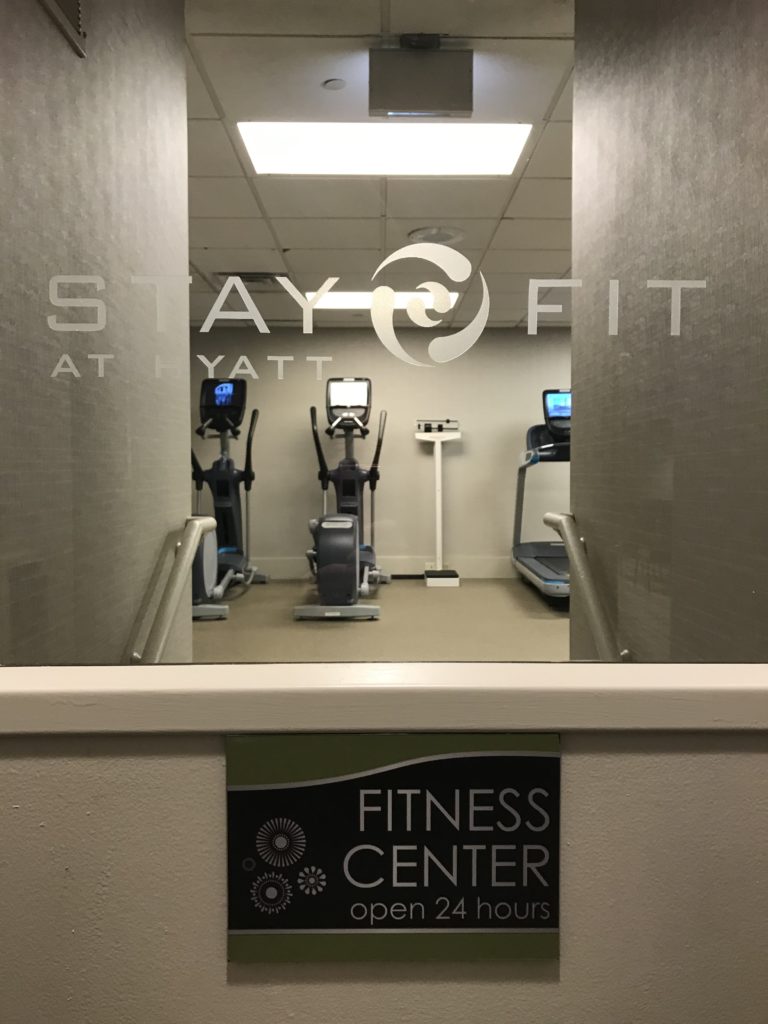 Next, the rooms at the Hyatt are designed so you can plug in as you mentally check out. Every room has a docking station to keep your electronics charged and a rain shower so you can uncharge yourself. (I was fortunate enough to experience the executive suite which had a bathtub fit for a queen!)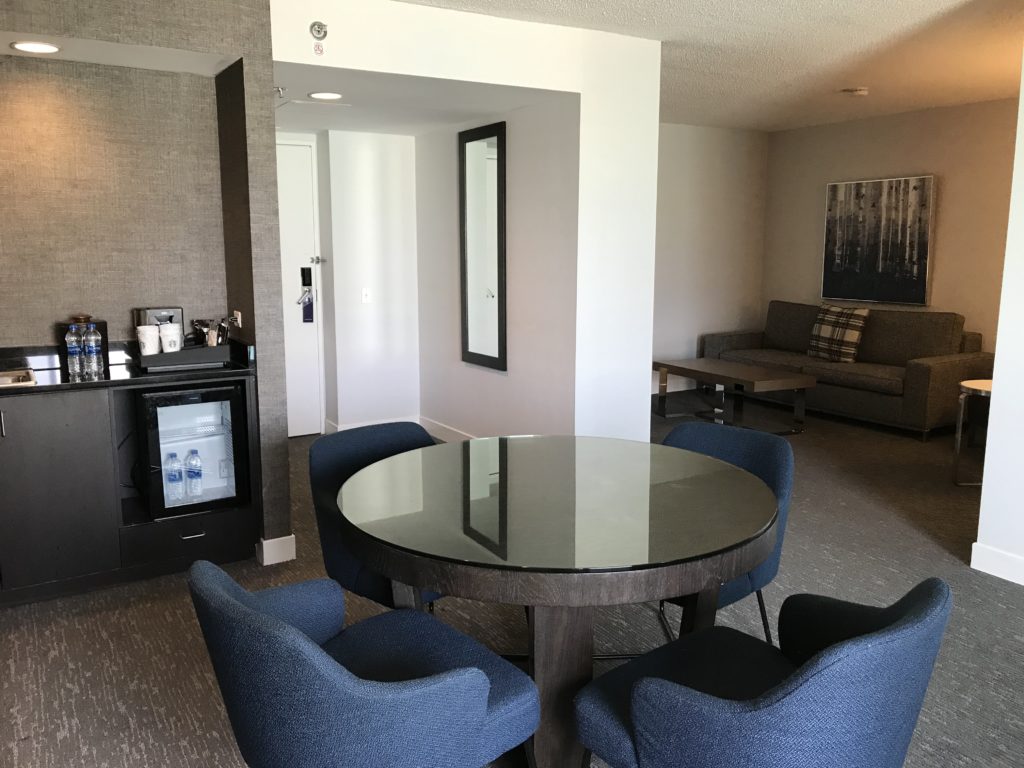 But for me a hotel is all about the bed….oh…that bed. With pillows that reminded me of a fresh bag of marshmallows and linens that were crisp yet soft, it is slumber party for your soul. There is something magical about having a fluffy comforter engulf you as you get into bed. (And I love the guilty pleasure of watching a gigantic 42-inch TV while in bed!)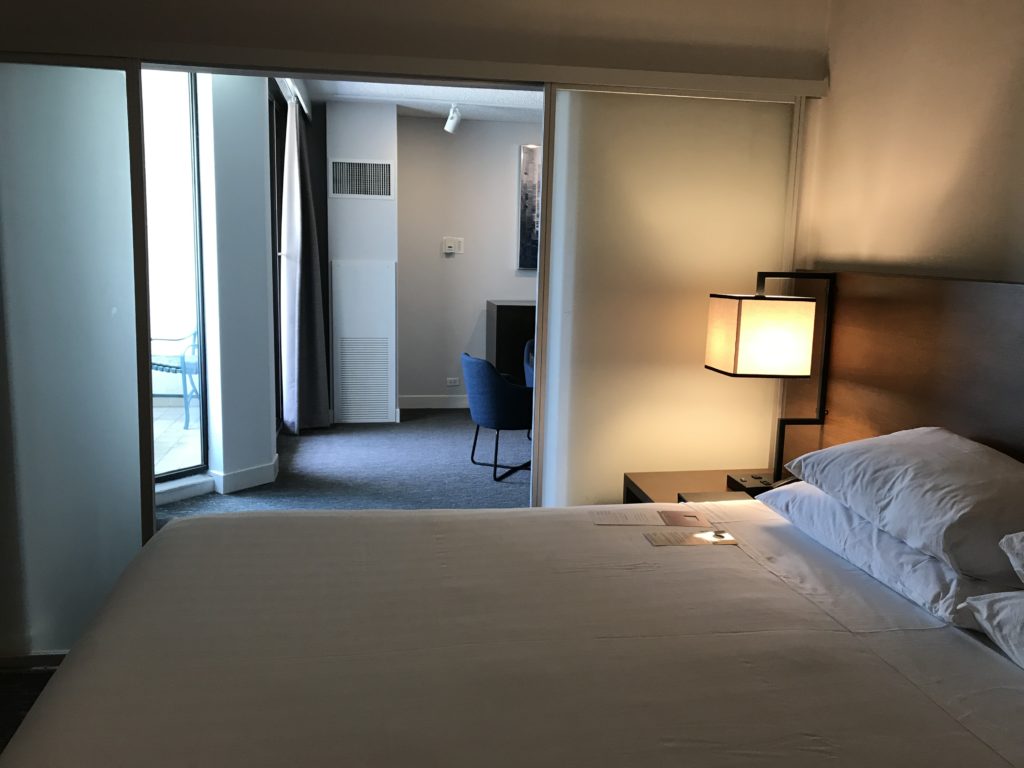 Finally, a visit to the Hyatt Regency Schaumburg can be all encompassing with the availability of their house restaurant, Gallagher's, on the Lobby floor….who just so happens to be participating in Chicago Northwest Restaurant Week! (Check out the menus they'll offer during RW here .)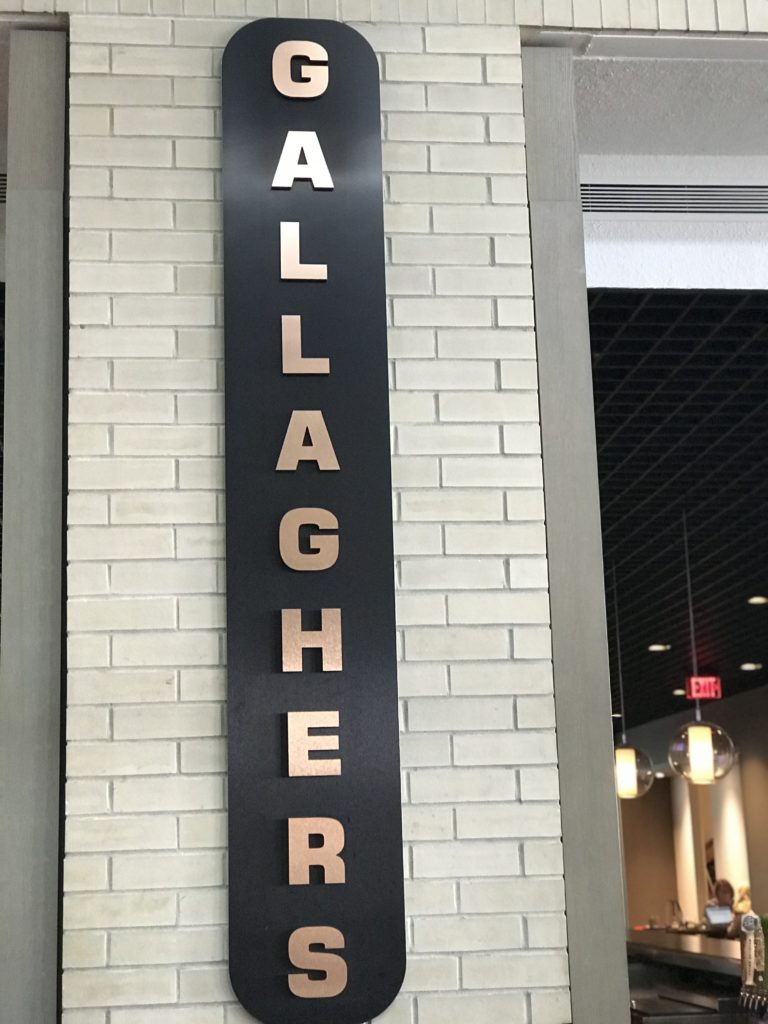 If you are one of those naysayers who would never think of going into a hotel lobby to grab a meal, let me change your mind.  Gallagher's is a hidden gem in Schaumburg.  It is that pearl in the oyster.  With everything from craft cocktails to a terrific wine menu, you find that the wide-open atmosphere is a pleasant change.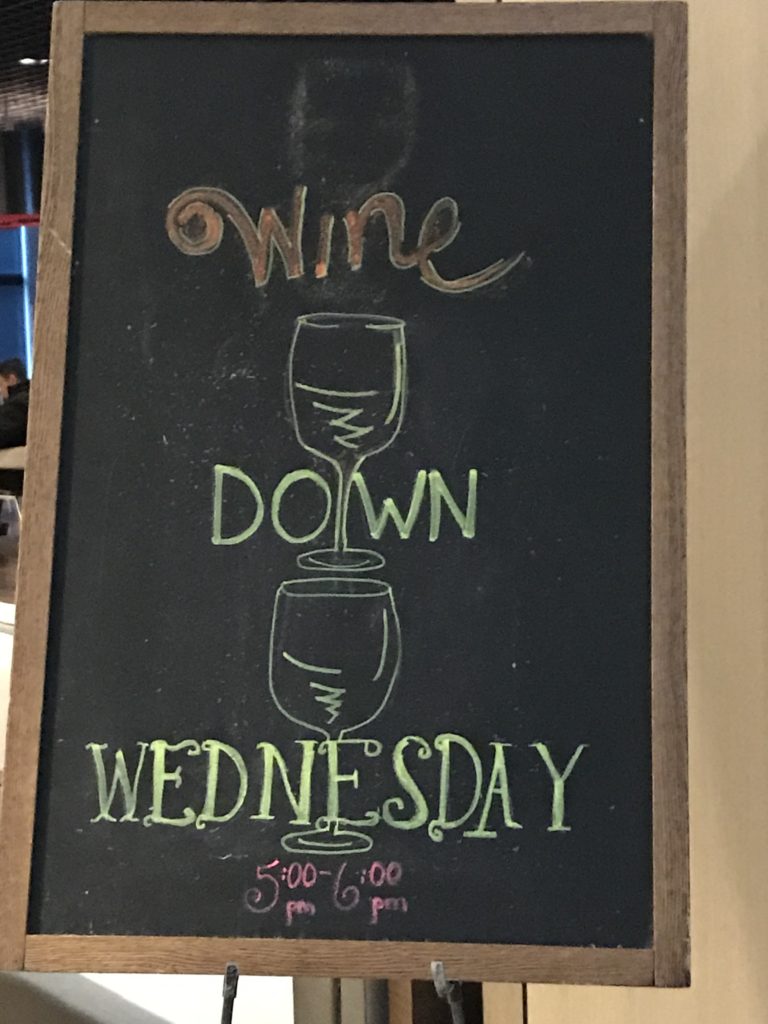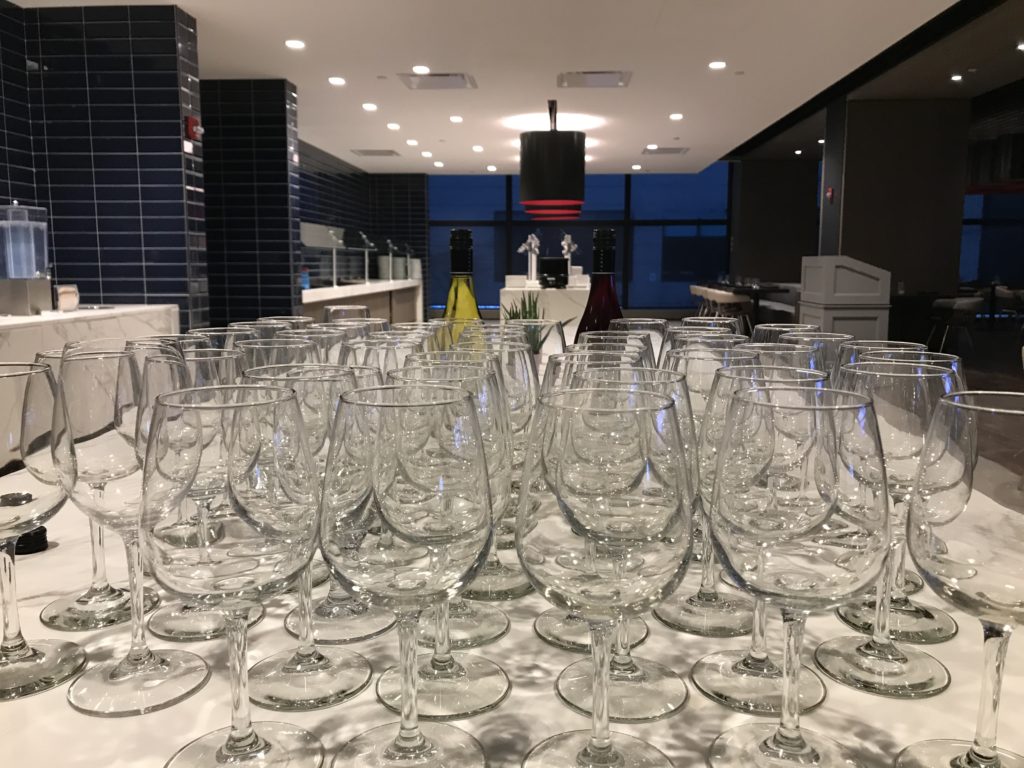 Gallagher's is the kind of place where you feel just as comfortable grabbing a bite alone but it is also great for a group.  (Hyatt Regency Schaumburg has multiple meeting spaces and banquet rooms, in case you didn't know.)
But how do you satisfy the multitude of different tastes and diets of all the folks who walk in?  Well Gallagher's is rolling out a new extensive menu that is as diverse as the people who stay here.  
To start, the Tapas/Appetizers/Shared offerings had everything to offer from a Charcuterie Board to Spicy Togarashi Edamame to Mussels, Chorizo, Kalamata Olives, Sweet Peppers, Tomato and grilled bread.
The Dip Trio of Tzatziki (or Baba Ganoush), Hummus and Pimento cheese with naan, "everything" flatbread, cucumber slices and cute happy peppers (not the official name but it is the feeling they invoke) was not only something to share but it would be a great snack or evening light meal option.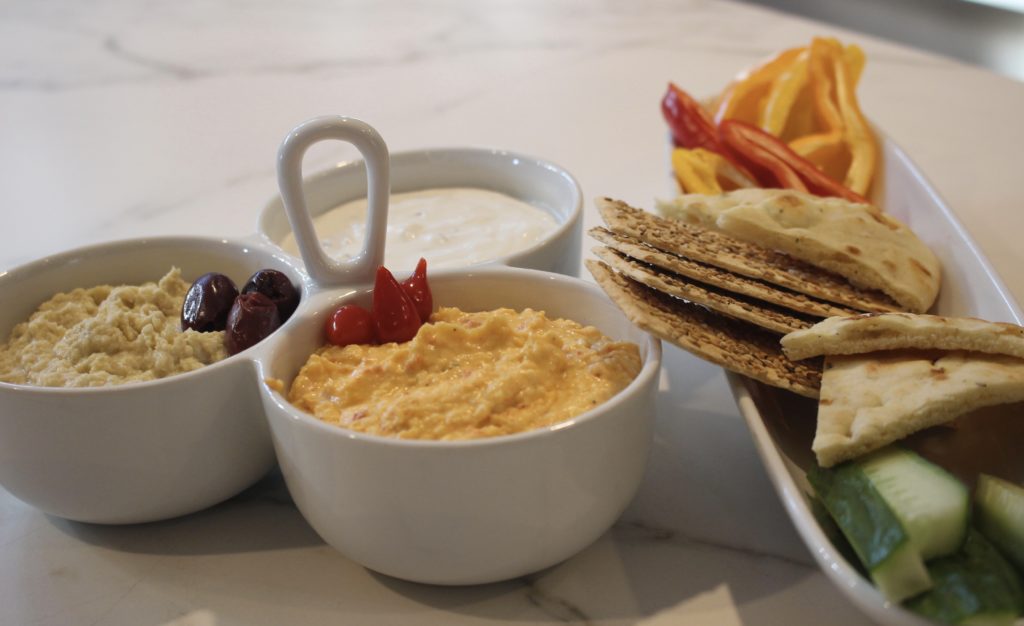 Are you more of a salad person? Maybe a BLT Protein Bowl (bacon, lettuce, avocado, quinoa, tomato, green goddess dressing) or a Greek Salad (artichoke, feta, Kalamata, red wine vinaigrette) might be your choice. Add a little more protein with the option to add on chicken, Beyond meat, flat iron steak, salmon or shrimp.
The Modern Salad Nicoise (purple Peruvian potatoes, seared ahi, haricot vert, hardboiled egg, cucumber, radish) was a great way to also showcase that Gallagher's offers either a small or large option.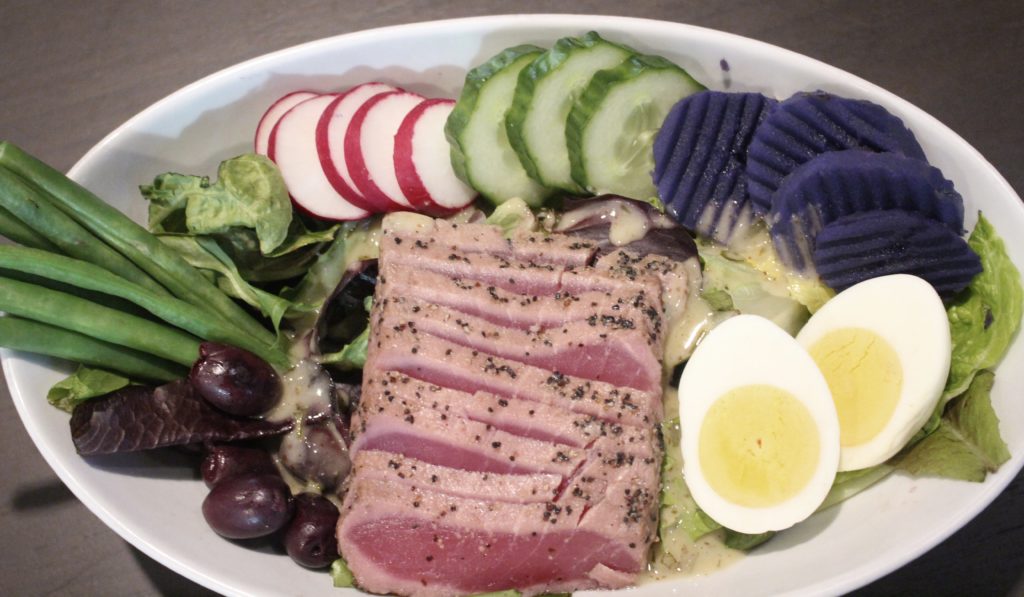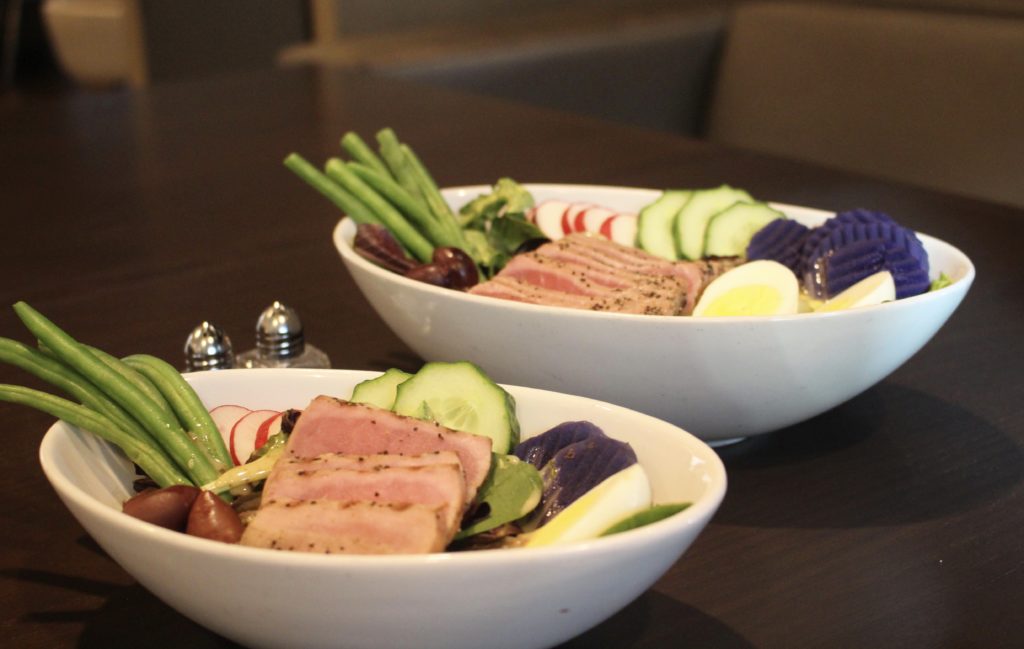 If you want to put your fork down, the sandwiches like a Classic Club (smoked turkey, bacon Swiss, tomato), Korean Steak Sandwich (pickled carrots/cucumbers and gochujang mayo) or the eponymous Gallagher Burger (pork belly, fried egg, cheddar and bacon brioche) are all thoughtfully designed.
The Grilled Vegetable Sandwich was especially memorable given it was a Vegetarian option. It had fresh grilled pumpernickel bread with eggplant, zucchini, radicchio, Heirloom tomato, vegan cheese and an amazing rich, flavorful Kalamata tapenade. You didn't miss the meat!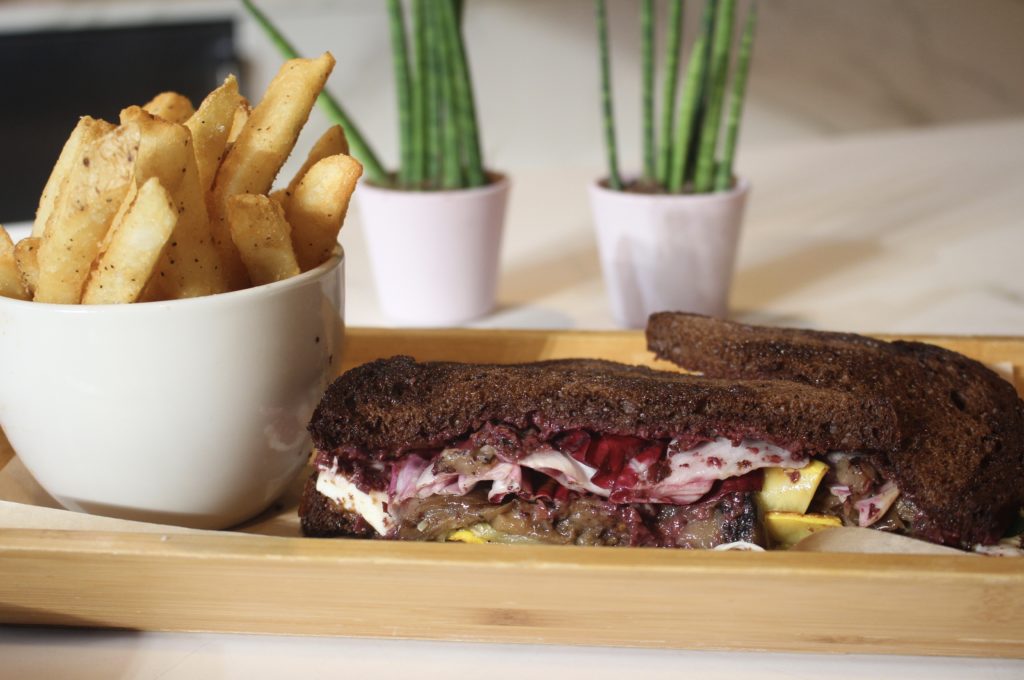 If you are part of the "After 5" crowd, larger entrees are available like Wild Caught Miso Salmon on Ramen Noodles, Chicken Milanese, A Flat Iron Steak, a Cauliflower Steak (curry eggplant quinoa and turmeric oil) or everyone's favorite Mac & Cheese. (Or if you are a morning person there are options galore including a breakfast buffet which allowed me to enjoy a little bit of everything I love.)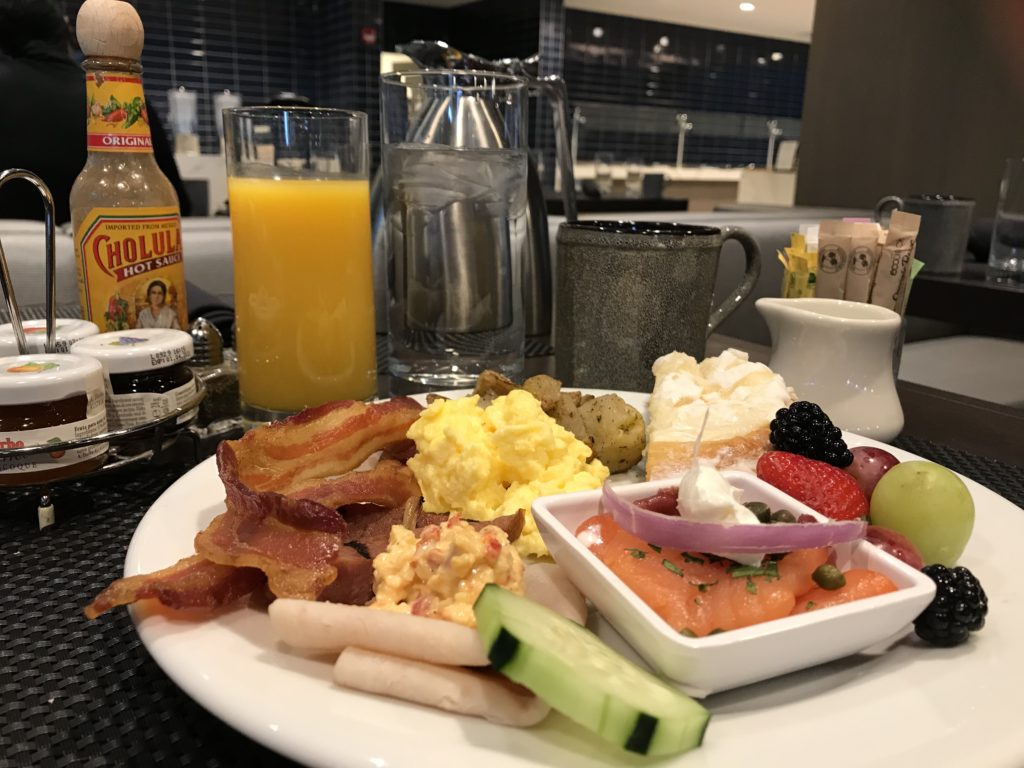 I can't tell you how much fun I had discussing food with the executive chef, Terri Boehm. It is incredibly exciting to talk menus and food with a chef who put so much thought and joy into what they are creating.
Thank you so very much to The Hyatt Regency Schaumburg and Gallagher's for this great break from winter. (The day I drove into town, my hometown was being hit with lake effect snow so it was great to relax and not think twice about my trip.)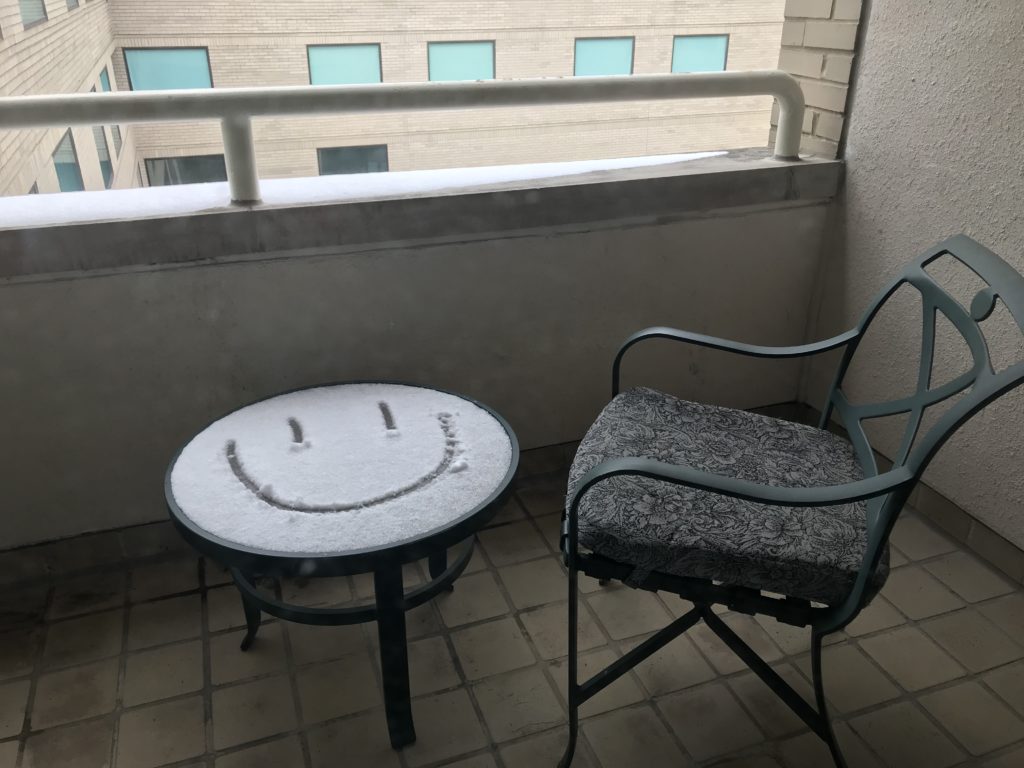 I hope everyone has enjoyed my Chicago Northwest Restaurant Week Preview. There are so many options. I might have to come back for more! I truly appreciate all of the chefs, hotels and restaurants in the Chicago Northwest. Thank you for inviting me to come in and I hope everyone has a great Restaurant Week!!!