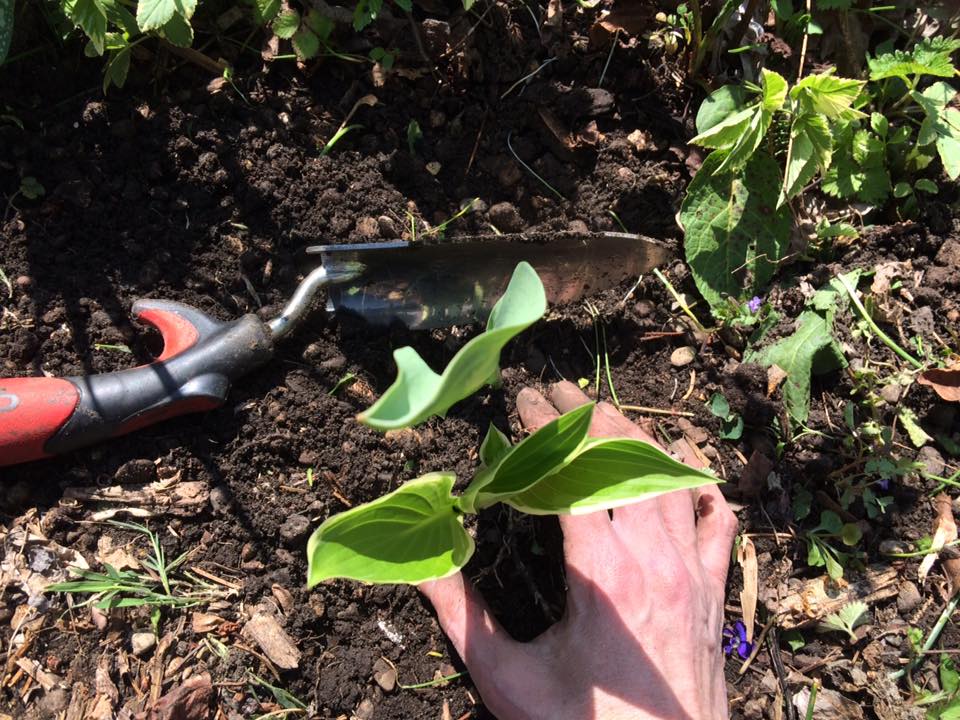 I spent most of the weekend getting my vegetable garden ready for planting. Silly cultivating things like picking weeds and moving dirt around. I started a lot of seeds inside this spring and hope that in the next few weeks they'll be able to make their way off my kitchen table and into the side garden.
As I worked in the yard, I did some other basic gardening things in the yard like splitting some plants….and picking more weeds.
There was a moment as I was working I looked down at my hands and saw my mother's hands in the dirt. It made me smile because it was just another way I feel I have become more like her over the years.
My mom was not the kind of woman to have perfectly manicured hands. Her long and lean fingers were topped with incredibly short nails. They were never polished or decked out in rings. Even her wedding band was just a simple band of gold.
The back of her hands used to mesmerize me because they were thin enough for you to see the details of some of her bones and her veins were very blue. But the best part of all is that they were the perfect size to hold my hand whenever I needed it.
After my revelation, I continued to get my work done but with a new awareness of some of the things around me. I could hear various birds chirping to each other, a loan leftover leaf tumbling in the wind and the slight creak of the tree limbs as the wind passed by.
I heard the buzzing of a local bee, the barking of the neighbor's dog and the sound of a bird's wings flying overhead. I felt the excitement my mom always would feel when she would see a squirrel pounce out of a tree, a rabbit hopping aimlessly or a hawk soaring in the sky.
It made me realize that there was so much more than just playing in the dirt that made my mom happy. It was the entire picture and environment that would surround her. It was like an escape for me into her mind for moment and it is a feeling I will carry with me for the rest of my life.
(PS Mom….does this count as an early Mother's Day Card? Love you!)
Marinated Zucchini
Author:
On busy gardening days, I like services like HomeChef to take out some of my thought behind dinner. They had a recipe with a marinated zucchini the other week and it was out of this world. I roasted the zucchini in the oven instead the way they did it. I thought as I was planting my zucchini seeds that I needed to plant extra because I am going to want to make this a lot!!!
Ingredients
2 cloves garlic, chopped
1 tsp oregano
1/4 tsp red pepper flakes
2 tsp red wine vinegar
1 zucchini, sliced in rounds
Instructions
In a medium bowl, whisk garlic, oregano, red pepper and vinegar. Add zucchini rounds and let sit for about 30 minutes.
Oven at 400. Prepare a baking sheet with parchment paper.
Take zucchini out of the marinade. (In the HomeChef box, we used the leftover marinade on our steaks for a marinade.)
Place the zucchini in a single layer on the sheet. Bake 8-10 minutes until tender and brown.