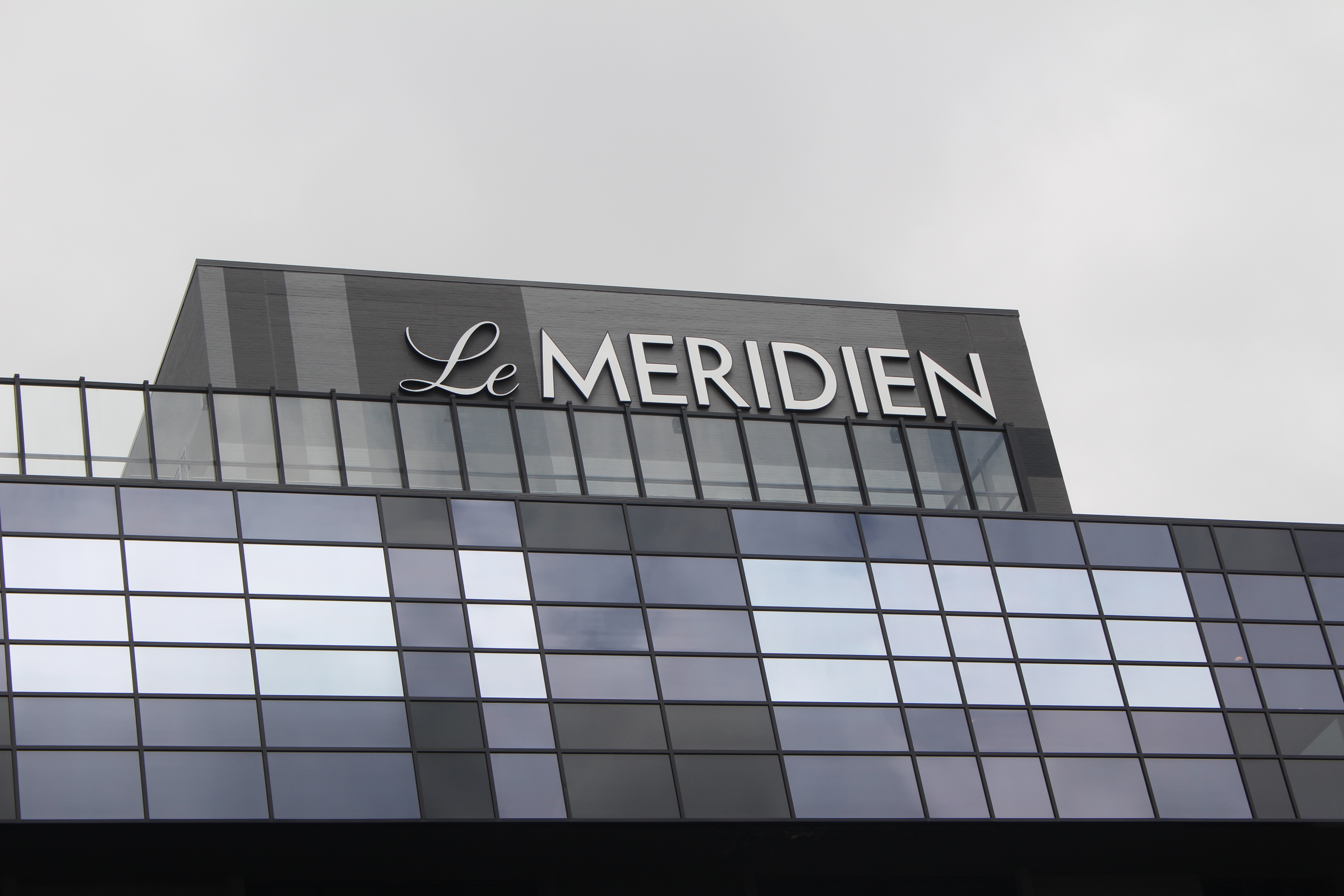 Do you have those days where you wish you could escape real life? All you would need is one day to relax and concentrate on yourself and then you would be brand new again.
You could spend this time with your honey pie, best friend or the person you need to put first every now and then….yourself.
You could take this time and just be alone in your thoughts and things you love. In other words, do you ever want to take a MEscape?
I had the pleasure this past week of running away locally for a night. Nothing made me want to run other than the usual adult responsibilities that seem to loom over my shoulder. (Cooking, cleaning, building Lego..etc.)
I didn't have a lot of time to be away so I just went for one night to Oakbrook, Illinois (suburbs of Chicago) and spent the night at Le Meridien. (Technically it is the Le Meridien Chicago – Oakbrook Center and is located at 2100 Spring Road.)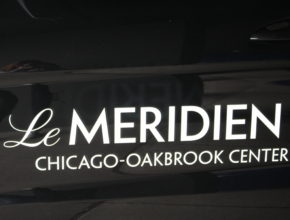 First and foremost, , when you walk into the hotel, it is breathtaking. It is bright and colorful and awakens your mind as you pass into the HUB. (The Hub is their name for what most places consider a lobby.) The Hub is set up so folks can meet up and chat in an inspiring environment instead of the usual drab conference room.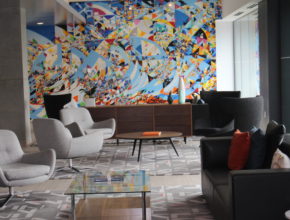 My room wasn't ready when I first got there (I was early.) So I went to Longitude 87 for cappuccino. Longitude 87 is the first floor lounge that has a barista on hand almost all day. I was excited to see that they made their cappuccinos with illy espresso. If you never had an illy espresso….it is the smoothest espresso you'll ever taste. (Cool fun fact is that illy makes special mugs that are unique just for the different Le Meridien hotels.)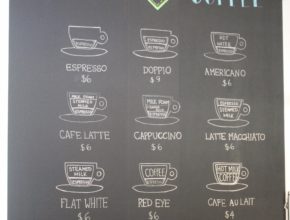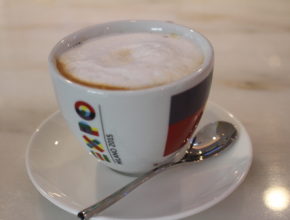 Another temptation each Le Meridien offers is their éclair case. As a nod to their European heritage, each hotel offers multiple éclairs (chocolate, coffee, vanilla) to munch on. To make it even more unique, they have one in the case that is inspired by their location such as the Salted Caramel Peanut one I tried. (It tasted like Cracker Jacks….which were developed in Chicagoland!)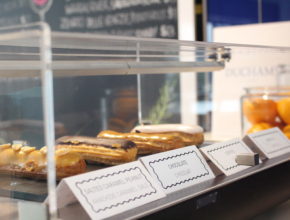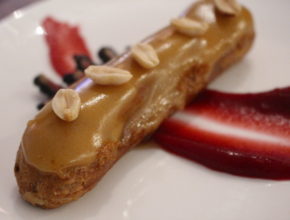 When I got to my suite, all I could say was "Wow." It was beautiful. From the artwork to the knickknacks, I did not feel as I was at a hotel for the night….I had reached my destination.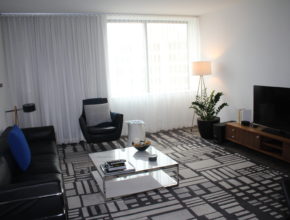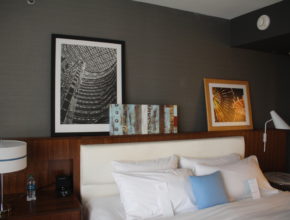 I giggled like a schoolgirl when I walked into the bathroom and saw the HUGE tube and open glass shower. (Know what is better than a glass shower….a glass shower with NO mirrors around it so you don't have to watch yourself bathe! Thank you for that detail!!)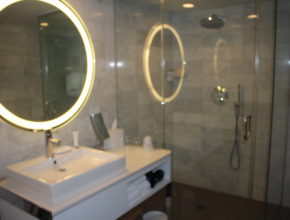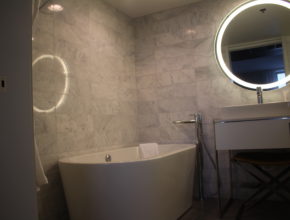 The comforts of home surrounded me with fluffy robes and soft slippers, a illy espresso machine in my room in case I needed some more coffee and a bed that made me feel like I was in a marshmallow cloud. (There was also an afghan on one of the chairs, which I thought was a really nice touch because I love to cuddle under a blanket.)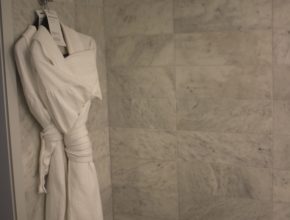 After I twirled around the room numerous times like an uncontrollable child (I did not jump on the bed….I thought about it…but instead I only did a somersault across it), it was time for dinner.
Luckily, on the 9th floor of Le Meridien, there is an amazing Spanish inspired restaurant called El Tapeo. Part of my reason for going to Oakbrook was to try out some of their new spring menu.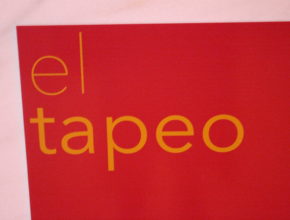 Chef Michael McDonald has designed a menu that not only highlights the beautiful nuances of Spanish cuisine but he also is in touch with what is in season in the Midwest. This way all the dishes can be made with local and incredibly fresh ingredients. (Here is a link to El Tapeo's menu.)
One of my dearest friends joined me (she didn't have time for a full MEscape but a girl does have to eat.) She loved some of the creative cocktails like the Ginger Detox (and pointed out to me that they had an amazing array of spirits like bourbon, whisky and scotch). The mixologist was also kind enough to come up with a delicious blackberry mocktail for me, which was really appreciated!!!!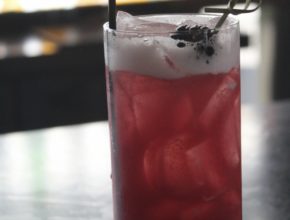 "In addition to this new spring menu, El Tapeo offersDine on Nine Happy Hour and Late Night specials available at the lounge and bar from Monday through Thursday. Happy Hour takes place from 4:00 PM to 6:00 PM. On Mondays and Thursdays guests receive ½ off wines by the glass, on Tuesdays ½ off draft beer and bottles, and on Wednesdays ½ off all signature cocktails. The Late Night specials include signature Tapas plus a glass of El Tapeo's signature Sangria for just $9 from 9:00 PM to 11:00 PM. All guests enjoy complimentary valet."
We had the pleasure of sampling a lot of little plates from El Tapeo's new spring menu including the Sopa de la Primavera (which was my favorite because I've never tasted a pea soup that was so light and refreshing), Vieiras (pan seared scallops), Albondigas (lamb and bacon meatballs in a mildly spicy romesco sauce), Croquetas de Marisco (I was not sure I would be a fan of these little shrimp croquettes but they were so creamy and delicious, I lost count of how many I ate) and the Tortilla Española (which looked like a little quiche but more like an omelet made with confit potato, goat cheese, caramelized onion, romesco and crème fraiche.)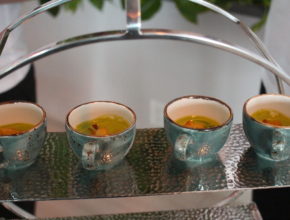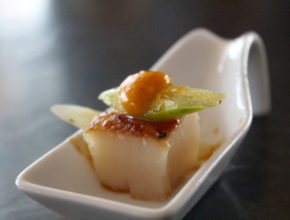 The entire menu looked amazing and want to come back just for some more of their selection of shaved ham. I was told they actually shave it at the table. I had some Serrano when I was there and could have eaten just that all night. (I loved the Spanish olives and pickled piparras that were served alongside of it.)
After we munched on all of those delicacies, we jotted downstairs for one more cappuccino and dessert at Longitude 87. We shared a fun dish of sweet potato fries with brûléed marshmallow flush and salted caramel ice cream. (There was a chocolate sauce too that my friend said was really good.)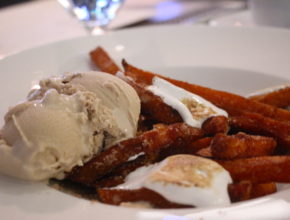 We bid adieu and I went back to my MEscape and took an incredibly long bubble bath and had a wonderful night's sleep.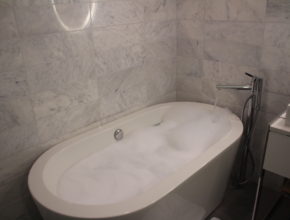 My time at Le Meridien would not be complete without a visit to their spa or should I say Spa Suite. Instead of having a designated area set up as a spa, they have individual private suites. You are escorted from the Hub (it is open to the public so this would be a great Mother's Day gift) up to your spa suite. When you walk in there, it is just peaceful (heck, even the hallway walking to the room smelled like heaven).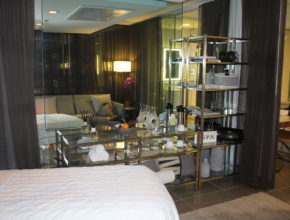 Besides having the usual massage table in the room, you have a comfy seating area and a HUGE bath area…ALL TO YOURSELF!!!!! After a 50 or 80-minute service, Le Meridien gives you an additional 40 minutes to just relax. (More on that in a minute.)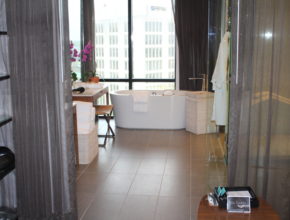 The spa has a great menu of services and I was able to enjoy one of the Personalized Facials. After throughougly going over my skin routine and showing me with their SkinVision light my problem areas, I was able to relax and just let them make me feel beautiful. I was not familiar with the all-natural ESPA products before this experience but I will say I am a fan of them now.
My face was glowing and my skin felt smoother than ever before. (I can only imagine what one of their massages would do for me!)
After your service is done, you are left alone to just relax. You can sit on the couch and rehydrate or go soak in the tub. The coolest part to me was the heated tiled lounge chair IN THE SHOWER!!! I first thought who wants to lie on some tile but then I got on it….oh my god….it was amazing. I turned the shower on and let the steam take over the shower and felt like a puddle of happiness.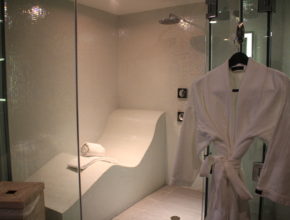 After I checked out of the Le Meridien, I felt like I had been gone for days. I did a little shopping (after all this is Oakbrook and the shopping is amazing here) and grabbed some lunch. I wish I had more time because the hotel is located in an area with so many options like a big city but without the big city congestion or parking issues. (Le Meridien has a cool program where you can "unlock art" of the local area by providing you a pass to a local cultural center….this particular hotel gives you a pass to Elmhurst Art Gallery.)
I think my first MEscape was successful. I want to thank Le Meridien Chicago-Oakbrook Center for such a wonderful time. You really put the ME into Le MEridien Everyone and everything was exactly what you want when you just need some time away from home. (Next time, I think it will be more of a Staycation so my hubby can enjoy it with me!)