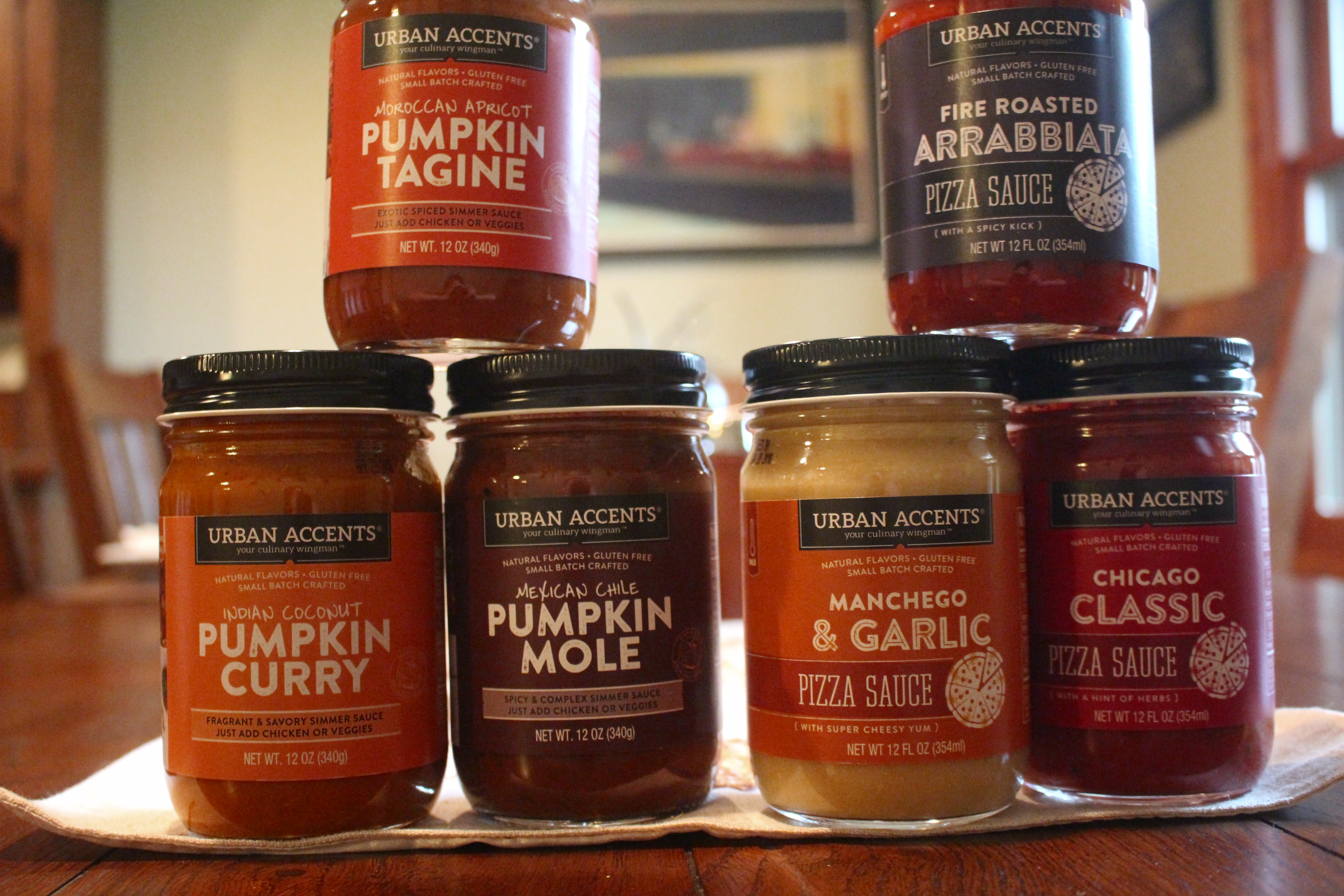 Do you have a wingman (or wing person)? You know that person who helps you out when you just can't do it on your own. It can be a guy in a bar who enchants women for his shy pal.   It can be that person who helps you with your kids when you go to an amusement park. Heck, it can be your sister in law who diverts you away from your in-laws to protect you from awkward conversations. (That never has happened…my friend told me she does that…yep…a friend.)
How about in cooking? Do you have that sauce or mix of spices you go to when you just don't want to cook? I used to think I could do it all on my own in the kitchen but busier days have proven I need a little help some nights.
That is where Urban Accents has come into the picture. Think of Urban Accents as that guy that can capture your attention with two words….Simmer Sauces.
Known as the culinary wingmen, Urban Accents has all sorts of shortcuts to help you make dinner at home taste like you spent hours on it…but you didn't….and no one has to know…because you can hide the jars…and it tastes as good as home made!
I was skeptical at first but now I want to stack my pantry with some more of their simmering sauces, chili kits, pizza sauces and spice mixes.
I was sent 6 different items: 3 bottles of pizza sauce (Manchego & Garlic, Arrabbiata and Chicago classic) and 3 Pumpkin simmering sauces (Pumpkin Curry, Pumpkin Mole, Pumpkin Tagine).
First, the pizza sauces were so tasty. Normally, I would want to add some of my own spices and fresh garlic but these were awesome straight out of the jar. What I liked about it the most was that I was able to concentrate more on making my dough from scratch than spend all the time hovering over the stove making sauces.
It took my pizza party and elevated it a level because I was able to offer more options. (Try the Manchego & Garlic with chorizo, roasted peppers, cilantro, jalapeno or the Chicago Classic with fresh mozzarella, tomatoes & basil.)
Check out the fun menu at my pretend restaurant…SPORK!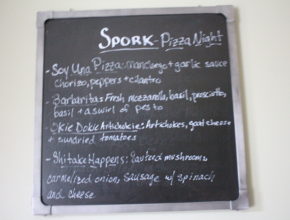 I actually liked the sauce so much I kept dunking pieces of cheese in them as I was rolling my dough. (Note to self….keep some in the pantry to put on naan for a quick easy pizza night!)
The real surprise was the pumpkin simmer sauces. Normally, things like curries or moles take HOURS to capture that flavor that knocks your socks off. These were great because I simply just browned my chicken and added the sauce and let it simmer. It really could be as simple as that!
Given it is the season for everything pumpkin, these didn't have that overdone "pumpkin spice" feel to them. You taste the pumkininess (which should be a word) but you weren't slapped in the face by pumpkin. (Or someone in a bar you were trying to pick up….I've only had to do that once!)
When I made the curry, I wanted it to be my full meal in a bowl so I also added some roasted butternut squash, chickpeas and chicken tenders and served it over jasmine rice. (On Urban Accents recipe page they give you suggestions too. Plus, I think these pumpkin simmer sauces would be awesome mixed with some Thanksgiving leftovers!!!)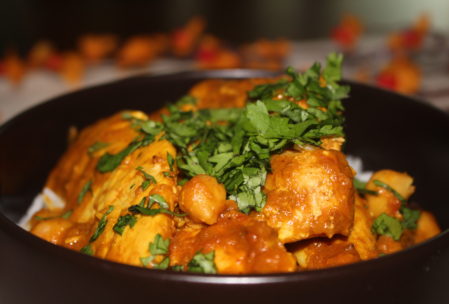 The flavor was as dynamic as you would expect for an American curry (it was not too spicy at all) and it took about a half of an hour. Perfect…just what I need in my life. (I did notice that when I emptied the jar there was some sauce stuck to the lid and bottom so I added about ¼ cup of vegetable broth and shook it up. This way I could savor every drop!)
I think we all have nights where we want to cook dinner but we just don't have the time. With Urban Accents, I was not just pleasantly surprised…I was won over!!! Urban Accents has a great website so you can find stores that carry their product or order online.  (This is one time you will want to bring the wingman home…from the grocery store.)
Thank you Urban Accents….your products were MY pleasure to try out!!!