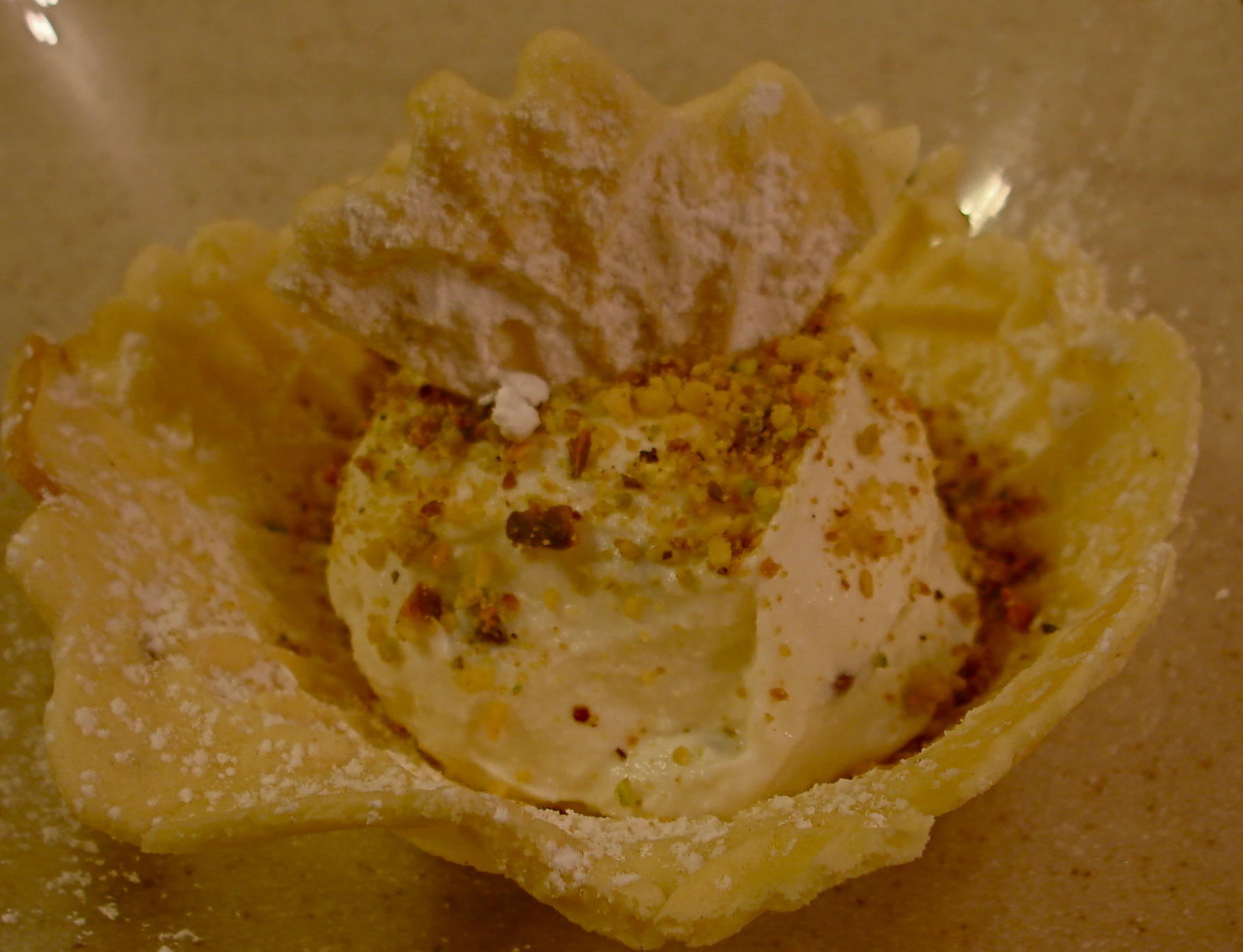 One of my resolutions this year is to entertain more.  No, I'm not talking about entertaining like in song, dance or ventriloquism.  (Because we all know ventriloquism is real craft that only can only be done by seasoned professionals.  Did you see my lips move when I typed that?  I didn't think so!)
I'm talking about entertaining as in hosting people in my home with fabulous cooked meals.  (Okay, my husband tries to stick his hand up the back of my shirt to make me talk but the only words this dummy utters is NO!)
We had company over this week.  They are a couple of my favorite neighborhood guinea pigs that are always being asked to try my kitchen creations.  (They aren't ACTUAL guinea pigs because we all know guinea pigs aren't good dinner guests.)
The biggest problem I have when planning a menu is figuring out the dessert.  As you have noticed in past posts, I'm not a huge baker.  Actually, I am not a big dessert eater but I know that it is the proper way to end a meal…besides a nap.
So I had to figure out something to make that would be tasty, stay within my theme (Italian) and give everyone just a taste of sweetness.  And then it came to me…cannoli!
Cannoli (in case you have never had one) are fried tubes of pastry dough filled with a sweet, ricotta cheese.   They are a bit time consuming to make so I had to figure out a way to cut some corners.  (Not because my company wasn't worth it, I just ran out of time.)
I decided to cheat on the pastry part of this infamous dessert.  The essential components were to have a crispy element to compliment the smoothness of the ricotta cream.
The pizzelle cookies I just made would be the perfect vehicles to drive this dinner home!  (Oooo, witty pun!)  If I put the cream on the cookie it would have the same textural effect as a true cannoli.  So I guess I made a….
Faux-Noli
Ingredients
1 Cup Ricotta Con Latte (Ricotta Cheese), drained
¼ cup powdered sugar (and a little extra)
¼ tsp vanilla
2-3 Tbsp mini Chocolate chips
6 Pizzelle cookies (waffle cones, sugar cones etc)
¼ cup ground up pistachios (shelled obviously)
Directions
Put ricotta cheese and powdered sugar in a small bowl.  Mix until all of the sugar is well incorporated.  Mix in vanilla.  It should be light and airy.
TASTE it!!  It should be a little bit sweet.  If it is not sweet enough, add a little more sugar.
Mix in chocolate chips.
Place heaping tablespoon on cookie of choice and sprinkle with pistachios.
A thought on ricotta….
"American" ricotta is a bit saltier and kind of moist compared to Italian ricotta, which is naturally sweeter.  It still can be used in desserts you just need to drain it longer and add a bit more sugar.
I really enjoyed the lighter side of this dessert.  If I had a ventriloquist dummy with me right now he'd say "Ri-cotta try that recipe again!"  (Did you see my lips move?)