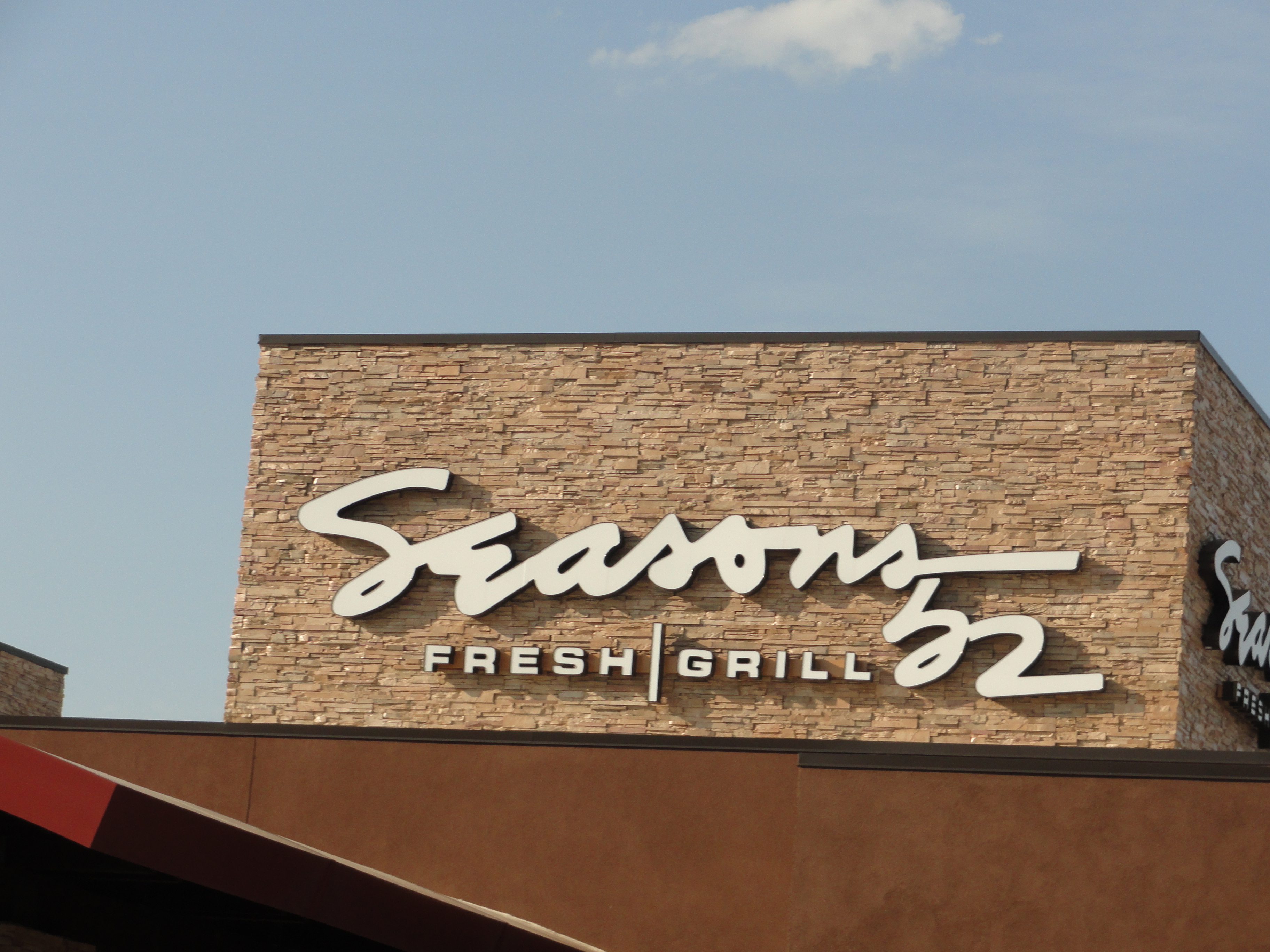 I am not an expert in everything.  I mean, I wouldn't call me for a geography or a history lesson (unless I can use a reference from 1970's television).    My knowledge on politics or current events is limited and admittedly ignorant.  And I don't expect people to come to me for advice on exercise (I should but don't) or nutrition (a support group should be started because of my addiction to bacon and carbs).  I DO know food and what tastes good
Like most people, I am always trying to improve and educate myself.  So in the last few years, there has been a surge in people trying to "live well" and eat healthier.  As a former picky eater, my challenge has been just trying new foods and not concentrating so much on the health benefits.
But let's face it; I'm not getting any younger (1 more shopping day left for my birthday).  I need to learn that there are great fresh (I'm talking seasonal veggies) and flavorful alternatives out there.
Seasons 52 is a great restaurant option for those of us who are learning about making good food choices as well as those who already embrace eating fresh and healthy.
With 16 locations in 9 states, it is a restaurant group concentrating on providing a dining out experience where you don't have to analyze the menu for a healthy option. (Every item is 475 calories or LESS!)
As the seasons change, the menu at Seasons 52 evolves with it.  Every week, new specials are showcased giving the diner the best representation of what produce is in season.  By serving food that is essentially "farm to table", vegetables are able to shine and highlight their natural wonderful flavors.  (I never thought I'd feel that way about a veggie!)
I had the pleasure of going to the Schaumburg, Illinois location a few weeks ago to try a few dishes from their new spring menu.  I was pleasantly pleased at how much flavor they were able to bring out in their dishes.  With that said, let's talk some food…..
Flatbread choices (Ripe Plum Tomato, Garlic Chicken, Spicy Chipotle Shrimp to name a few) start off the menu.  I enjoyed the Artichoke and Goat Cheese one so much.  The crispy crust was a model utensil to hold chunks of fresh artichoke, nutty goat cheese, spinach, onions and roasted peppers. 
Next, I enjoyed a fresh Tomato Haas Avocado Salad.  I love avocados so I wasn't surprised that this was a winner for me.  What did surprise me was how nicely the peppery arugula, generous tomato chunks and the balsamic glaze brought out their natural flavor.  (They offer other "small salad" options like Spinach salad, Greek and organic mixed green.  The "entrée" salads such as BBQ chicken salad, Maui Tuna Crunch and Lemongrass Salmon also looked very inviting.)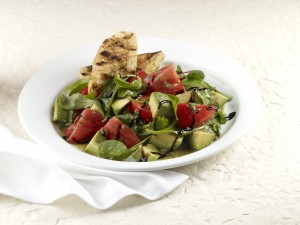 Entrees on Season 52's entrée selection will please even the "heartiest" eaters.   They allow their grill to bring out flavors while complimenting the dishes with creative (and fresh, obviously) vegetables.
The Grilled Boneless Rainbow Trout even had a YUMMY basmati rice with lemongrass sauce that one me over instantly.  It was grilled to perfection and had such wonderful flavors.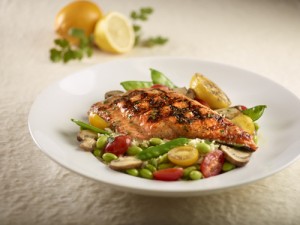 The big eye-opener for me was enjoying the vegetable side dishes.  I'm not or I should say, wasn't, a fan of vegetables.  I have learned that you don't need to pour cheese or butter all over them to hide them.
The Spicy Snow Peas & Shitake Mushrooms were so good.  I couldn't stop eating them.  The tiny hit of spice made these vegetable imposters (seriously, those couldn't have been real vegetables for me to like them so much) taste more like an indulgence.
Oh did I say indulgence?  For those of you that can't end a meal without something sweet, Seasons 52 offers a fun array of Mini Indulgences.  Classic desserts like Pecan Pie to Key Lime Pie to Old Fashion Carrot Cake are offered without making you feel guilty.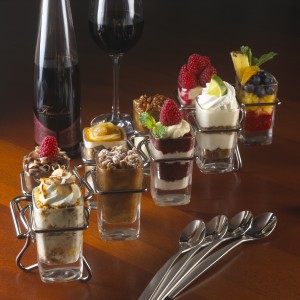 They also offer a diverse award winning wine list, vegan, gluten-free, lactose free, and low sodium menus.
Seasons 52 was an eye opener for me.  (Thank you!)  With appropriate sized portions, healthy preparations and fresh ingredients, they have succeeded in offering a dining out option that everyone can enjoy while "living well."