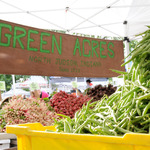 Happy May, Everyone!  Besides the obvious weather advantages, there is something else about May that I love and that is the re-opening of many Farmer's Markets.  Are you familiar with them?  (And no ladies, it is not a place to shop for hot looking farmers.)
Farmer's Markets are market places set up with stalls or booths.  In these booths, you will find some of the most amazing local food a person can imagine.  It is your town's way of giving you the opportunity to truly serve food from farm to table.
The backbone of our country, the rural communities are your best bet for finding sustainable agriculture.  Sustainable agriculture is a way of raising food that is healthy for consumers AND animals, does not harm the environment, humane for both the workers AND animals and provides a fair wage for the farmers.  (I'm all for making life better for the animals and humans too, I guess.)
I was very fortunate last month to sit down and talk to one of the owner's (Beth Ecceles) of a local farm called Green Acres.  Family run for 70 years, Green Acres is located in North Judson, IN has been participating in Chicago's Green City market for years in addition to Evanston's Farmers market and a local CSA (community supported agriculture) program.  (This is the CSA I am joining this year so expect some fun posts this season about what's in my CSA box!)
A farm that has evolved from a humble food truck that specialized in Asian and Chinese vegetables to a direct marketing operation that supplies produce (over 500 varieties of Heirloom vegetables and fruits) to some of the best restaurants in Chicago, Green Acres has continued to expand its "crops" over the years.  All produce is certified naturally grown which means that they don't use synthetic fertilizers or chemical sprays.  (You can't get more organic than this!)
Green Acres is just one of a many farms that participates in Farmer's Markets and CSA's and my discussion with Beth cemented in my mind the fact that you need to know where your food is coming from.  When you talk to your farmer, you should feel their sense of pride in their products and knowledge in how it is grown.
Beth's family has been growing their food for years. They know when to plant and harvest so they only sell things that are in season and at their best of flavors.  In addition, there is something special about the devotion Beth and her husband, Brent, have to preserving and respecting the farm grown by her parents and grandparents.  (Beth and Brent have two daughters so there is hope for the next generation!)
After I left Green Acres, I thought I'd jot down some hints to make your first trip to this year's Farmer's Market more enjoyable.
First, fill your pockets with small bills and change that you can easily access.  It just makes things easier on everyone.  Also, bring along some of your own bags or baskets.  I love to use my reusable canvas bags because they are easy to sling on my shoulder when they start to get weighed down.  (Or bring a strong friend to carry everything but don't let them know you only wanted them to come form their brawn.)
Next, go early for best selection and opportunities to talk to your farmers.  It is less crowded so you will have more time to discuss any questions than if you go smack dab in the middle of the afternoon.
Walk around, see who is selling what and plan from there.   Some people come in with a menu and list, which is fine, but don't limit yourself.  Plan a little wiggle room for items you may want to substitute for something that is actually in season.  (Also save BIG purchases (watermelon) for the end of your trip.  They get heavy fast or once again strap it onto your large friend.)
If you are planning on a big purchase like 27 pints of strawberries for a can your own jam party, call your farm ahead of time so they can have it all boxed up and ready for you.  (You may even get a discount for a bulk purchase.)
Treat yourself to some of the homemade goodies that some people offer.  There is nothing better than sitting on bench at the farmer's market eating a freshly made donut or cookie.  This "fuel" stop will keep your energy up for the rest of your time walking around and yes; it is a great excuse to eat a treat.
Remember that this is not commercially processed produce so don't expect to find washed and ready to eat produce. (I bring a couple of handiwipes with me in case my hands get dirty.)
Also, look at the Farmer's Markets schedule before you go.  Some markets offer tours or special cooking demonstrations.  (I will be doing a couple this summer so I'll let you know where you can see me in action!)
Finally, talk to your farmer's and other shopper's.  The farmer's will be happy to help you try new foods and give you creative ways to incorporate them in your menus.  Other shopper's will be also happy to share their favorite farm (such as Green Acres) stories with you.
Below are some links of Farmer's Markets that you may want to try this year.  I try to get around to a lot of different markets just because each one offers something different.  (It is also just a fun way to spend a morning….and look at cute farmers.)
Some Farmer's Markets to Try this Summer (If you love your market, email me their link so I can include it on the list!)
Green City Market Chicago  (Outdoor market opens this Saturday!)
Northwest Indiana Markets (This is last year's list so contact the local sites listed for current updates.)