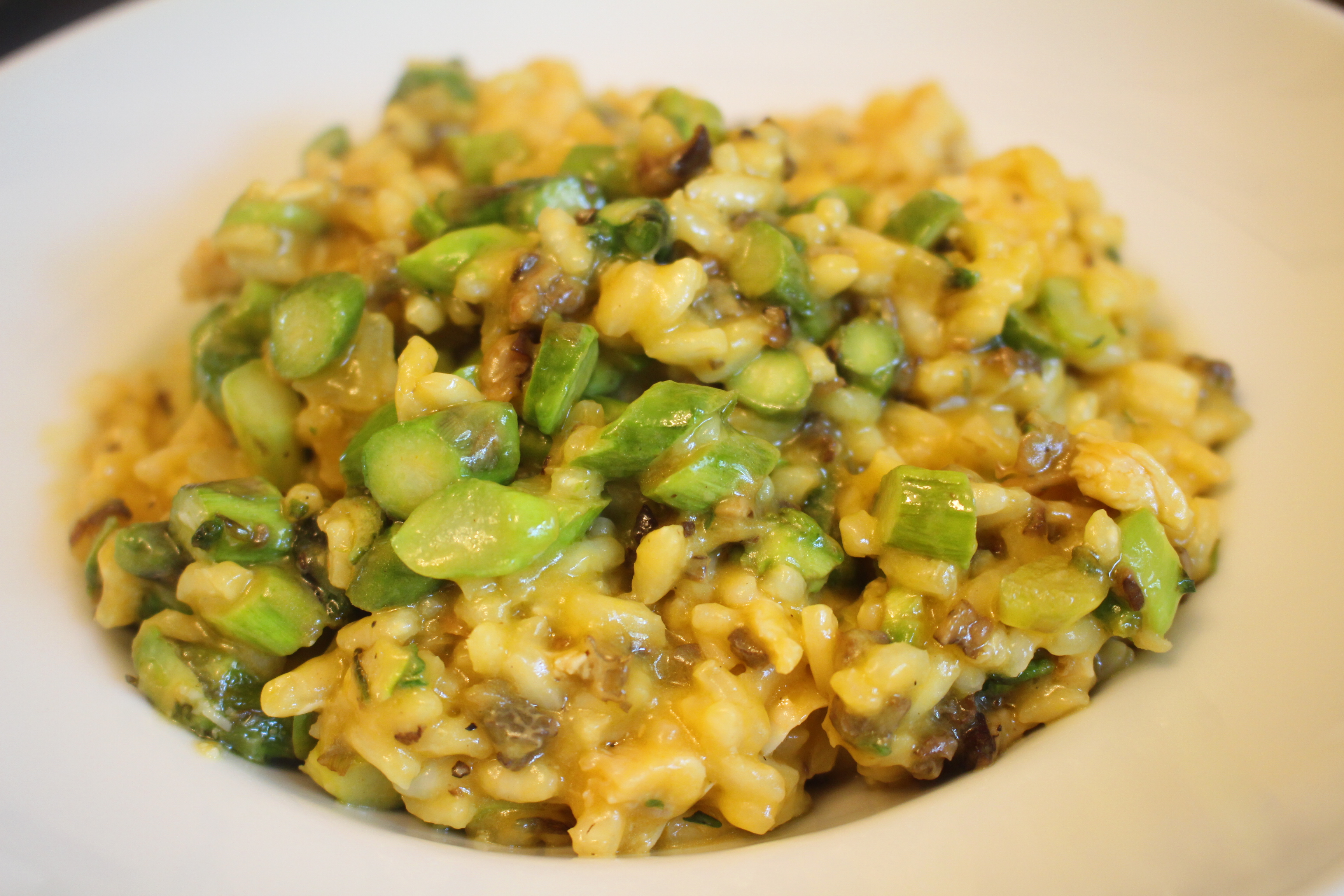 Have you ever played the game roulette? Technically, I haven't but I know it is a game of chance.   From what I understand you place a bet on a number and a color (black or red). A guy in vest (I guess vests are coming back) spins a wheel one way and flings a ball the other way on this round track. The ball and the wheel slow down and the ball falls into a colored number slot. (I am sure there is a lot more thought to this but this is all I got from watching TV shows.)
Yipppeee…..that was fun??? I don't like it. Leaving something up to that much of a random chance just isn't my thing. (I'm just not crazy like that. I'm a whole different kind of crazy.)
I feel the same way about risotto. It is probably the last thing I want to order at a restaurant. When I order it I feel like I am making a bet on my favorite….creamy and red (hot). When the ball is tossed, I end up with mushy and weird colored.
Risotto is one of those things that need to be made properly to get the right balance of starchy, creaminess. I know there are people who have "cheats" but that is like the guy in the vest stopping the wheel from turning so you don't win. It just isn't right!!!
My other risotto issue is that some folks just add to many things so it tastes muddled. It is like they are tossing a chip onto a bet instead of placing it down nicely. (Apparently that is part of good roulette etiquette.) You just don't know what the heck is going on!
Now don't get me wrong, I DO like risotto. I am just tired of spinning the wheel one way and watching the ball go the other.
So the other day I had a mishmash of ingredients in the house and decided to do a fun spring risotto. I wanted to make a wild mushroom risotto but I knew hubby wanted something green in there like asparagus. (This is why we would never play roulette together. I'd be bet on red and he'd want to bet on black.)
I decided to take a gamble and do things differently than I've done in the past. I cooked my mushrooms, chicken and asparagus all separately and kept them warm while I made the actual risotto.
Right before I plated, I mixed in the different ingredients we both wanted and ingredients all held their individual unique flavors. It was like the ball landed on my number and color because it was a winner.
Risotto Roulette
Ingredients
4 cups vegetable broth (I've been using veg broth more lately than chicken just because I like the flavors better. You can use chicken if you like it better.)
Olive oil
1 yellow onion, diced
3 garlic cloves, minced
Salt and pepper
1 cup Arborio rice
½ cup white wine
½ cup fresh parm, finely grated
1 Tb of fresh thyme leaves
2 Tb chives, chopped
1 Tb butter (if you have truffle butter in the house this is the time to break it out!)
Mixers (make ahead of time and keep warm)
1-pound wild mushrooms (I used morel and shitake), sautéed
1 pound of chopped up cooked chicken
8 stalks of asparagus, steamed and chopped
Directions
In a medium saucepan, warm up the broth over medium heat and keep warm. (You may need to lower your heat.)
In a large skillet, heat up a generous swirl of olive oil over medium heat. Add the onions and cook until just translucent. Add the garlic and cook until fragrant. (It should only take a minute or two.)
Add rice and stir so each little grain gets coated with olive oil, onion and garlic. Add your wine and cook it out it until it is evaporated.
Hear is the important part….add 1 ladle of the warm broth to the rice and stir in a figure 8 until the liquid is absorbed. Continue to do this until the rice looks creamy and is no longer crunchy. (I had about ½ cup of broth left.) Taste it to make sure it is done. You may have to lower your heat as you add the broth so the rice has a chance to absorb the liquid.
Remove from heat add the parm cheese, thyme, chives and butter. Stir. Separate into individual serving bowls and let folks add in whatever extra protein and veggies they want.
My risotto turned out just like I love it. It was nice and creamy. This experience made me want to spin the wheel again on risotto but I still have no desire to play roulette.