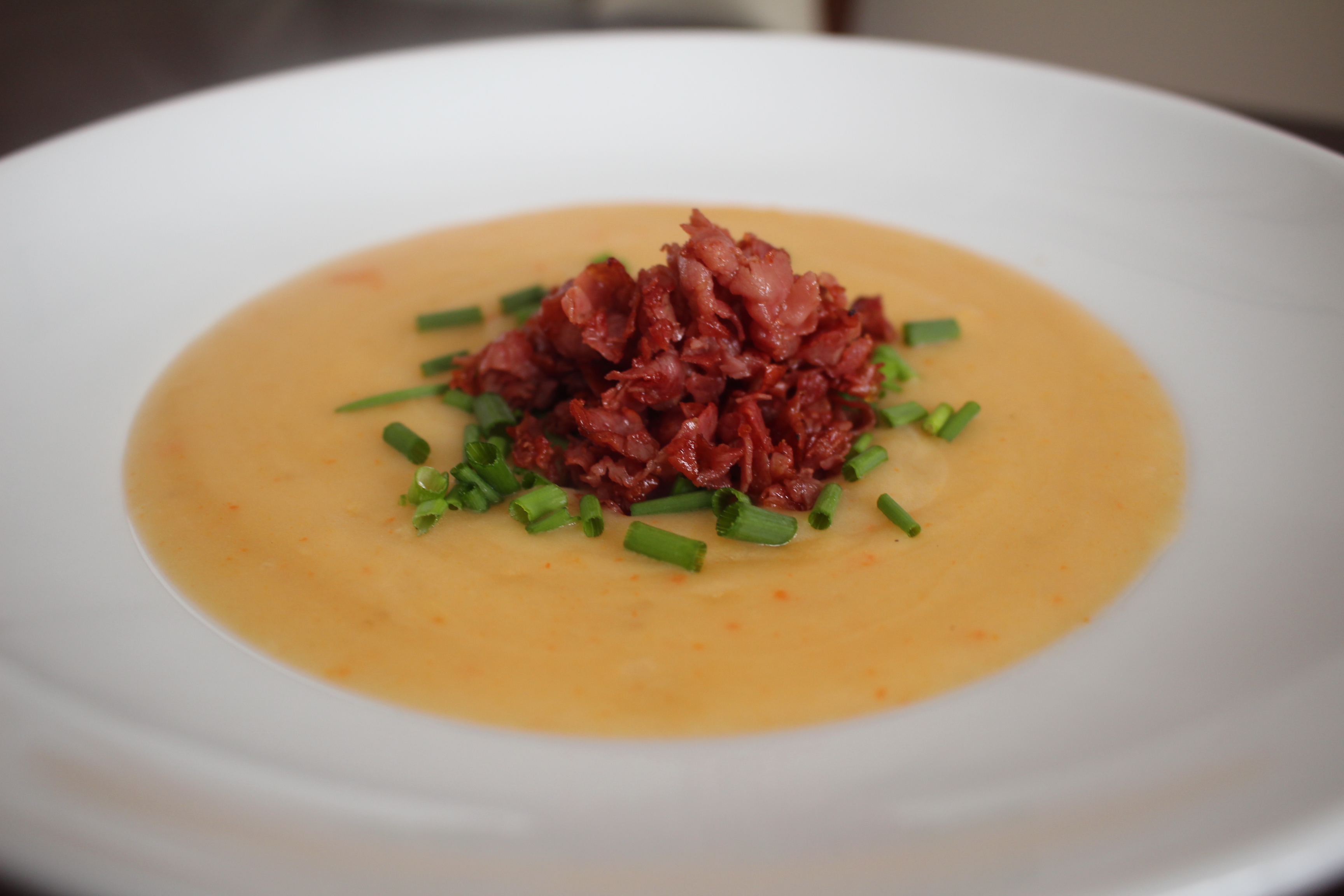 I feel like I received a "Get Out of Jail Free" card this St. Patrick's Day. I know there are folks out there that can't wait for their corned beef and cabbage with some soda bread. Not me.
I was thrilled that I am not up to cooking a lot so I had a legitimate excuse not to make the traditional "eat like an Irishman" feast. Who am I kidding? It isn't that hard of a meal to make and I could have done it. I just didn't want to. (This is where my three-year-old self is stomping her feet yelling NO.)
It makes me feel stuck and I don't like it. So I decided I would go rogue this year and just make an Irish potato soup with a corned beef garnish. (Doesn't that sound like a good authentic St. Paddy's Day peasant dish?)
I started researching recipes and came across the same problem….gummy soup. Potatoes are starchy, no secret there but there has to be a way to release some starch so you don't feel like your soup is sticking to your teeth.
The other issue for me was that I really just wanted to chop up ingredients, plop it all in my slow cooker and say Ta-Dah soup is done! It was going to take the luck of the Irish to help me do this successfully.
First thing I learned was that I needed to get some of the starch out. I thought how would a good Irish person release the starch demons in their potatoes? A starch exorcism seems like the only logical answer. (My Irish Catholic readers will appreciate a good exorcism.) I filled a bowl with cold holy water (I am an ordained minister now so if I say it is holy…it is holy) and put my chopped up potatoes in the bowl. (Make sure they are completely submerged to avoid discoloration.)
As anyone knows, a good exorcism takes time so I just let the potatoes sit for a good hour or two. When I came back to the bowl, the starch demons were released and the water was cloudy. I dumped out the water and then rinsed the potatoes one more time with cool water. (You don't want any lingering starch demons hanging on.)
Now don't get me wrong. There is still going to be some starch but there are a couple of more tricks to make sure you don't end up with a pot of glue.
One of the biggest mistakes is that after the soup is done cooking people use a blender to puree the soup! STOP!!!! I learned that if you puree it that way you just increase the starch molecules and make it even glueier. (I am aware glueier is not a word but it gets the point across.)
The best method is to mash it to your desired consistently but don't over do it. If it is still too chunky, smush it through a sieve or chinois. (Yes this is much more tedious than making corned beef now but trust me it will be worth it.)
The final secret I learned is to finish the soup with some cream. The cream just adds a nice creamy essence and will help deaden any leftover gumminess.
Figuring out this recipe was my pot of gold at the end of the rainbow….I had a fun St. Patrick's Day meal that didn't stick to my ribs!
Potato and Leek Soup with Crispy Corned Beef
Ingredients
2 leeks, trimmed and chopped thinly (don't forget to wash them thoroughly)
1 onion, chopped
2 carrots, chopped
2 cloves of garlic, minced
6 cups vegetable broth
3 pounds russet potatoes (chopped and soaked)
7 ounce Irish Cheddar, shredded
½ cup cream
½ pound corned beef that has been crisped up in a skillet with some olive oil
Chives
Salt and Pepper
Directions
Place leeks, onion, carrots, garlic, broth and potatoes in slow cooker set on low. Cook for 4 hours.
Mash and push through a sieve and place back in slow cooker.
Add cheese slowly. A little handful at a time.
Swirl in cream.
Taste for seasoning. Remember the corned beef is salty!
Ladle into bowls and top with crispy corned beef and chives.
Maybe next year I will be more in the mood to make corned beef and cabbage. Or maybe I'll go rogue again. Has anyone ever made Corned beef and kimchi?