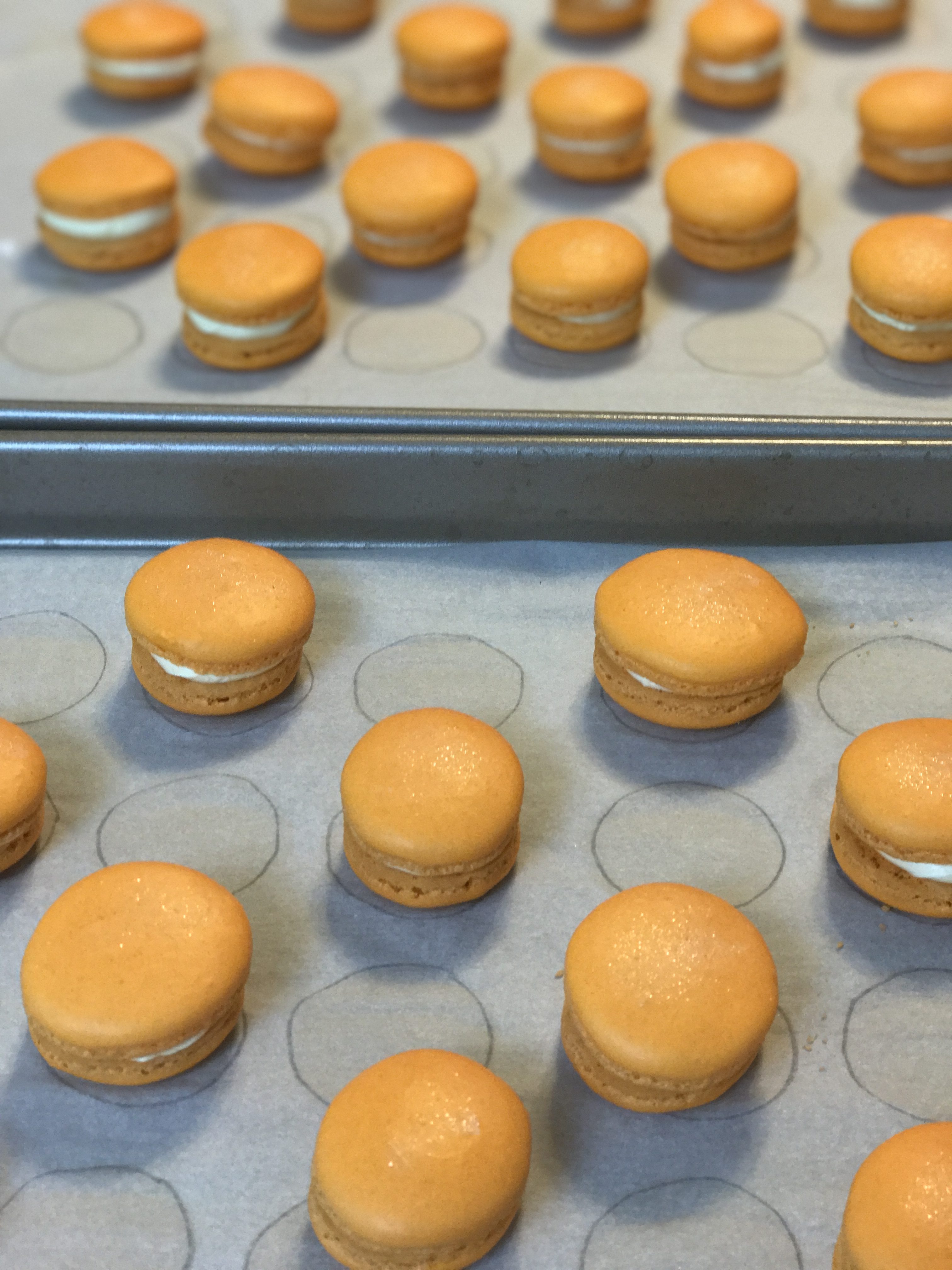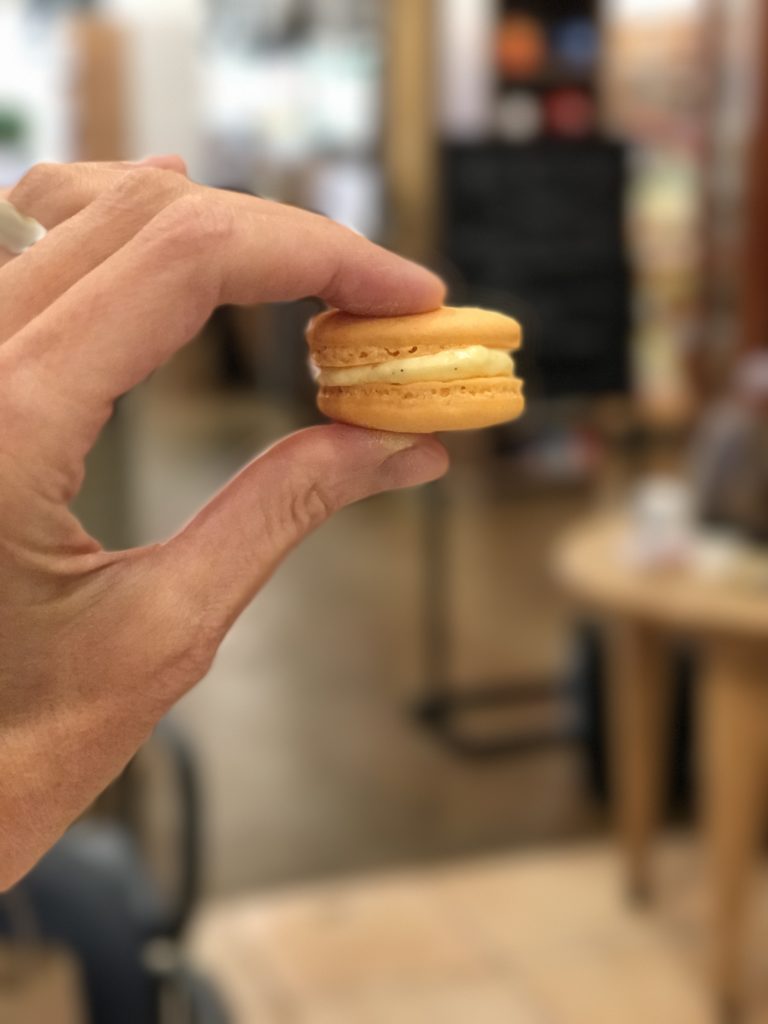 A girl's best friend can be a lot of things.  It can be someone you've known for years who knows who you are and where you've been. It can be relative who you find easy to talk to and who is willing to hold your hand through good times and bad ones. It can even be a big furry dog who sits by your side and never says anything but is a good listener.  And I have to mention the infamous saying that a diamond is a girl's best friend.  But what about a cookie?
Can a cookie be your best friend?  Given what they charge for some cookies these days, they seem to cost as much as a diamond. $2. $2.50. $3. $4. $5. Not a nice big package of cookies but one single cookie.  ONE!!!!!
Now these aren't your ordinary cookies…they are the infamous French macarons.  And yes, it is spelled macaron not macaroon…those are the coconut cookies on everyone's Christmas tray that are leftover because I've never met anyone who likes them.  (I bet I will get some macaroon lovers hate mail for that comment.)
A macaron is a meringue based (almond flour, sugar, egg whites) colorful cookie that can be filled and flavored with every color and taste of the rainbow.  (Do rainbows have a taste?  I mean, Skittles says "taste the rainbow" so they must.)
They are a super delicate sandwich cookie and they take hours to make.  The big debate…are they worth the cost (yes) and do you want to make them at home (maybe).
One of my resolutions every year is to find that one thing I want to bake when I have company over for dinner or something to bring to a potluck.  I'm telling people right now…don't get your hopes up for me doing this for you EVERY time we have a get together….more on that.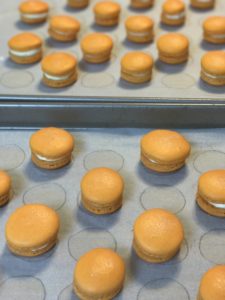 I took a class recently (actually my second class on these cookies) and made myself try it at home the very next week.  The ingredients were simple enough almond flour (which is readily available at most markets these days), cream of tartar, eggs, sugar, butter and food coloring. (I also had to get some orange juice because my recipe was for an orange creamsicle version that I can't share because it was part of a formal class.)
Most of the difficulty with these cookies is patience.  You can't skip steps or cut corners.  (This is one of the reasons they get pricey.)  You need to know what to look for in all the steps and be okay with starting over to get the optimal results.  (Kind of like the 4 "C" parameters for diamonds but this time all the "C's" stand for Cookie!
Here are a few things you need to know when justifying buying some macarons (or making macarons….but I'm guessing most folks aren't going to make them…most folks just want to eat them.)
#1 Cookie Shape…the top of your macaron should be flat, smooth and shiny.  There should be no cracks, no high domes and no lumpiness.  They should be not too puffy and not too flat.  There should be no nipples or peaks on the top. (If it looks like you can milk it, it is not right.)  Odds are if there is a little imperfection, you still end up with a good tasting cookie.
#2 Cookie Feet….your cookie needs "legs" to stand on.  A proper macaron will have a rise on the bottom that is comprised of small air pockets and almost looks ruffley.  It will be even all around.  (I haven't achieved the evenness part but I'm getting better.)
#3 Cookie Filling…you want your cookie to drip out filling (ganache, jam, frosting) as you eat your first bite.  It isn't a jelly donut.  Think of a 2:1 ratio…two parts cookie, one part filing.  The outer meringue is super sweet so think about what is in the center. I made some yesterday that were blueberry and lemon curd and it complimented the sweetness wonderfully.
#4 Cookie Color….This is the fun part of macarons….they are so pretty!!!!  From what I read, I lot of macarons are artificially colored so they are consistently the same color.  I made some yesterday with blueberries and the color was a bit off overall.  (Actually, I didn't get a smooth cookie either but I'm a beginner and they tasted great.)  This was a great learning lesson on how to play with color composition BEFORE you put the color in your cookie meringue.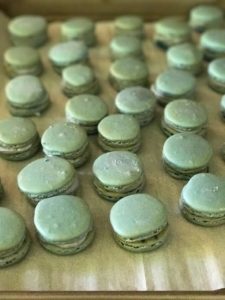 The other great thing is that bakers can mix and match colors and flavors and keep coming up with a variety of new cookies.  (One advantage of just buying them in a bakery is that you can eat a bunch of different types whereas if you tried to make a full rainbow at home…you'd be baking for hours!!!)
What do you think? Do you think you want to give them a go? I've set the goal to make them every other week just to get my technique down.  My first batch of Orange Dreamsicle were pretty perfect.  My second batch of Blueberry Lemonade had some issues with color, I didn't stir my "macronage" long enough and I forgot to adjust my oven temperature so they cooked a little too quickly.  (This effected the rise and made them a little hollow.)
As you can imagine, they are time consuming but I did make less of a mess the second time versus the first.  I probably will buy them when I'm out just for research.  (I'm very scientific.)
So can these cookies be like a best friend?  I would say yes…like a friend I expect perfection but still love them when they aren't at their best.  They are colorful, fun and make me happy….if that isn't a best friend…I don't know what is!