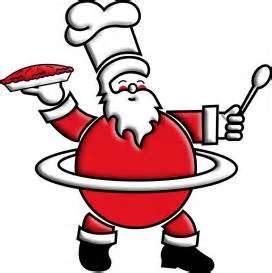 It's beginning to look a lot like Christmas (or Hanukah or Kwanza or whatever excuse you need to be merry).  I personally thought that the world really pushed the winter holidays on us a little too quickly.
But now that Thanksgiving is over, I am one of those people freaking out about holiday shopping.  I don't have a lot of people to buy for (all of my personalities do a grab bag) but I do put a lot of thought in my gifts.  (Nothing like a Chia Pet!)
One question I am frequently asked is for suggestions for gifts for that family member who loves to cook!  Personally, I think we, the kitchen people, are very easy to buy for.  Just go into Williams Sonoma, Sur La Table or Crate and Barrel and you will find something cool.  (There are a lot of cool places but those are my favorites and a subtle hint to my family and friends!)
What you don't want to do is buy something gimmicky.  Most people who love to cook don't want a mix for instant bread or an easy cheese ball or a gadget good for only one thing.  They want the tools or ingredients to create these things with their own hands.  (I am sure I am going to here from someone who loves mixes.  Sigh.)
So this year, I am going to take some of the pressure off of you.  I am going to give you some suggestions for your favorite cook.  These are all things currently in my kitchen and I use them regularly.
1st Annual Felt Like a Foodie Christmas Gift Suggestions
A good knife.  My two favorite knives (a Shun chef's knife and a Kitchenaid Sankuto knife) are on different ends of the price spectrum but I use both of them on a daily basis.  (Knives are not recommended if your family doesn't get along.  Nothing says holiday like a cousin getting shanked.)
A piece of Le Creuset Cookware.  My hubby went Le Creu-azy last year and bought me multiple pieces of Le Creuset.  My favorite, the 5.5 quart Dutch oven, is great for pretty much everything.  (Warning:  These pots are heavy so don't buy one for someone with no upper body strength.)
A Cooking Class.  Cooking classes have become popular and can be found anywhere from grocery stores to specialty shops.  Chopping Block and Le Cordon Bleu in Chicago are both pretty spectacular.  It amazes me how much more there is to learn!
A good magazine subscription.  If your family member isn't social enough to go to a class, send them a useful magazine subscription.  (Make sure it isn't one they already get.)  My mailbox gets stuffed every month with Cuisine at Home, Bon Appétit, Food & Wine, Cooking Light and Food Network Magazine.  I like each of them for a particular reason.    (You can also send a subscription of a dirty magazine with no card just to hear your friend's reactions to the smut their hubby is receiving in the mail.  That is always fun…not like I've done it)
A mandoline (the slicer not musical instrument).  I have had three of these and this one by Progressive is my favorite.  It doesn't take up a lot of drawer space and it does its job.  Do not buy this for a clumsy person because it is one of the few mandolines without a safety on it.  (There is nothing like getting the tip of your finger in your food.)
Maldon Salt.  Pardon me, do have a box of Maldon?  I learned about Maldon in cooking classes.  The light flakes add just enough flavor without any weird salty after bite.  You use less of it in your food and it really teaches a cook the art of seasoning.  (You can find it online, specialty stores and some grocery stores now carry it.)
Do you know a canner?  Buy them the book Preservation Kitchen by Paul Virant.  This is the cookbook that made me go on canning "benders" all summer.  Every recipe is great and he gives recipes to use your preserved food too.
Non-stick rolling mat.  I bought this mat 14 years ago when I got married.  I use it for breads, cookies, pizza dough etc.  It unrolls flat so you don't have the fuss time of trying to keep the edges down while you are rolling!  And the fact that nothing sticks to it is an added bonus!
Olive oil or balsamic vinegar from the Olive Branch.  This store is in Granger, Indiana but does sell its product online.  I have loved everything I have ever bought from this store.  Every oil/vinegar has its own unique flavor for wonderful marinades, salad dressing and pretty much anything you make!  (They also make some pretty neat gift baskets.)
10. Gift card!  When all else fails, get a card to a cooking specialty store.  There is nothing more fun for a homecook than buying a new toy.  (I take that back, playing with the new toy is also a lot of fun.)
I hope my list helps you get some great gifts for those you love (and the ones you pretend to love because you are legally obligated.)
As for myself, no need to buy me a thing….having you in my life is gift enough.  (Plus I don't want to give out my address because I have so many whackos that follow my blog.)