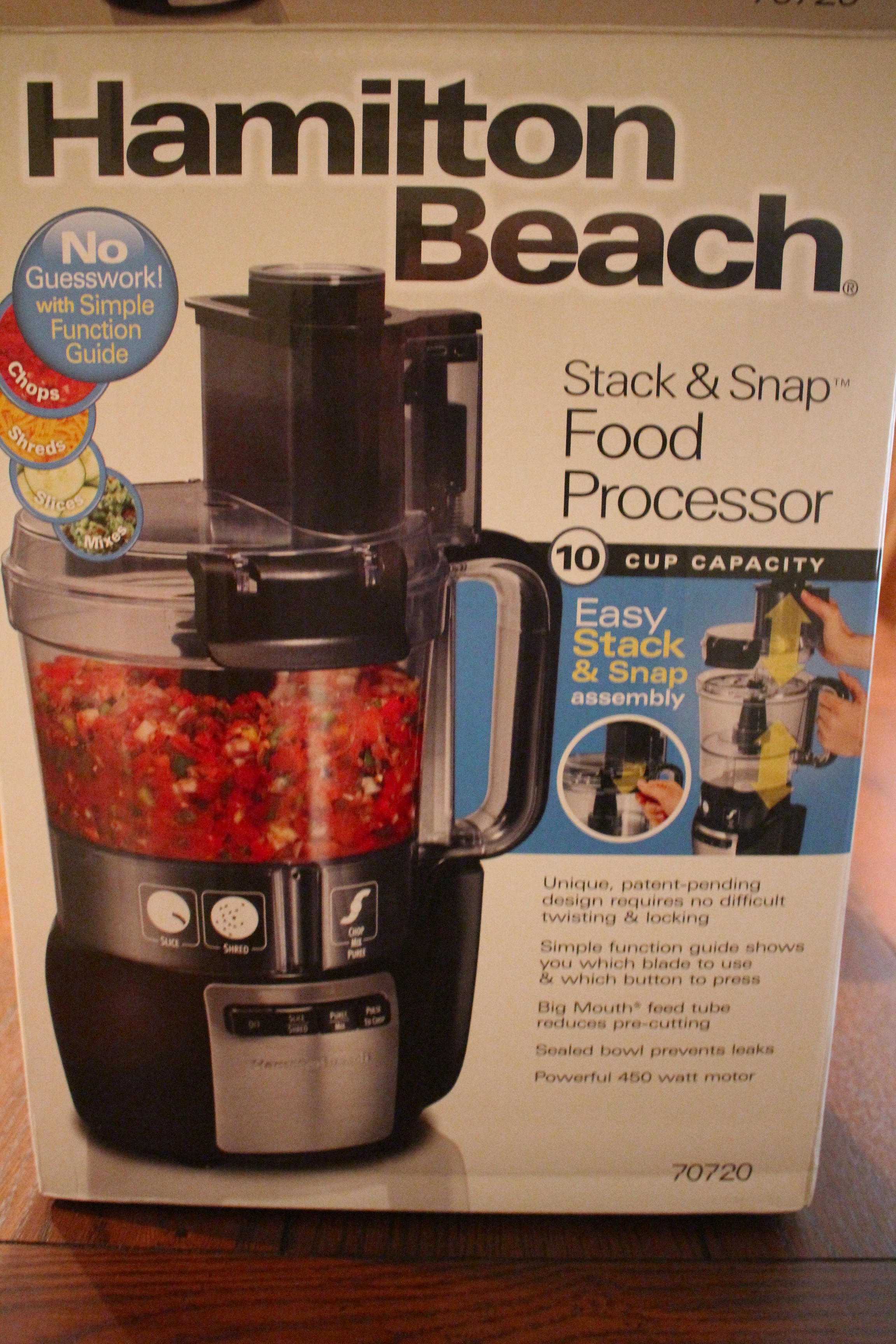 Guess who popped over to my house the other day? SANTA CLAUS!!!! He came bearing an early gift from my friends at Hamilton Beach….a brand new Hamilton Beach Stack & Snap™ 10 Cup Food Processor.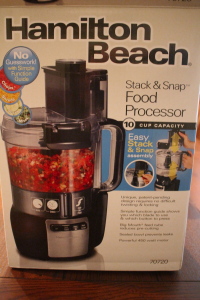 Apparently, I am such a good little girl they had Santa hook me up early so my holiday cooking would be easier.
Santa was hungry. (Seriously, you don't get a body like that from working out!) I thought since he needed a snack, it would be the perfect time to try out my new food processor.
I decided to whip up a batch of Pimento Cheese Spread since it would allow me to use both the included blades and try out the different processing options. (I'll post the recipe for the cheese on Friday)
First, the silliest thing made me smile. (Given I was cooking with Santa, I had a lot of reasons to smile.) There are little suction cups on the bottom of the machine. This is WONDERFUL when you are pouring things into the machine to make sure it stays in place. NICE.
Next, setting it up was easy enough an elf could do it. (That was Santa's joke and he thought is was hysterical. I laughed only so he wouldn't put coal in my stocking!)
It is called a Stack & Snap for a reason. All you have to do is stack the 10-cup bowl on the machine, add your blade and snap on the lid. There is none of that naughty trying to line things up to get your food processor to turn on. NICE.
But I'm getting ahead of myself a little bit. NAUGHTY. After I put the bowl on, I carefully put the chop/mix blade in. It popped in and STAYED in. NICE. How many times have I tried to empty my food processor bowl and have the blade come flying out of it like a reindeer on Christmas Eve?
I popped in a couple of cloves of garlic and snapped on the lid. The Stack & Snap has 4 operating buttons: Off, Slice/Shred, Puree/Mix and Pulse to Chop. There is never any second-guessing which button to press to achieve the proper result. NICE.
The garlic was evenly chopped super fast. NICE. Next, I needed to shred some cheese for my recipe. (And I needed to get this done quickly because apparently Santa does not remain jolly when he is hungry.)
I pulled out the chopping blade and placed the reversible slice/shred blade on top. Hamilton Beach did two things really right with this blade. First, they labeled it so you know which side is for slicing and which side is for shredding. Second, they put little "grab" holes on the blade so you don't cut yourself when you put it in and out. NICE.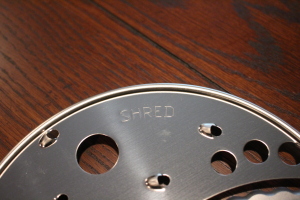 I snapped the lid back on and was able to fit an eight-ounce block of cheese in the Big Mouth feed tube. I was thrilled to eliminate a step of chopping up my cheese before I tried to shred it. NICE.
With a simple push of the Slice/Shred button and a gentle shove with the food pusher, my block of cheese was beautifully shredded. If I had any complaint it would have been that about a teaspoon of the cheese was too small to get pushed against the shredder therefor it didn't shred. This was user error because I was over the MAX LEVEL on the bowl. NAUGHTY.
Santa didn't mind because he removed the lid and ate it. NAUGHTY!
I finished mixing up my cheese spread and sat down with Santa for a snack. (This is why I never get my house cleaned. Someone is always dropping by for a nibble.)
Santa asked me how I liked my new kitchen toy.   I told him that I needed to get a thank you note out to Hamilton Beach soon because I was impressed with the Stack & Snap food processor. It was a super nice gift and I'm glad they asked me to review it.
I've been using the same processor for the past 16 years. I didn't realize how many extra steps I was using to get my food processor to function. The Stack & Snap really did what a food processor is supposed to do…make food preparation easier and less stressful.
Santa was ready to head out. (After inhaling all my pimento cheese spread.) I gave him a big hug and knocked some cracker crumbs out of his beard. He gave me a nice "Ho, Ho, Ho" and was out the door. (He doesn't always like to use the chimney.)
I went to the kitchen to clean up and apparently Santa was nice enough to load all the food processor parts (bowl, blades, lid) into the dishwasher.   NICE.