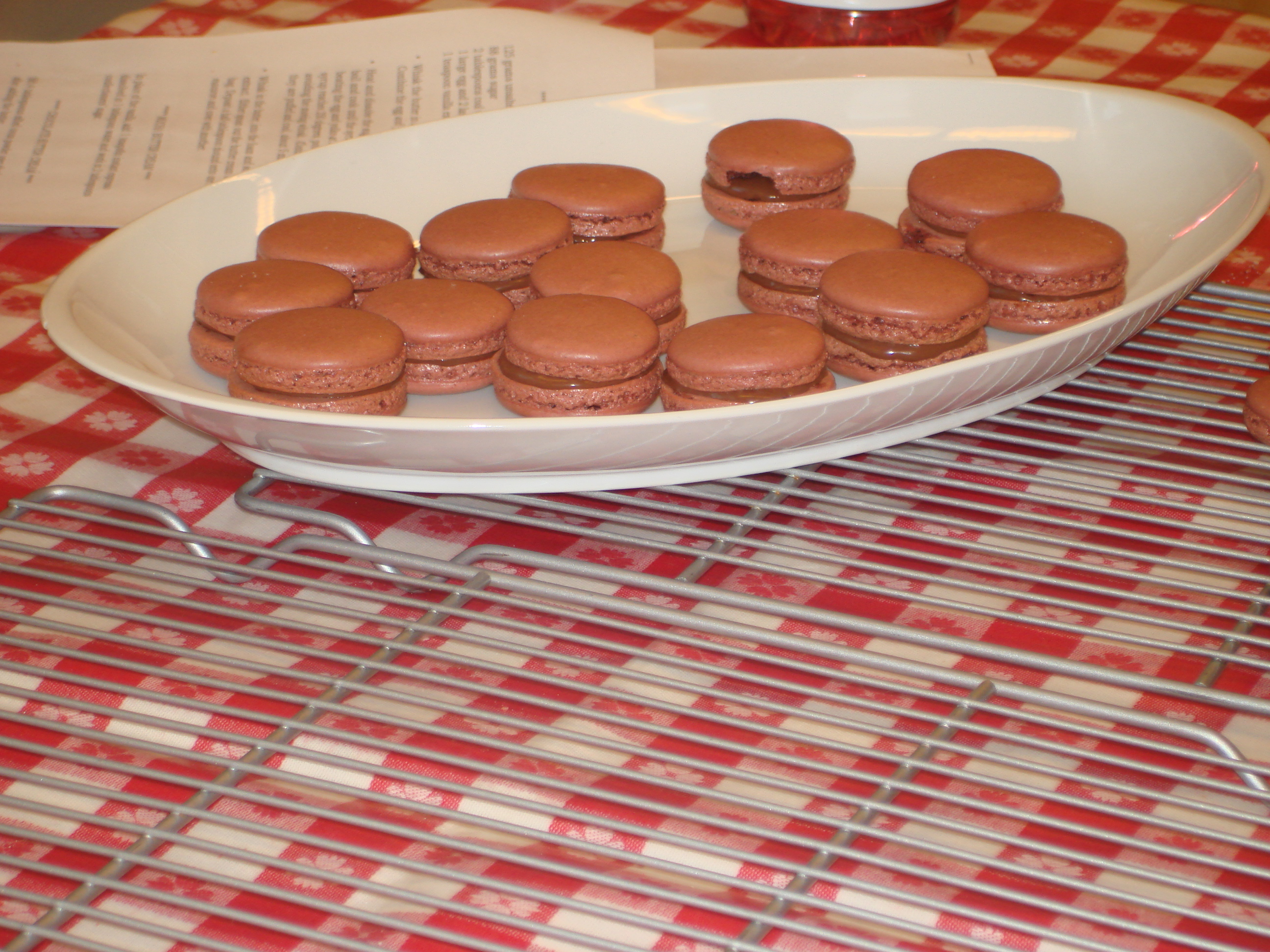 Well I had a wonderful day on Saturday.  What did I do, you ask?  I had the opportunity to take a macaron class at the Alliance Française de Chicago.  Macaron?  Alliance Française de Chicago?  What am I talking about?
I didn't know either of these things existed either until I received an email late last week.  One of my cooking chums, Randy, sent me a note asking if I wanted to take a class on Saturday.  Not just any cooking class, a class about macarons.
I think it took me about two emails to realize I was spelling it the "English" way…macaroon.  (The English macaroon is a coconut cookie clump popularized on  American Christmas cookie plates.)  The French macaron is a light sandwich cookie that can only be described in one word…YUM!  (Is there a French word for that?)
The Alliance Française de Chicago is a cultural learning center devoted to teaching people about all things French.  They offer everything from language classes to camps for kids to cooking classes.  (You were wondering what got me interested.)
The fun "gastronomy and wine" calendar features "Being a Chef" classes for anyone who is wanting to learn about French cuisine.  And if my time with Chef Madelaine is any example of the chefs teaching the classes, all of the classes must be amazing!
Who is Chef Madelaine you ask?  You sure are asking a lot of questions today.  Chef Madelaine Bullwinkel was the wonderful woman who taught Saturday's class.  She has 33 years of experience, an amazing cooking school AND hosts tours to France!!!  To top it off, she was such a great teacher. Her website features her blog and some of her amazing recipes so make sure you check her out.
Now back to the class….the classroom at the Alliance Française had four tall tables with stools and in the front of the room was the cooking station set up with all of the baking ingredients.  I grabbed a seat up front and waited to see who was going to be on my cooking team.
As the people came in two delightful women, Esther and Kandy, sat with me. Both gals had been to France and actually knew what I macaron was supposed to taste like so I felt like I just hit the lottery.
The class was split into 2 groups who made chocolate macarons, 1 group that made mocha macarons and my group, which made vanilla macarons.  Our group worked wonderfully together and I must say our cookies looked pretty darn good.
But the real test is what does this thing taste like?  We sandwiched ours with a little jam and I honestly can't remember a flavor this exquisite.  It practically melted in my mouth with the exception of a tiny bit of chewiness.  The nuttiness of the almonds was reminiscent of a perfectly toasted marshmallow.  It really was amazing!  (Seriously, you have to go find a bakery and try one of these babies.)
Now many of you are probably expecting me to post a recipe or two about this fabulous cookie but I just can't do that to you.  This is one of those things you have to be taught hands on to understand the intricacies of the cookie.  I will give you some hints…
Macaron 101: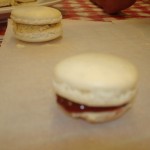 A macaron is made with almond meal, powdered sugar, egg whites and misc. flavors like vanilla, chocolate or coffee.  (There are tons of ways you can color or flavor your dessert.)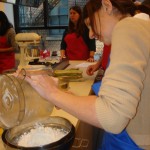 A successful macaron really depends on having the proper equipment and ingredients.
There is a "coconut macaroon" but that is considered more of a Scottish or English confection and not French.
The egg whites are beaten more than I've ever seen in my life.  It was an interesting batter to work with.  (Okay there was a point where I screamed, "say my name macaron" but you must tell the batter who is boss.)
The macaron is filled with anything from ganache, jam or butter cream.  (I made some today that I filled with pumpkin butter!)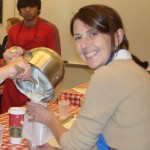 Be exact in your measurements.  (A person with OCD wrote the recipe and things were down to the gram.)
Learn how to use your pastry bag.  I made Chef frown because I was such a mess at first!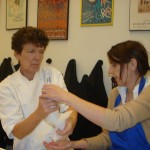 Don't rush the macaron!  It takes time to make.
Finally, find out when Chef Madelaine is teaching the next class!
The people at Alliance Française de Chicago were wonderful (and so were their accents). Previously, my only exposure to France has been my multiple visits to Epcot center. The Alliance seemed authentic with the exception of not having singing characters and people in costume.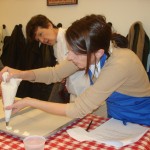 Thank you to Chef Madelaine for your patience and encouragement, Randy, for his space in the class and my new friends, Esther and Kandy.   You both made the class a blast for me!
I've got a lot of "foodie fun" coming up in the next week (CHILL @ Merchandise Mart and the Food & Wine Magazine Entertaining Showcase at the Museum of Contemporary Art) so I can't wait to share my next adventure!