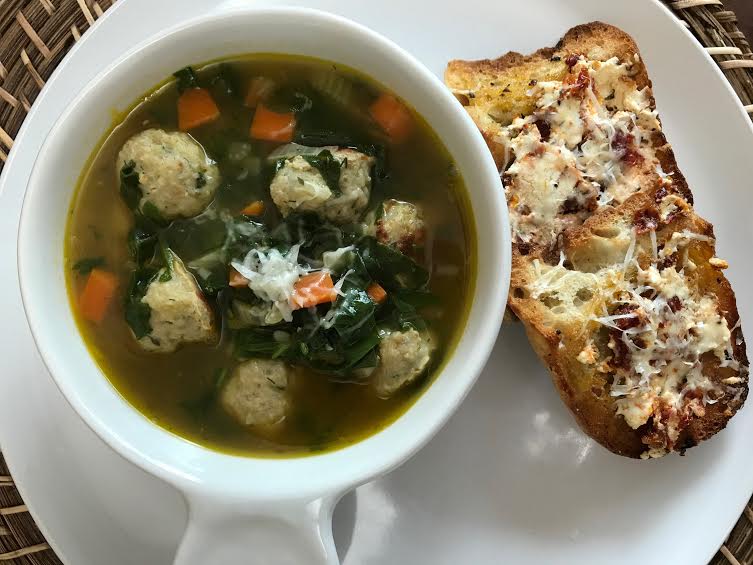 Memorial Day weekend is upon and there is one thing on my mind. Can you guess what it is? If you guessed, grilling…you are wrong! Picnic Food, maybe? Nope, not that. Maybe I'm thinking about fun salads for warmer days? That's not it either.
I'm thinking about soup. It started because my favorite cooking school (The Chopping Block) gave its followers the challenge to make soup this week. It was a dream come true because anyone who reads this blog knows that soup is my love language. It evolved into much deeper thoughts when I thought about making the "traditional" Italian wedding soup. I, first, picked that because spring is usually such a big wedding month but this year people had to radically change their plans and it made me kind of sad for them.
You see, 23 years ago, my relationship with my husband started on Memorial Day weekend.  We had a mutual friend who invited us both out to go bowling and then we went out for pie afterwards.  (And I don't really like pie that much but I was willing to make the sacrifice.)  It was a set up and it worked.
I started thinking if there was this pandemic back then….would we have ever met? Would we have gotten engaged 6 months later not knowing when a wedding would take place? It made me sad for single folks today trying to make courtship work or to have to adjust your dreams to fit today's reality.
But then I thought further, it actually is a good thing. If you start off in a relationship really having to make an effort, you are in good shape. If you spend more time talking and less time, um, connecting shall we say, maybe you will know your partner better.
I tried to picture how this scenario would have happened today. I probably would have gotten a text from our mutual friend, Brian, asking if we wanted to participate in some sort of Zoom/meeting space game night. I still don't think it would have been a lot of other people in the group because Brian was never one to have many friends. (I added a zinger to see if Brian reads my posts.) I mean, if he hosted a Dungeons and Dragons group, it probably would be packed.
Brian wanted to include more people, so he thought something in the lines of Trivia Pursuit would be perfect for a crowd. Oddly, only the 3 of us showed up. Brian offers to forego playing the game but my not yet husband (Earl) would be very serious and ready to play. Brian would make some witty remarks (he may not have been popular but he was very witty) and the game would begin.
The topics would be pretty much the same the original Trivia Pursuit Geography (yikes), History (oh no), Entertainment (Boom), Literature, Science and Nature and Sports. I knew getting into this game that I wasn't winning. I was there to make amusing anecdotes, sexual innuendos and maybe impress with my odd knowledge of useless information.
As the questions would be asked, Earl and Brian compete to say the answer first. It would have been nuts. The weird delay that happens in these chat rooms garbles it all up. Then they'd argue back and forth on who got it first. Earl would get louder, Brian would roll his eyes. (I would be thinking…why did I do this?)
The boys would tease me as I would get a random Entertainment question on pop culture correct. This would be the one thing they'd agree on.  It would be kind of endearing and despite the dorkiness of this duo, I was hooked. Every now and then Earl would give me a cheer on a Literature topic that was beyond his grasp.  (He was into my big brain.)  
The game would end with the two men battling back and forth on who really won. The truth in the end is that I'd be the winner because after the game, because in today's world Brian would have sent me a text with Earl's contact information and then tell me to leave him out of it. (The real story was that the next day at work, Brian handed me Earl's number and said leave him out of it.)
I'd text Earl an emoji with something basic like a little bear saying hi or maybe an emoji of a winking smile. (Even in a modern pandemic world, I'd have some major moves that were irresistible….HA)
Earl would respond back but odds our one thing wouldn't change…we probably would have talked on the phone and not continued with social media socially distant dating.  I think we would have used our actual words and figured each other out.  The part that I've been wondering about is would our relationship gone faster (we were engaged in 6 months so that was fast) or would it have had to take longer since we couldn't technically be dating in person due to social restrictions.
I think we would have been at the same pace because our first real date is much like it would have been today…I would cook for him….and he would love it. The only difference is that on our "real" first date, I made chicken breasts which are a little hard to find right now.
Pandemic me would have played it safe and made a soup because those are a little more forgiving if you don't have all the ingredients….but maybe I could make a passive aggressive soup to let him know I was interested. We don't know what tomorrow may bring so the Pandemic dating Barb would swing for the fences and make an Italian wedding soup. (Because she also remembered she had a cooking challenge to complete this week but doesn't know why she suddenly started talking in the third person.)
He would love all the tasty meatballs and veggies. It would be like a soup he's never had before. (Because when I met him…he didn't know what garlic was all about!) I would make extra so he could have some leftovers and with each bite he would realize what a catch I am because the way to a man's heart is through his stomach and not through his computer screen.
I guess I like to think that no Pandemic or Pandemic, we would have had the same destiny.  There may have been some different scenes but Earl and I were meant to be together. Happy 23 years of dating, my dear sweet man. (And yes Brian, thank you for finding me a husband!) 
Wedding Soup 
Meatballs (I adjusted a recipe from Food Network but the concept of using the chicken sausage and ground chicken is 100% theirs)
1 pound ground chicken or turkey
6 ounces of roasted garlic chicken sausages (remove from casing and crumble)
1/3 cup fine bread crumbs
3 cloves of fresh minced garlic
¼ cup fresh parsley, chopped
1/3 cup freshly grated Romano
2 Tbsp of the parmesan from the green bottle
1 Tbsp heavy cream
1 egg, beaten
Salt and pepper
Directions
Oven 350, prepare a sheet pan with a piece of parchment
Mix all of the ingredients in a bowl until they get a "tacky" feel to them. Use a small teaspoon scoop, to measure out enough meat to make a little bit bigger than a one inch meatball.
Set them on the parchment. I had a total of about 45. (You don't have to put them all in your soup if you want to freeze some for later.)
Bake for about 30 minutes turning at the halfway point.
You can cook these IN the soup too. I would add more broth and obviously, you have to account for a longer cooking time. I do believe that is how it was originally intended so the flavors could "marry" but consider my meatballs socially distancing themselves.
Soup Ingredients
½ cup of shallots, chopped
1 cup of carrots, diced
3 stalks of celery, diced to the same size as carrots
4 cups of vegetable broth
4 cups of chicken broth (You can use 8 cups of either vegetable or chicken broth but I like to mix them)
1/3 cup of chardonnay
¼ cup of minced dill (this was also FN inspired)
16 ounces of chopped up baby spinach (fresh)
4 ounces of orzo cooked per package instruction, you want them more al dente than too soft since they will have the opportunity to finish cooking in the actual soup
Olive oil, salt and pepper
Extra Romano or parmesan cheese for final garnish
Soup instructions
Take a large Dutch oven, heat over medium heat with a generous swirl of olive oil. Add the shallots, carrots and celery. Cook until they are just getting soft but not too mushy. Make sure you stir a little bit because a little browning is okay…burnt is not.
Add wine and let it reduce until almost all gone.
Add broths and increase heat to medium high.
Add the dill and the spinach.
Let the spinach cook another minute or so.
Add as many meatballs as you want to share.
Lower heat, add the orzo and cook another couple of minutes.
Give it a taste and adjust with salt and pepper.
Serve with some grated cheese and maybe an extra grind of pepper.