As I continue to recover from surgery, I've done a lot of two things.  (Neither of which is cooking.)  I sleep and watch TV (mostly encores from the 70's).  Sometimes there is a blur in my head not knowing if I am asleep and dreaming or if I really am part of the action that is taking place.
So when I had the opportunity to meet part of the cast of The Brady Bunch at Kings Island in Mason, Ohio on May 19, 2013, half of my brain kept thinking that it wasn't really happening.  I must still be dreaming because it all still seems too good to be true.
Barry Williams (Greg), Christopher Knight (Peter) and Susan Olsen (Cindy) returned to Kings on Sunday to celebrate the 40th anniversary of the classic episode "Cincinnati Kids."  (In the episode, Robert Reed (Mike/Dad) took the family with him on a business trip to Kings Island.  He was presenting architectural plans for a new addition.  Eve Plumb (Jan) uses one of her dad's canisters to hold a poster and whacky chaos begins to get the plans back in Mike's hands before the big meeting.)
Unlike the "Cincinnati Kids" episode, I wasn't running across the park in a relay but I did enjoy a brisk walk to entrance of The Racer where "Greg", "Peter" and Cindy were waiting to take a crowd on the rollercoaster.  The celebration also included four shows of singing, dancing, and Brady Bunch anecdotes in Kings Island Theater.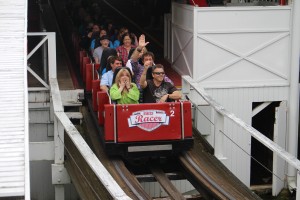 I literally had the wind knocked out of me when I saw my beloved characters standing just feet away.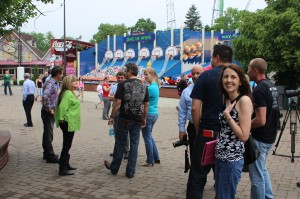 This was the point that I started to confuse reality and post-surgical hallucinations.  Part of the mirage was that I was going to have a potluck lunch with the Brady's and I needed to have them tell me what they would bring to eat.
As I stood there giggling like I was five years old, Barry Williams walked up to me and introduced himself.  I never fully understood the phrase dumbstruck until that moment.  I forgot my name!!!  He chuckled and said he does it all the time.  (For the record, Barry Williams is an incredibly nice guy and I admire him MORE now after seeing his genuine kindness and warmth.)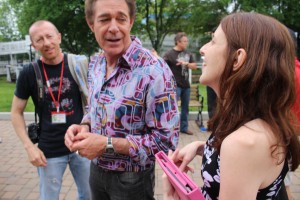 Barry Williams knew instantly what he was going to bring to my lunch…potato salad…he has a great recipe.  He said that being a bachelor has given him some great cooking skills.
Susan Olsen offered to decorate cupcakes.  She doesn't necessarily like to bake but has an interest in cake decorating.  The cool thing is that she likes to make cupcakes that don't look like dessert.  She said she could make them look like Chinese food or even a steak.  (Susan likes to cook too and offered to bring some curried chicken salad to lunch.)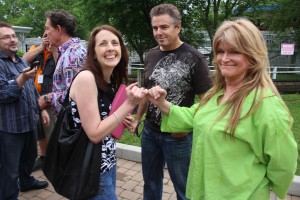 But the surprise answer came from Christopher Knight.  I just stood there in awe as he described his muscles mussels.  (Now it wasn't enough that I've had a crush on this man since I can remember but to hear him talk about food was enough to send me over the moon.)  My mouth watered as he described sautéing some Spanish chorizo and onion, adding his muscles mussels and steaming them with white wine.  Sigh.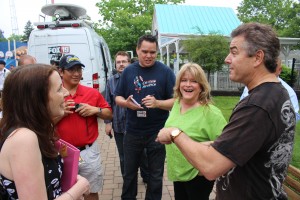 Since Maureen McCormick, Eve Plumb and Mike Lookinland were not here, I will put them on drinks and veggie trays.  (Both Christopher Knight and Susan Olsen said Maureen was the "picky-eater" in the group so I really wonder what she would eat.)
My Brady lunch, of course, was imaginary but in my mind it would have been far out.  We would gather around a table, pass platters and bowls and laugh about memories of the show.
Christopher Knight talked to me about how fans were either in one of two categories: those who watched and didn't have a strong family or those who watched because the Brady's resembled their own life.
I think he needs to add a category: those who watched because they felt like the Brady kids could be their friends.  I have felt this way about the Brady kids my whole life.  After meeting them, I know my years of admiration were not wasted and I'd have them over to lunch any day of the week.
I want to thank the folks at Kings Island for allowing me to share in this groovy anniversary.  Thank you to Barry Williams, Christopher Knight and Susan Olsen for being everything I had wanted you to be and more.  I wasn't sure I was up to this event after my rough couple of weeks so thank you to my husband for making it happen.  He knew it would be a once in a lifetime experience and he was right.