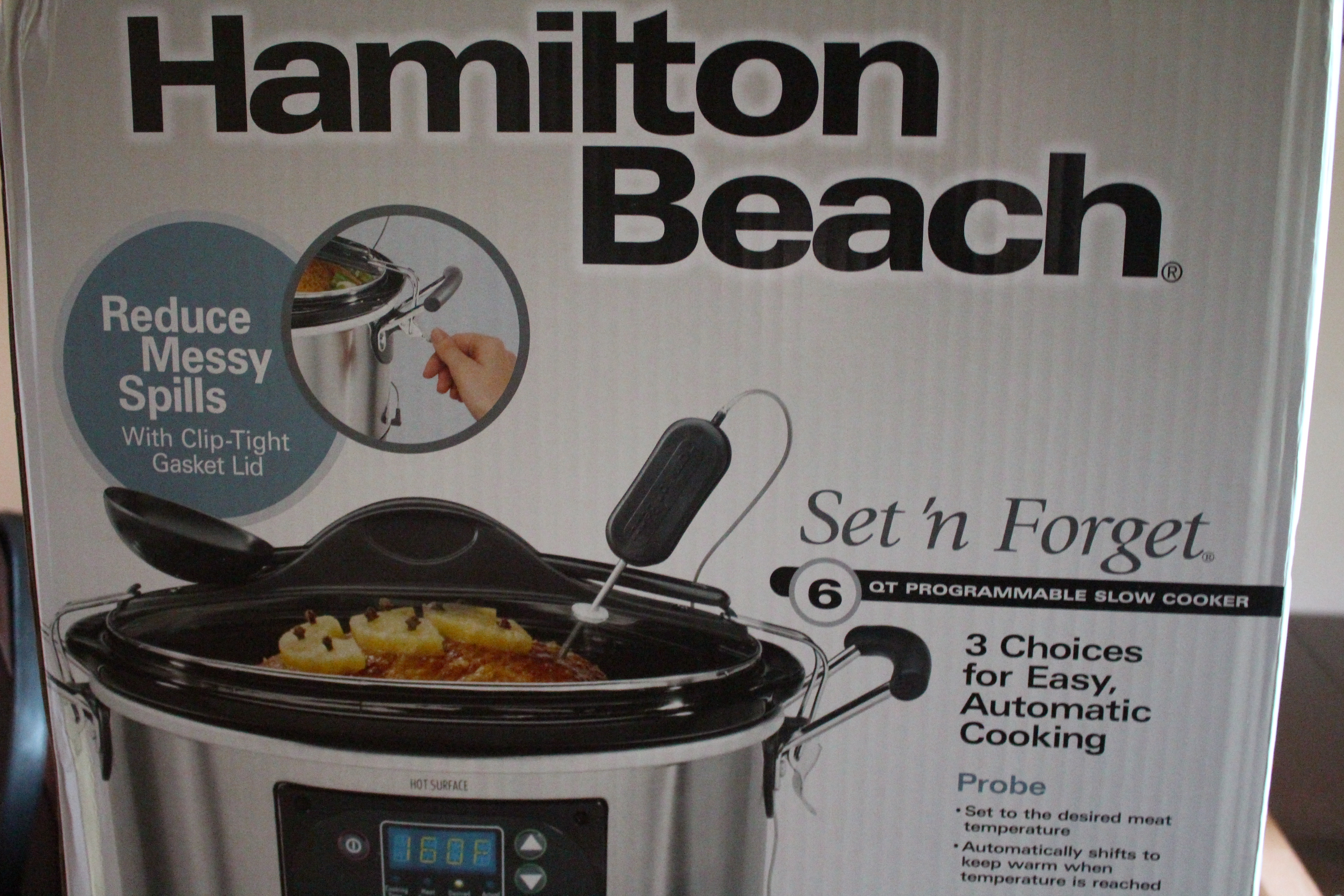 Funny thing about doing a lot of events during September, the maid seemed to also take the time off too! I can't believe how behind I am on just regular chores!! Toss in some extra fall work outside due to our trees dropping leaves…and I am spent. (At this moment my husband is laughing because I haven't raked a leaf in years!)
With that said, I wish there was an easier solution for dinner other than buying prepared meals or take out. On a busy day, I want to have a great meal on the table for my hubster that doesn't require him unwrapping it from paper.
My friends kept telling me to break out my slow cooker but in the past, I never got good results. I always felt like the food was overcooked. I mean seriously, how can almost EVERYTHING cook for 4-6 hours!? It just didn't work for me.
UNTIL….Hamilton Beach gave me the challenge to try and review their Set 'n Forget® 6 Qt. Programmable Slow Cooker With Spoon/Lid. I must say I reluctantly took the challenge.
When the box came to the house, I instantly got excited. (Okay, any time a box comes to the house I get excited. Everyone likes surprises!) It really is a pretty looking appliance. Does that matter? Yep! If it is going to be sitting out on my counter all day cooking, I would like it to be nice looking.
The next thing that made me VERY interested is that there was a probe to help ensure your meat cooks and STOPS cooking at your desired temperature. The entire time you cook in "probe" mode you can see the temperature of your meat. And when it hits your desired temperature…it clicks to warm. Ta-dah.
I had to test this out with a chicken. A whole chicken. I put 3 carrots, 3 celery stalks and 2 quartered onions on the bottom of the slow cooker.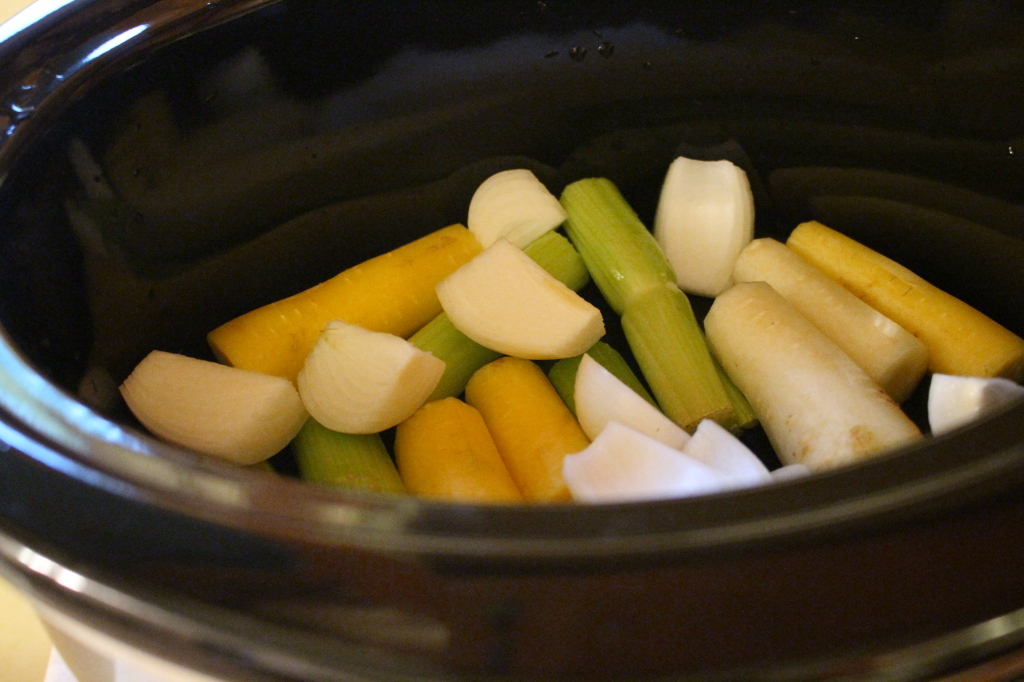 I had put a dry rub of paprika, rosemary, garlic, salt and pepper on the chicken and stuffed the bird's cavity with some chopped lemon slices and garlic cloves. (I'm about to give a lot of detail on how this works but it really isn't your momma's slow cooker. So keep reading!)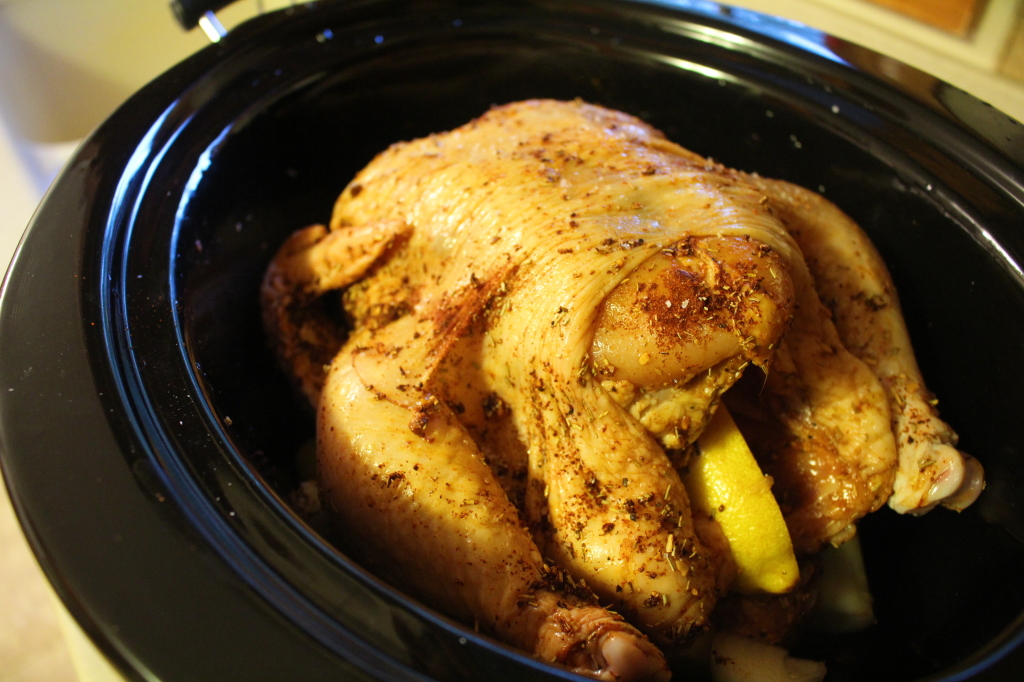 I then placed the chicken directly on the veggies and put the lid on. (No additional liquid was needed!) I did have to turn my chicken around because you want to probe the thickest part of the meat. I wanted the probe in the thickest part of the meat, not touch a bone and not touching the bottom of the slow cooker.
One end of the probe is then plugged into the slow cooker and the other side into the chicken. I turned on the slow cooker and pressed PROBE, set the heat to low and then pressed enter. (This is where it gets super cool.) It then allowed me to set my desired temp for my finished bird!! (FDA recommends 165 degrees so I went with that. You can find temperature recommendations on Food Safety.gov.)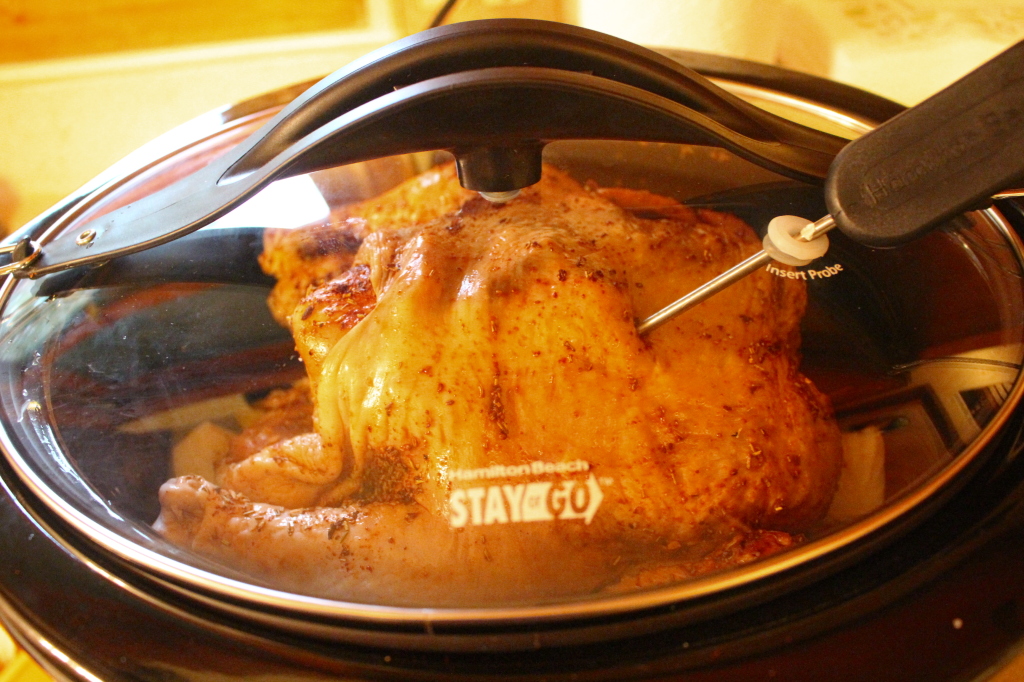 I pressed the cook button, it beeped and all I had to do at this point was wait for my chicken to be done. (Did I mention that the display alternated back and forth from the actual temperature of the bird to the desired temp that I requested?)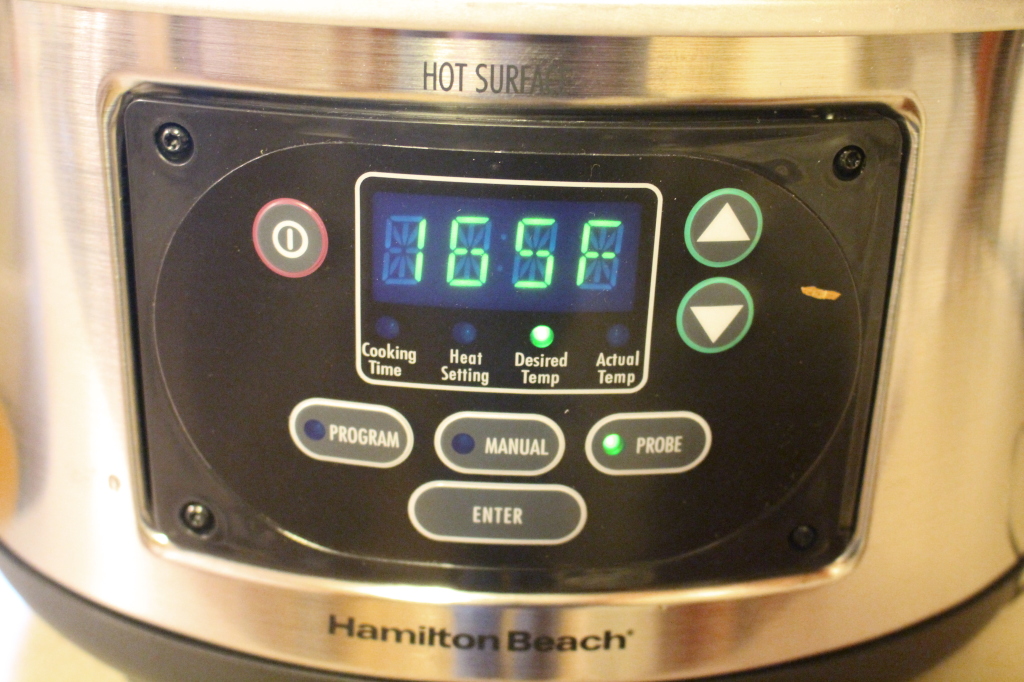 The funny thing is that Hamilton Beach calls this Set and Forget but all I could think about all day was eating my chicken! When the chicken hit my desired temperature, it beeped again and went into warm mode.
When my husband got home from work, I was more than ready to eat. I got a little careless when I tried to pull the chicken out of the slow cooker by the leg and wing. (Hence the really awful picture of my chicken!)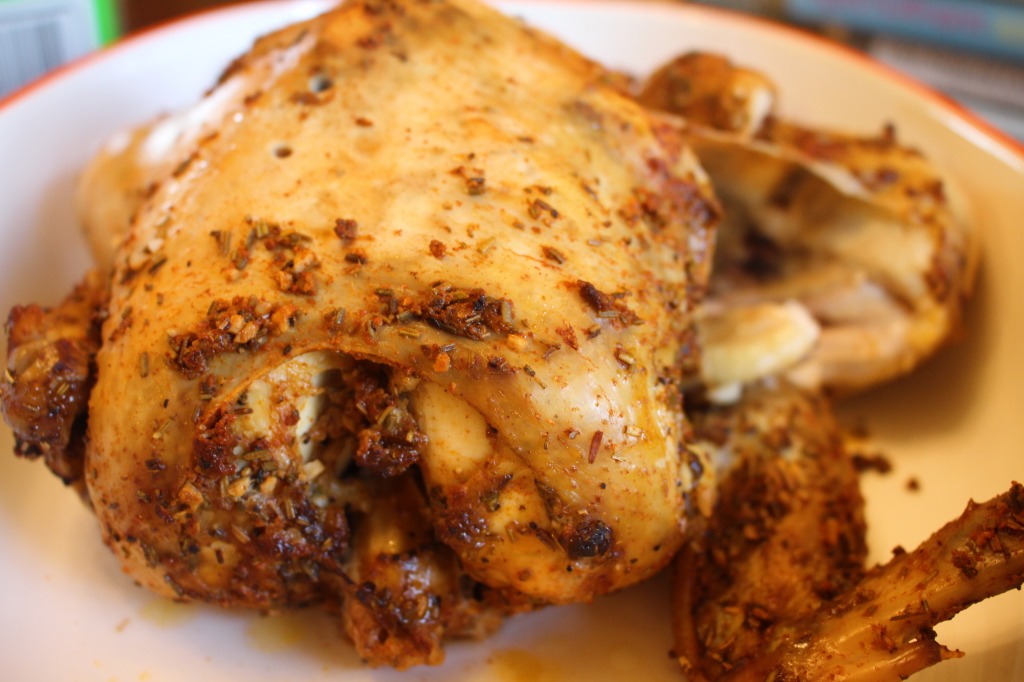 There were about 2 cups of natural drippings in the cooker so I did make a quick pan gravy in case my chicken was dry. (I did pop mine under the broiler for 2 minutes to brown the skin a little bit while I was making my gravy.)
But guess what? (What Barb?) This chicken was cooked perfectly!!! It was incredibly moist and tasted like a roasted chicken.
It was almost shocking how happy I was with this chicken. So I decided to try the Set 'n Forget® 6 Qt. Programmable Slow Cooker With Spoon/Lid with a fall staple….chili. (Okay, I really wanted to make a dish so I could use the cool spoon on top of the lid.)
I used the "Program Mode", set my time, heat setting and let it go. Once again, the display alternated between my programed heat setting and the remaining time. Once it hit that time mark, it beeped and went into warm mode. (And my chili was really good. I put too much water in but that was my error because I forgot that when slow cooking chili you need to add less liquid since there is a smaller evaporation factor.) But I did get to use the handy spoon on top. NICE!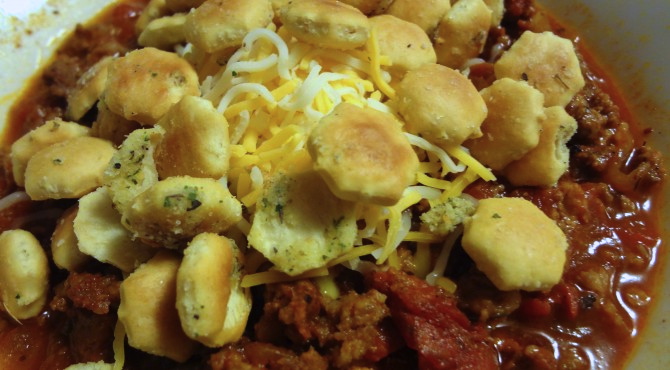 The success of this slow cooker over other ones I've tried in the past is the fact that it stops cooking the food when it reaches the desired temperature or time and automatically pops into warm mode.
One other feature that I have to mention is the snazzy clip locks on top of the lid. The last couple times I traveled with my slow cooker, I spilled stuff out of the sides. I tried duct tape and trying the lid down but there was always a mess by the time I got to my destination.
The Set 'n Forget has these awesome clips on top that hold down the lid…TIGHT! You can't budge that thing. It is a nice feature for those of you who go to a lot of potlucks or family parties.
I really want to thank Hamilton Beach for providing me with this great opportunity to change my view of slow cookers. (And if you want to wine one there are a few days left to enter my Facebook contest. Click here for details.)
As the overwhelming days of Fall keep me on my toes, it is nice to know that I am going to have some fun trying new meals and finally "fall" in love with my slow cooker.