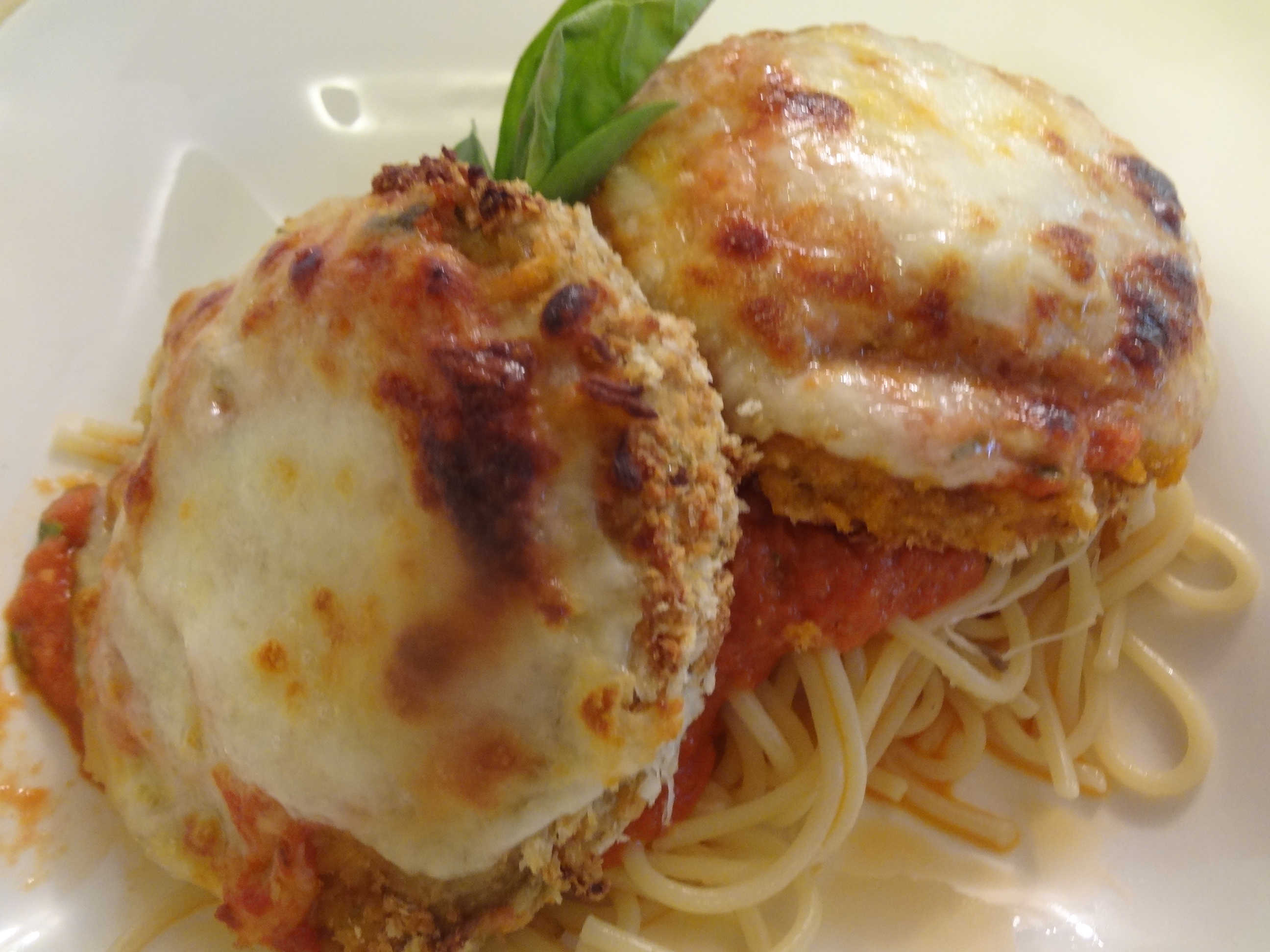 I love Italian food but it is not something I actively seek when I am eating in restaurants.  I am spoiled from years of my family's cooking.  It is rare that something can compare to the flavor's I grew up eating.  (I was never picky when it came to Mom's sauce.)
Over the years, I like to think I have learned to mimic what I saw and tasted in the kitchen.  (I'm sure my great grandfather would have loved the sauce I made from ingredients only in my garden.)
But there is one dish that I never seem to make at home as good as in the restaurants.  Say it isn't so!  Ah yes, I am not perfect and my early trials at making eggplant parmesan were so bad that I gave up making it at home.
My CSA recently included a couple of big, beautiful, purple eggplants.  I looked at these bad boys and was scared to death.  (Not like a spider or a clown scares me but I recall being a little startled.)  I didn't want to waste them but I was nervous to attempt one of my favorite dishes.
I did what all responsible home cooks do these days and I started surfing the Web.  I looked up every hint on Eggplant Parmesan.  (I read the articles AND looked at the pictures.  I'm freaky that way.)
There was one universal hint on every recipe, salt the eggplant.  Apparently after you slice your eggplant, you are supposed to sprinkle it with salt and let it sit for about 30 minutes.  (Most people suggested a colander but mine is too small so I laid them out on cooling racks.)  The moisture should be drawn out and then dabbed with a paper towel.  Hmmm, I don't remember ever doing that step.  (I also don't remember them having the Internet when I first learned to cook but I don't want to give away my age.)
The other trick was that I didn't have to fry the pieces eggplant.  I am scared of frying (another phobia revealed) so I was thrilled that I could make some crispy, rich eggplant rounds without the mess.
My one eggplant made about 10 slices, which was enough for dinner and some wicked sandwiches. I am no longer scared of eggplants.  (I'll work on frying, clowns and spiders later.)
Eggplant Parmesan
Ingredients
1 large eggplant
Kosher salt
Two eggs well beaten with 1 Tbsp water
½ cup Parmesan cheese
½ cup breadcrumbs
½ cup panko
3 cups of your favorite tomato sauce, warm
½ pound fresh mozzarella, sliced
Directions
Oven 375.
Slice eggplant into ¼ inch slices. Sprinkle with salt and lay out to "dry" in a colander for about 30 minutes.  (You can leave the skins on the eggplant.)
Dab any extra liquid off of the eggplant when the time has elapsed.
In a small bowl, mix Parmesan cheese, panko and bread crumbs.
Prepare a baking sheet by lining it with foil.
Dip eggplant slices first in egg and then in the breadcrumb mixture.  Place on baking sheet.  (Repeat for all of the slices.)
Bake for 30 minutes, flipping them over at the halfway point (15 minutes, I did the math for you.)  The eggplant will be nice and tender at this point.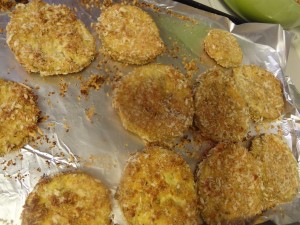 When they are nice and brown, remove from oven.  Top with about 1 TBsp of tomato sauce each and lay a slice of cheese on each one.
Turn your broiler on to low and melt the cheese on each piece.
Serve over pasta (use your extra sauce) or place them on a roll with some fresh arugula for a sandwich.
A lot of the recipes I read layered the pieces of eggplant in a casserole dish before adding the sauce and cheese.  I like to have sauce and cheese on each piece so this method worked perfectly.  It also lets you have a little crunch in each bite.
Facing my fear in the kitchen with this dish made me really proud.  I may make this again and invite Charlotte and Bozo to dinner next.