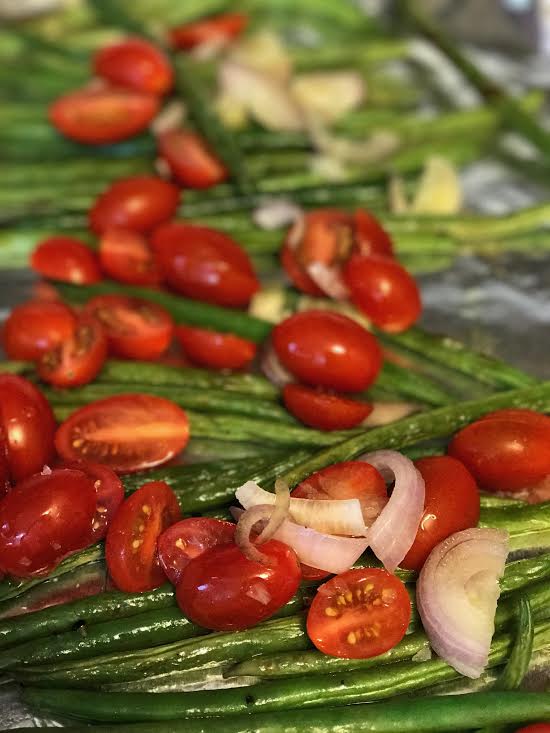 Hooray!  I survived Christmas….sort of.  I kind of did something this year that put a wrench in my life the last couple months….I got a puppy.  Her name is Scout and we brought her home a week before Thanksgiving when she was 9 weeks old.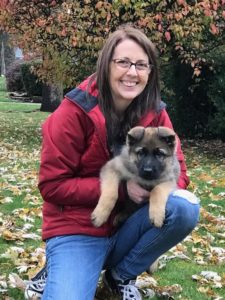 The big secret was that I had been courting her since she was 5 weeks.  I met a fantastic woman with beautiful dogs this summer.  I told her I "may" be interested in a puppy at some point.  Long story short, some point came a little faster than expected and I was asked if I wanted to adopt a sable colored German Shepherd.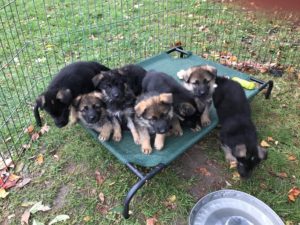 I spent multiple hours with Scout and her litter mates and I was very excited about getting a new companion….until I got her home.  Did you know if you look right next to your puppy's cute floppy ears that there are little devil horns?  They are very small almost microscopic but I am sure that they are there.
My sweet little puppy kicked my butt for 2 solid weeks.  My hands were cut up with her razor teeth and my legs are still healing from the bruises of her knocking into me with reckless puppy abandon.
I did have one point (or two or three) where I wanted to call a priest so he could perform an exorcism but that seemed extreme.  So, I did what any healthy adult does….I called my mommy and cried….a lot.
I also cried around my husband, friends and neighbors.  It was pretty much 2 weeks of me feeling guilty for not instantly falling in love with this cute little ball of fur.  All I kept thinking was why don't puppies come with warning labels?
Decorating for Christmas was really something I didn't want to do. All I could see was myself pulling my precious ornaments out of her death grip.  I knew she would see shiny sparkly things and take it as a personal challenge for it to end up in her poop.
The puppy had become a blister on my comfort and joy!
My husband gets full credit for bringing any merriment to our holiday this year.  He put up the tree minus decorations and hung our stockings up so Santa could leave us treats.  He stayed jolly and talked me off the ledge day after day.
All I needed to do was survive….and make him a great dinner.  When I first thought about it, I didn't know if that would be possible.  Every time I went in the kitchen, I had this ankle nipping monster anticipating my every move.  I thought we would end up starving to death because I couldn't ever make food again.  (I didn't starve but I did lose 8 pounds.)
Guess what started happening…Scout is calming down.  I felt by her ears the other day and I didn't feel the sharpness of the horns (or the blades she calls teeth.)
Scout is starting to learn our routines and she loves watching me in the kitchen.  (My floor hasn't been this clean in years!)  I was able to make Earl a nice Christmas dinner (Pineapple crusted ham, au gratin potatoes and blistered green beans) and I can honestly say we had a nice memorably good holiday.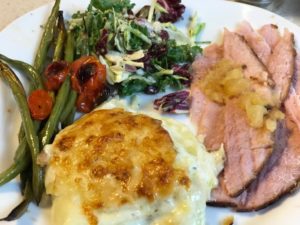 It'll take some time, patience and consistency to get Scout to become the dog we want her to be.  (And for us to be the owners I know we have been in the past.)
And besides the wonderful companion I will have at my side….I have a lot more time to discover new recipes I want to try and adjust them to my liking for Felt Like a Foodie!!!  (Like the green bean recipe below!)
Happy end to 2017!!!!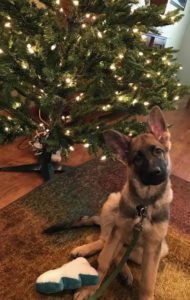 Blistered Green with Tomatoes
This was from a Cooking Light article. I adapted it slightly but it is one of their great creations that is perfect for an easy, healthy side dish.
Ingredients
Olive Oil
1 pound French Green Beans (You know, the long skinny ones)
4 cloves garlic, unpeeled
1/2 pint grape tomatoes, cut in half lengthwise
1 shallot, sliced in half and then in half moons
1 Tbsp red wine vinegar
1/2 Tbsp your best olive oil
Maldon salt
Fresh Ground Pepper
Instructions
Preheat broiler. (I had mine on the low broil setting.)
Prepare a baking sheet with a piece of foil
Toss green beans and garlic in 1 Tablespoon olive oil and lay in a single layer on baking sheet
Broil for 5 minutes
Toss shallot and tomatoes with a splash of olive oil and add them to the pan.
Broil until you see the beans and tomatoes start to char. (If you like more char, increase the time or heat setting on your broiler.).
I let mine cook about 8 minutes after the tomatoes were added.
Remove from the broiler and pull the garlic off but DON'T toss them away.
Give the beans a sprinkle of salt.
Take the peels off the garlic and mash them. They should be pretty soft.
In a small container, add 1 tablespoon of olive oil, the red wine vinegar and the mashed garlic. Shake it all up together and drizzle on top of the green beans and tomatoes.
Give them a taste and add a little extra salt and a grind of pepper.